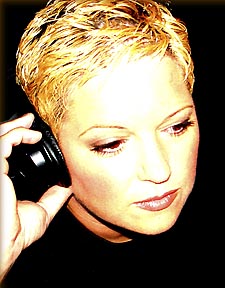 DJ Twisted Dee
DEE'S DANCE TWIST… Denise Gurney, who goes by DJ Twisted Dee, is making a name for herself by going against the grain. She spins warm, fun, funky, sexy house with clear roots in disco, but she does it in a gay circuit scene known mostly of late for its tribal, dark, often oppressive vibe. Instead of just loading up on beats with a little melody and a little vocal shouting for color, Twisted Dee focuses on astutely mixing actual songs and true vocal anthems. Obviously then she has her work cut out for her in gaining recognition, but, as she shows on her appealing debut compilation, Addiction, that's not even the beginning of her trouble. Six minutes into the hour-plus set, she plays the Pussy Dub Foundation's rising "Stand Up," which calls on "Mr. DJ" to play the groove. Several songs later comes Robbie Rivera & Axwell, who repeat the conceit on the lovely "Burning," with singer Suzan Brittan telling "Mr. DJ" she's ready for the beat. Twisted Dee, you see, is a woman — and a lesbian at that — in a man's world: the DJ booth. Women are far and away the voice of dance music — there's not a male vocalist on this or most other compilations, for example — and ironically we have men largely to blame for that monopoly.
None of that should deter you from this set, or from checking out Twisted Dee, a "Cherry Grove" Fire Island favorite, when she spins again this Friday, August 27, at Apex. In fact, it should compel you to go, as much to support womanhood as to support fetching house. Addiction is a sweet, slight set — slight in the best sense of the word. With her frequent calls to love and be loved — and less about love gone wrong for a change — Twisted Dee reminds us that the dance floor isn't strictly for dancing.
We must take issue though with her lack of providing many details about the mostly unfamiliar songs here. As well as for including in the set "Superstar" by Love Corporation — a dance hit originally made famous by Love Inc. featuring Simone Denny. If it was too burdensome to get permission to use the original, she should have gone with something other than this completely photocopied coverÂ…
CHICAGO'S LASTING DANCE INFLUENCE… This Saturday, August 28, the city of Chicago has officially decreed Frankie Knuckles Day. Knuckles, the first recipient of the Remixer of the Year Grammy, back in 1997, was such a pioneer in creating the post-disco house sound, which sprung from his then-base — and hence, house music's base — of Chicago, the city has even named a street after him. (He now lives in his hometown of New York.) House music in Chicago started in the city's gay clubs, which first introduced the raw, gritty, stripped down track-heavy sound that still characterizes most house, and nearly all the dance music played in the gay club scene today, from deep house to tribal to dance-pop.
Since the spring, the leading early Chicago house music label Trax Records has released one anniversary collection after another, to celebrate its 20 years of house happiness. But the earliest house hasn't aged very well. It was the electronic baroque soundtrack of the early 80s, when every DJ tried to outdo the next by experimenting with how many sound effects they could pile on their tracks. Sirens blared and discombobulated voices — usually male, proving things do change — stuttered and repeated inconsequential phrases like "jack the bass" and "house nation." Some of it had lasting appeal for sure, especially that most taken with updating the best sounds of disco. One of the more recent Trax retrospective releases, Queer Trax, proves this better than the others. Queer Trax was mixed by relatively new Chicago DJ and producer King D, too young to remember the earlier days, but still "a member of the church, natch," the press release points out — the church being the gay house scene. King D has thrown in several new house tracks from the rechristened Casablanca Trax label alongside the Trax classics. For example, you'll want to hear the galloping beat, campy rap-talk and double-entendre lyrics of "Fix My Sink" by The Platinum Orchestra again and again on the dancefloor. And Jere McAllister's "A Perfect Love" proves that some house remains timeless.
As for the classics, Knuckles' "Bad Boy" shines as the cream of the crop, with its explicit gay sensibility; "Well you might call me a queer, well you might call me a freak/But when you're looking for pleasure, it's me you want to meet."Â  Not to mention its explicit ode to Donna Summer and "Bad Girls," right down to its "beep-beep" heartÂ…Â