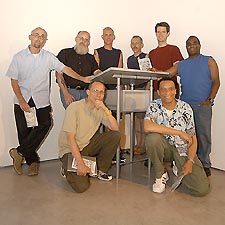 Members of Triangle Artists Group (TAG)
MISSION: An organization of more than 100 lesbian and gay artists from the Washington-Baltimore area, including a wide spectrum of visual, literary and performance artists.
FOUNDED: 1995
NUMBER OF MEMBERS: Approximately 20 active and 100 registered.
HOW TO JOIN: Attend a TAG monthly meeting. Dues are $20 per year.
BACKGROUND: In a city that tends to favor an artistic culture of the classical over the cutting-edge, TAG pushes the envelope. "One of the things that TAG does is put on shows, often themed," explains member Craig Gidney. "They often generate art. They spur creativity. People will come up with an idea, a theme, and use other people who have connections to help. Through this, art gets created." While geared toward the GLBT community, Gidney says TAG generally steers clear of gay clichés. "The gay angle does influence," Gidney grants. "But we tend to get more serious artists, rather than people who do angel wings with rainbow flags. It's a little edgier." To see just how edgy, check out TAG's Oct. 9 opening at The GallAerie, 1644 Newton Street NW.
CONTACT: Visit the Web site at tagdc.org, or e-mail info@tagdc.org.
NEXT EVENT: TAG meets the first Tuesday of each month. The Sept. 7 meeting will be held at 8 p.m. at the Provisions Library in the Resource Center for Activism in the Arts, 1611 Connecticut Ave. NW.