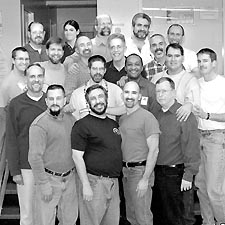 Members of the D.C. Lambda Squares
Mission: D.C. Lambda Squares provides opportunities for members, visitors and guests to dance in non-traditional roles and a comfortable environment for socializing around square-dancing activities.
Founded: 1982
Number of Members: 80
Most common activities: The group meets weekly for dancing, and coordinates larger events on occasion that attract square dancers from around the country.
Background: John Burlison, Lambda Squares president, says the group is for those wanting to meet friendly, relaxed people. "It's laid back," says Burlison. "We're an easy group of people to get along with. It's an ideal activity for people who want to do something social, but active as well. It certainly beats the treadmill at the gym." Burlison, who happened upon square dancing at a men's gathering, says the club is "his life." He promises, however, that the club caters to all degrees of devotion. "We offer classes at three different dance levels. Whatever level of dance you want to dance we'll try to help you get there."
Contact: Visit www.dclambdasquares.org or call Burlison at 301-257-0517. To join, e-mail memberships@dclambdasquares.org.
Next event: Regular dance for "advanced" and "challenge" classes, Thursday, Sept. 30, 7:30 to 9:30 p.m. at First Baptist Church, 1328 16th St. NW.