Today, the Department of Defense can offer a count showing that military operations related to invading Afghanistan and Iraq — operations Enduring Freedom and Iraqi Freedom, respectively — employ a combined total of 225,332 U.S. military personnel on the ground as of June 2004.
Obviously, some of them are gay. Nathaniel Frank has interviewed dozens of them and found that their military service under the military's "don't ask, don't tell" policy is surprisingly prevalent and accepted by the younger ranks.
"I tried to get as many people as possible who fit the criteria: gays and lesbians deployed to the Middle East since 9/11," explains Frank, who is a senior research fellow with the Center for the Study of Sexual Minorities in the Military (CSSMM), based at the University of California, Santa Barbara. The center released Frank's study, "Gays and Lesbians at War: Military Service in Iraq and Afghanistan Under 'Don't Ask, Don't Tell,'" on Sept. 15.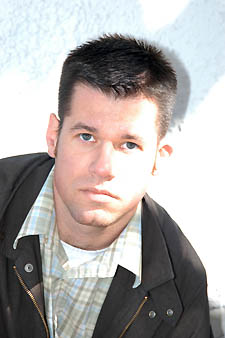 Austin Rooke was one of many gay and lesbian soldiers who have served in recent U.S. military campaigns.
That morning, ABC's Good Morning America featured one of Frank's interviewees, Brian Hughes. Hughes, as an Army Ranger, is particularly notable for having taken part in the celebrated rescue of Jessica Lynch and nine other captured Americans. Lynch, a U.S. Army private, was captured by Iraqi forces and held in an Iraqi hospital with serious injuries.
Despite Hughes's connection to all the fanfare, it seems that hook wasn't a necessity. The Associated Press and others have joined Good Morning America by reporting on the study, looking past the celebrity and heading straight for the meat of Frank's research.
Aaron Belkin, executive director of the CSSMM, says he is surprised and pleased by the reaction. "This is astounding to me," Belkin admits. "We released the study along with Brian's story. He's a total American hero. Usually the media picks up the soldier's story, but Good Morning America and the AP both focused on the study. I like it when the media covers substantive research."
Frank admits that the Lynch rescue angle — if given more attention — could help the public better understand the "don't ask, don't tell" policy.
"[That angle] gives a gay face to the service members who are out on the frontline doing mission-critical tasks, who are fighting the war," Frank says.
Frank's study provides the first thorough report on how the "don't ask, don't tell" policy has worked at war. "U.S. military forces have been engaged in major combat operations in the Middle East for the first time since 'don't ask, don't tell' was adopted, affording the opportunity to assess the impact of the policy in the field," Frank explained in his study. "An investigation of this sort is particularly valuable during a period when military forces are stretched thin Â…."
Frank lists nine basic findings in his study: some gay troops are serving openly, despite the "don't ask, don't tell" policy; nearly all interviewees said the policy makes it difficult for them to bond with their fellow soldiers; none of the interviewees said unit cohesion suffered by others knowing their sexual identity; openly gay troops in the field do not tend to make straight troops uncomfortable with regard to privacy; neither the spartan sleeping or showering conditions in the field raised any issues between gay soldiers and their straight peers; enforcement of the policy in Iraq and Afghanistan has been arbitrary and inconsistent; younger recruits are far more accepting of gay service members than are senior military personnel; the policy limits gay soldiers' access to military support services; and perhaps most important to national security, the policy continues to drive gay Americans away from the military, either by choice or by involuntary discharge.
Frank's findings are illustrated pointedly by the soldiers' own words. Austin Rooke, for example, is an Army captain trained in counterintelligence. Rooke has worked for the National Gay and Lesbian Task Force in D.C., and has been interviewed by Metro Weekly for his insights as a gay soldier. Certainly, this is not the profile of someone comfortable in a closet. Rooke, who has served as a liaison officer from Special Operation Command Central and was stationed in Iraq, told Frank that the policy has jeopardized his working relationships with his straight counterparts.
"When you come out to someone, you put them in an uncomfortable position," Rooke told Frank. "You burden them, because they now have the knowledge that you are serving illegally."
In essence, a straight soldier learning of a comrade's homosexuality has two choices: turn the gay soldier in to authorities, or become a co-conspirator. Given those two choices, military service members have to negotiate a potential minefield of variables when deciding to come out. Staying closeted might seem like the easy choice for those that want to serve, but the closet is not without its own substantial shortcomings.
For one Army captain in charge of battle plans and operations in Iraq, hiding his sexual orientation for the sake of "don't ask, don't tell," added to the stress of war.
"You want to be able to share with people and talk to people, especially when you're in the field like when we were in Baghdad," the unnamed captain told Frank. "You want to be able to talk to people and blow off steam and get to know people."
An enlisted service member who would not tell Frank which service he was in, let alone his name, spoke similarly: "A great deal of military service is being able to trust people around you, Â… being able to be comfortable enough around them that you can trust someone with your life. Having to conceal something like this can make you doubt the personal bonds and professional bonds that you have with people."
Conversely, seeming to further illustrate the failings of "don't ask, don't tell," many of Frank's interviewees seemed to fare much better when then broke the policy by coming out to their peers.
Wendy Biehl is a former specialist in the Army who came out to some straight male counterparts while stationed in the Middle East. "Guys loved me," Biehl said. "They were like my brothers. They'd stick up for me."
Biehl's story is echoed by an unnamed soldiers who pointed to Will & Grace, "metrosexuals," Queer Eye for the Straight Guy, and other popular-culture references they say are making the younger generation of soldiers more accepting of gay issues across the board.
Many interviewees emphasized a generational divide when it comes to "don't ask, don't tell."
"The perception of gays has changed so much since the policy was first instituted that no one really cares anymore," said one, pointing to the policy's authors. "We're talking generals who have basically fallen out of touch with everyday people. To enlisted personnel, it's a joke."
These are the findings that Frank said initially surprised him when conducting his interviews.
"I expected I would find people who were serving openly, but I was surprised by the large number that were out," Franks says. "I was surprised by how uniformly people reported that younger people just don't seem to care about sexuality. Straight people seemed to accept that their friends were gay. There was still bonding despite that — or around that."
Nevertheless, Frank noted in his study, "social disruptions related to sexual orientation were also a fact of life during Operation Enduring Freedom and Operation Iraqi Freedom." 
The gay soldiers who spoke with Frank, however, did not point to homophobic harassment as a burden. The burden to which they did call attention is restrictions they faced when accessing fundamental and routine social services provided by the military to service personnel and their families.
The Defense Department provides active-duty personnel with "legal assistance, paid time off, life insurance, health care, death and burial benefits and a large array of family-support services including chaplains, counseling, crisis assistance, personal finance management, spouse-employment assistance, adoption expenses and more," Frank wrote, adding that each individual branch complements these offerings with its own menu of services. For gay personnel, these services are often inaccessible.
An Army JAG (Judge Advocate General's Corps) officer told Frank that she could not even list her partner as someone back home who would be sent information about her whereabouts or health. "There was this whole network at home designed to help with significant others, and [my partner] couldn't do that because that would have outed me," she said. "Just to be on a mailing list would have raised eyebrows and could have gotten me kicked out."
Despite being "shot at a bunch" in Afghanistan, as well as participating in the POW rescues in Iraq, Hughes also sets his sights on the restrictions gay service members face in accessing support services when talking about particular hardships.
"The principle is soldiers should know that things are O.K. back home," Hughes told Frank. The services available to soldiers' families, he added, "make especially married soldiers' live much easier, and I think they fight better because of it."
With that in mind, and having been officially discharged to inactive duty as a sergeant, Hughes told Metro Weekly that Frank's study "paints a picture of a policy that certainly isn't working."
Belkin says that while gay troops may have plenty of complaints about the implementation of "don't ask, don't tell," they have few avenues of recourse aside from studies like Frank's.
"We've known for a long time that 'don't ask, don't tell' undermines the very values that the military tries to promote," Belkin says. "The policy really makes it impossible for gay and lesbian soldiers to say, 'I'm here. I need these services.' The only way they have a voice is to talk anonymously to scholars."
Steve Ralls, communications director of the Servicemembers Legal Defense Network, also backs the study. The D.C.-based SLDN is a national organization committed to ending discrimination and harassment against military personnel affected by "don't ask, don't tell." The organization has no connection to CSSMM.
"We've known all along that there are gay and lesbian service members serving in Iraq and Afghanistan, and indeed in every conflict sine the American Revolution," Ralls says. "It's useful to have the firsthand accounts on record.  I think [the CSSMM study] is one more piece of the evidence that the gay ban is irresponsible, especially at a time of war."
Frank says he's hoping the study will be particularly useful to the people who are responsible for maintaining the policy. "I hope that people who are opinion leaders and policy makers, Â… will read the study and see the media stories and reconsider whether this policy is a wise policy, especially when the security stakes are so high," says Frank. "Congress has dragged its feet and continues to defer to a small group of senior policy makers."
Belkin cautions, however, that any policy makers who favor the closet for gay military personnel have the status quo on their side. "The people who favor discrimination don't need to debate," Belkin says. "They can basically say nothing. It's a very effective strategy. Over time, perhaps conventional wisdom will change."
Today, however, gay Americans continue to fight for the country under "don't ask, don't tell." Hughes is no longer one of them. He is back from Iraq and earning mathematics and philosophy bachelor's degrees at Yale University. The Army discharged Hughes on Aug. 30 to inactive reserve duty with the rank of sergeant.
"It was my last day in the service," Hughes recalls. "It felt kind of good, like a release." But the separation is bittersweet.
"I do miss being a soldier," Hughes insists, though he says the longer he served, the more withdrawn he became. "It was a great job. I regret that my buddies are going to be fighting and I'm not going to be there to help them."
With his recent appearance as a gay soldier on Good Morning America, however, Hughes says he is on hand — by phone — to help his Army buddies deal with this news.
"I called some buddies last weekend and they were surprised," Hughes says. "They weren't really shocked. But I imagine we'll have a lot to talk about."