Forget about brunch. Brunch is a Sunday thing, a group-of-friends-catching-up thing, a chance to sit and watch the weekend world go by.
This is about breakfast. Monday through Sunday, cooked-by-a-line-cook breakfast. No chains, no fast food. IHOP and McMuffins are out. There's a whole other world out there, just waiting for you in the early morning hours.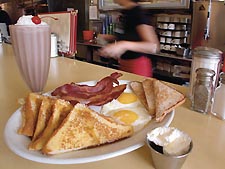 Sunny side up is the morning glory at The Diner.
Let's start our search with a true neighborhood classic. The Diner in Adams Morgan, while open twenty-four hours a day, is best in the late morning when you can grab a seat at the bar, spread out the paper, and relax. Have a bowl of sweet and crunchy granola, a crispy Croque Madame or a simple side of eggs, with fresh-brewed coffee and a large glass of fresh, sweet OJ.
The full experience, however, has to be the Diner Breakfast Royale: pancakes or French toast (the French toast is ideal, a bit dense and accompanied by plenty of syrup and fluffy, slightly salty butter), eggs any style, sausage or bacon, and toast. If you're truly adventurous, you can upgrade to the Diner Royale Deluxe, and add a third egg with either grits or home fries to the plate.
The Diner
2453 18th St., NW
202-232-8800
Left Bank
2424 18th St., NW
202-464-2100
Market Lunch
225 7th St., SE
202-547-8444
Healthbar
1612 U St., NW
202-588-9255
This is breakfast for folks who mop up the syrup and eat all the egg yolks, so you might as well have it all and order yourself an ice-creamy chocolate milkshake to wash it all down.
Just across 18th Street, Left Bank is an airy and arty new restaurant, open from seven in the morning until the wee hours every night. Bright, spacious, and entirely sleek, with orange leather banquets, hanging globe-lamps, and spinning yellow plastic barstools, Left Bank has the feel of a restaurant in some hybrid of Paris and New York.
Options range from traditional to unique, all undergoing a special, Left Bank twist. Smoothies, breakfast breads, and an omelet cart are all competently done, but for a real treat, try the organic wheat or blueberry pancakes with a side of poppy seed butter. The wheat cakes are denser than most, and while delicious feel vaguely virtuous as well. Be warned, the serving does not include enough syrup, though the staff is happy to provide more. For the more daring, enjoy a fruit bowl with orange blossom water, or the outstanding grilled wild salmon over spicy egg white timbale. This last dish, an artful tower of moist salmon, wilted spinach, and spicy egg and pepper base, all drizzled with a tart balsamic glaze, is among the most unique (and delicious) breakfast entrees you'll find.
A bit farther afield is the true D.C. greasy spoon experience of the quirky, perfect little Market Lunch. Located within Eastern Market's red brick building in Capitol Hill, Market Lunch is a cacophonous, line-jostling adventure that could try anyone's patience, but the speedy, tasty breakfast is well worth the wait. Weekdays, of course, are a breeze. Order a stack of blueberry pancakes, or a helping of bacon, eggs and grits at the counter, watch them load it all onto your own personal plastic plate, and head to the picnic tables outside. A Market Lunch breakfast feels like classic roadside dining, right in the heart of town.
Back near Dupont, try Healthbar at its perch downstairs from Results. This quietly stylish spot has a small-but-loyal following of gym-goers, neighborhood telecommuters, employees of the few local offices, and cops. Healthbar is just that, a bar, and weekday mornings you'll have to head to the counter to order your meal. They've got great granola as well (an almost unmanageable portion) with either yogurt or milk, pre-wrapped bagels and muffins, and a variety of cook-to-order treats.
The smattering of smoothies is heavy on the supplements — it's downstairs from a gym after all — and include five that have more than 23 grams of protein per drink. Some very yummy options include Cool Raspberry, Papaya Creamsicle, and the meal/dessert blend Chocolate Peanut Butter. For true energy junkies, the Red Bull Blast (strawberries, bananas, raspberry sorbet, and Red Bull) packs an incredible punch and zing. Speaking of supplements, try the protein pancakes, which taste like normal pancakes, only better. According to the easily accessible fact sheet, these are among the healthiest options they've got. And if you choose to douse them in syrup (unnecessary, but a joy), no one will ever have to know.