Same-sex marriage has taken center stage in the 2004 presidential election. The Republican effort to amend the Constitution to prevent same-sex marriage from taking root in the "homeland" will be the foremost issue for plenty of voters in November. Democratic presidential candidate Sen. John Kerry has also been forced to offer a position: same-sex marriage bad, civil unions good.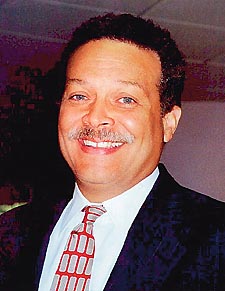 Brazil
Here in Washington, same-sex marriage might get some voters' attention as soon as Sept. 14. That's when Washingtonians head to the primary polls, choosing their party's candidates to run for D.C. City Council. In the at-large race, incumbent Harold Brazil (D) is charging challenger Kwame Brown (D) with misleading voters on the issue.
"I am troubled by the ease in which my opponent can speak out of both sides of his mouth," Brazil said in an Aug. 11 release. "It is unfortunate that up to this point in the campaign my opponent has been deceptively vague, and now has resorted to bold-faced double-talk."
The alleged double-talk stems from a July 19 Gertrude Stein Democratic Club meeting. At that meeting, D.C. Council candidates were polled on their support, or lack thereof, for same-sex marriage. David Meadows, president of the gay Democratic group, says that the group did not record the meeting verbatim. Nor does Meadows remember what was said, explaining that his duties that evening required him to focus on getting candidates to the microphone at the right time, and the like, rather than to what they were saying.
But Brazil and challenger Sam Brooks (D) both say the question — and Brown's answer — was clear.
"We were asked the question point blank," says Brooks, who supports same-sex marriage. "We were asked about marriage rights. We weren't talking about civil unions, partnershipsÂ…. We were talking about marriage licenses.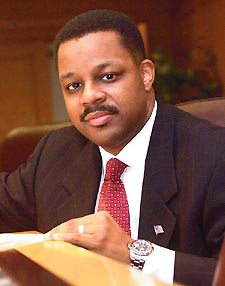 Brown
"[Brown] left everyone in the room I talked to with the impression that he was for same-sex marriage."
Brown's campaign manager, Kevin McGhaw, insists Brown misinterpreted the question.
"Mr. Brown interpreted it to mean what would he do to protect the rights of same-sex couples," says McGhaw. "He was supportive of the need to expand rights. He did not comment specifically on the question of same-sex marriage."
McGhaw confirmed that while Brown does support expanding rights for D.C.'s same-sex couples, he does not support same-sex marriage.
Of the seven candidates vying for two at-large council seats, only Brooks and Laurent Ross (D.C. Statehood Green Party) are on the record supporting same-sex marriage. A peculiarity of the city council race is that the seat held by incumbent Carol Schwartz (R) is reserved for a non-Democrat.
Judging by questionnaires submitted to the Gay & Lesbian Activists Alliance in August, Brazil's position falls roughly in line with Brown's position. To the question, "Will you support legal recognition of marriages between partners of the same sex?" Brazil answered: "I support civil union legislation and believe that this type of legislation is the most likely to be successful in the District's legislative process. I will continue to discuss with the gay and lesbian community the viability of same-sex marriage legislation in the District."
Brown answered: "Similar to John Kerry, I support civil unions. Like many in the GLBT community, I am hesitant to move too quickly on this issue for fear of provoking a response from congressional Republicans and thereby losing some of the rights already achieved. My deeply religious beliefs lead me to personally believe that marriage should be defined as between a man and a woman. As a council member, however, I will fight for the rights of every resident, regardless of sexual orientation, to enjoy the rights and privileges of every other city resident under the law."
As Brazil sees things, Brown is simply giving different answers to suit demographic differences. "He sat up and said he was for gay marriage," Brazil told Metro Weekly. "Some days later, he got up before Ward 4, a predominantly black audience, and said marriage should be between a man and a woman."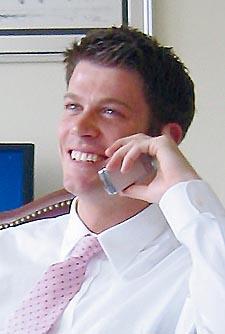 Brooks
Brazil is not buying the defense that Brown misinterpreted the question. Asked whether misinterpretation is an excuse, Brazil does not hesitate. "No, it isn't," he answers immediately, adding that neither he nor Brooks had any trouble understanding the question. "The question is fairly simple. It's not convoluted. You're for it or you're against it."
In this case, the extra rub is that Brown was the most popular candidate with the Gertrude Stein Democrats after the July 17 meeting. Brown's campaign Web sites touts the fact.
"Brown continues to triumph by gaining the majority of votes at last night's Gertrude Stein Democratic Club Forum, beating Brazil and BrooksÂ…. Although not meeting the lofty threshold of two-thirds votes needed to gain the endorsement, Brown demonstrated his widespread support in a constituency traditionally supportive of Brazil," the July 20 release, posted on-line, reads in part.
Bradley Lewis, the club's vice president for political affairs says that the Brown campaign's interpretation of the votes is reasonable.
"If they want to look at it as getting the majority of the votes, it's within their rights to do so," says Lewis. "I think the vote speaks for itself. Some people have doubts about where he stood, but an endorsement wasn't made. We didn't endorse based on false information. As long as that didn't happen, I'm OK with the process."
Though falling short of guessing that the Stein club would have been less supportive of Brown if he had offered a different answer to the same-sex marriage question, Brazil did say, "At that time, they certainly didn't have the information that he would say the opposite."
Brazil concludes that the gay vote is going to be important, but not as important as integrity. "It really gets down to who you are and whether you're being honest with the voters," says Brazil. "I very much want the support of the gay and lesbian community. As important as it is, I'm not going to say something that's not true just to get their votes. The core values that my opponent espouses — honesty ought to be one of them. Being forthright ought to be one of them."
By "opponent," Brazil clearly refers to Brown rather than Brooks or Ross. For his part Brooks, who like Brazil and Brown is straight, says it's a question of equality. "This is our generation's civil rights battle," says the 24-year-old Brooks. "I just don't think we achieve true equality unless we have marriage equality. This isn't one of the issues where I put my finger to the political wind. It's about equality. It's an issue that I'm happy to step out on. This is an extraordinarily important issue to me."
Ross, who is aiming his campaign primarily at Schwartz's seat, guesses most at-large council candidates support same-sex marriage as he does, but are too politically timid to admit it.
"I think the candidates think most D.C. residents would look unfavorably on [same-sex marriage]," says Laurent, who is also straight. He does have a gay brother. "Sometimes you've got to take a strong stand. If you believe in something, you've got to stand up for that.
Regardless of what Brown told the Gertrude Stein Democrats, his position today is clear. He does not support same-sex marriage. That doesn't necessarily equate to anti-gay.
"I think the reality is that most same-sex couples in D.C. want to be sure they'll get similar rights as married couples," McGhaw concludes. "Kwame supports that. It's very, very important to him."
Lewis adds that he is confident that Brown neither intended to mislead the Gertrude Stein Democrats, nor that the issue of same-sex marriage holds the last word with gay voters.
"I talked to Kwame Brown [Monday]. He came to me and said there was some misunderstanding," Lewis offers, saying that he feels any misunderstanding has been settled. "The community is supporting a presidential candidate who is not pro same-sex marriage. That one issue is not going to make or break, necessarily, LGBT candidate support. You have to look at the total picture."