The organizers of the WEDRock benefit concert wanted to raise support for one of this year's most explosive issues, same-sex marriage. But they didn't want to do it in a "fancy cocktail" or black-tie dinner kind of way. And since most of them came out of (in both senses of the term) or drew influence from the punk rock scene, a club-oriented gay circuit party wasn't the vibe they were after, either.
So why not, as John Cameron Mitchell, one of the co-creators of the event, put it, "make a more rock 'n' roll kind of statement for civil rights?" To make it "edgier than most," was local organizer Bob Mould's reasoning.
So in addition to performing themselves, Mitchell and Mould also tapped other "iconoclastic," mostly rock-oriented artists to perform short sets at the concert, to be held this Tuesday, October 5 at the 9:30 Club. The cause is the struggle for marriage equality for all Americans, with the cause's leading advocacy organization, Freedom to Marry, as the sole beneficiary.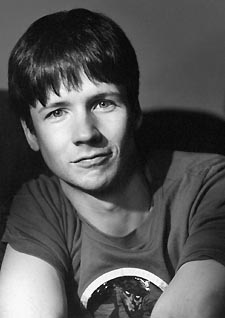 John Cameron Mitchell
The artists, including bisexual provocateur Sandra Bernhard and her band, are willing combatants in the fight. Then there's Henry Rollins, who will serve as the night's emcee. And with Rollins organizers got their punk-rock statement for civil rights in spades.
"Fuck you," singer/songwriter/spoken-word artist Rollins says, working himself into a lather of outrage at religious conservatives. "Who are you to tell me who I can and cannot marry? This is America. And it really bugs me that someone will take time out of their day to try and block two people getting married. To me it is completely hateful, it's despicable, and it's un-American.
"America is the place where you should not even have to think twice about Kevin and Sean wanting to get married. It's America." It's just two minutes into a 30-minute phone interview and Rollins is just getting started. "When you see these cracker motherfuckers on the sides of the road with these 'God Hates Fags' signs — that kind of hatred has no place anywhere in the world, but it really doesn't have any place in America, land of the free, home of the brave. It's neither brave nor free to come off like that."
Rollins is a native Washingtonian who made a name for himself being confrontational. One of his regular nighttime habits, in fact, is to write challenging e-mails to the right-wing talk show punditry, from Joe Scarborough to Sean Hannity to Bill O'Reilly. Not surprisingly, they've all ignored his repeated requests to appear on their shows.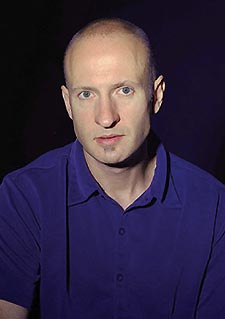 Bob Mould
It was Bob Mould, of the '80s cult-favorite Hüsker Dü and '90s pop-rock success Sugar, who invited Rollins to be a part of the WEDRock benefit. He first met Rollins when Hüsker Dü was signed to SST Records, run by Rollins' legendary hardcore punk band Black Flag. After success as Black Flag's frontman, Rollins gained still more fame with his Henry Rollins Band — both for the music and, among some fans, because of his penchant for ripping and stripping his shirt, revealing his sinewy, sculptured frame.
"Henry's the bomb," Mould says. "People won't be able to take their eyes off him. He's riveting." Beyond that, according to Mould, "Henry's always been this sort of enigmatic figure inside the gay community — he's very masculine, very aggressive, and he's a good-looking guy who takes care of himself and has strong opinions and ideas. When I mentioned it to guys … [they] were just like, 'Henry Rollins? Oh my god! I'm so there!'"
But just why is Rollins there? Is he, as many gays have wished, finally coming out as gay? Ah, sorry, no.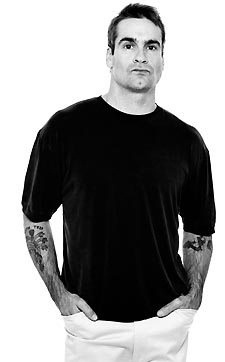 Henry Rollins
"It's not even annoying," Rollins says about the lingering Henry-is-gay rumor. "It's just so funny to me, because where that comes from, for somebody being gay is a bad thing .. to say, 'He's gay,' like it's a putdown. To me, you come out of the chute, you're something. You're straight, you're gay, you're bi, or you're Condoleezza Rice…. To me, it's about as interesting as talking about laundry. It's really not an issue."
He also attributes the rumor to the fact that he's very discreet in his relations with women: "I'm not making a public display of my heterosexuality." At 43, he also has never been married. Still, he says, "All this anti-same-sex marriage legislation, I can't stand it. It offends me on every level."
Clearly, he's not the only one. Steve Gdula, WEDRock's publicist, is also offended by conservative calls to "return marriage to its rightful and religious origins."
"The origins of marriage had nothing to do with Judeo-Christian history at all. It's a legal contract," he says — a legal contract that offers some 1,000-plus benefits.
Those benefits are the crux of the matter. As musician and WEDRock performer Richard Morel, who lives with his partner in Takoma Park, Md., puts it, "To legally duplicate everything that goes along with marriage is really difficult."
Both Gdula and Morel were each recently questioned at the hospital emergency room about their respective relationships — "Is he family or friend?" Only family is allowed to sit by the patient's side and be informed of the patient's condition — but if the attending nurse doesn't like your use of the word "family," and if there's no legal recognition of your relationship, you're merely a friend, forced to sit in the waiting room. The back of the bus, as it were.
"You know, when someone tells you you're a second-class citizen, it tends to rankle," says John Cameron Mitchell, the writer, director and star of the off-Broadway and film incarnations of Hedwig and the Angry Inch. Mitchell, who will perform songs from Hedwig at WEDRock, finds it fitting that one of his songs, "Origin of Love," is getting play at actual wedding ceremonies.
"I hope that the diverse and exciting artists adding their voices in support of marriage equality will provide an example to all kinds of people," says Evan Wolfson, executive director of Freedom to Marry. "We all need to speak up in this civil rights struggle."
Josh Wood, a New York producer of Off-Broadway shows and rock concerts, decided to speak up during the spring after watching Larry King Live, where he saw rhetorically well-versed religious-right pundits gang up on a clearly unprepared, unassuming man defending the San Francisco marriages between same-sex couples.
"He was just getting smeared by them," Wood says. "It was just so hateful and frightening I got really scared about the whole thing and decided I needed to do something about it." So he called his friend Mitchell, and they organized a benefit concert in New York. They dubbed it "WEDRock," a play on "wedlock."
The New York event was held in late April, with Mitchell and Mould performing alongside Lady Bunny as host, Margaret Cho, Lou Reed, Alan Cumming, Moby, Le Tigre and others. According to everyone involved, it was a success. "The period of time, the format, it really touched a nerve," says Wood. "And everyone was really excited about it." After expenses, the event raised an impressive $30,000 for Freedom to Marry, according to Wolfson, an amount that could be repeated here.
And it was the success of the show that lead Wood to ask Mould whether he thought they could pull off the second WEDRock benefit in D.C. Mould wasn't sure, but Gdula convinced him. "His enthusiasm has been really what's kept this thing on track the whole time," Mould says. "He was just so thrilled and so excited."
It promises to be an engaging show, with most eyes on Rollins.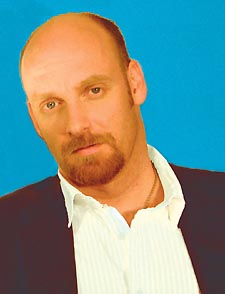 Morel
"I'm dying to see what Henry Rollins does, because I've never seen his spoken-word performance," Morel says. "Everybody that I know who has seen it says it's unbelievable."
Though punk is the benefit's predominant musical attitude, a couple performers are just as influenced by electronica. Mould himself, as a solo artist, works in the gray area where rock meets dance music. And Morel's eponymous five-piece band, which will tour in support of its upcoming third album later this month, is even more dance-oriented than rock. It isn't every day you hear a true-to-life band perform house music, but as Morel explains it, "to us, it seems like regular fare. House music, that's what we do."
And then there's Purty Mouth. Gdula describes them as a "gay and lesbian alt-country band from Seattle. They're sort of like Hee Haw meets Queer Eye. It's pretty hysterical. I'm sure they'll bring down the house."
The event wasn't timed specifically to happen before the election. As Wood notes, "It's obviously an issue that's going to go on for a while." Still, ultimately what's inspiring the performers most is the chance to engage and mobilize the audience to get active on the issue — and to get out and vote.
"I don't want to regret not having done enough before November," Mitchell says, adding that while same-sex marriage is "not a big thing on people's radar because the amendment failed in Congress — and it wasn't a huge priority for a lot of gay people anyway — when you're being used as a political toy and your civil rights are being toyed with, you have to say something."
David Catania, one of D.C.'s two gay city council members, will speak at the event, and his passion to fend off the anti-gay conservatives, including President Bush, in his own Republican party is palpable. "If not for the prospect of Congressional interference, D.C. would be an ideal candidate for the next local government to allow same-sex marriage," Catania says. "But because of Congressional interference, it's important that we as a community stay strong and become active and spend our scarce resources wisely."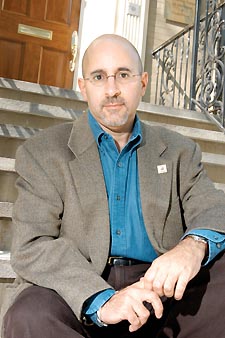 Evan Wolfson
Rollins will spend the final weeks before the election speaking on college campuses, urging students to vote. And while he says he won't tell them who to vote for — "I wouldn't dare" — he slips in what he calls some "sly propaganda and true information: 'Oh, just so you know, your sitting president wants to give three-quarters of a billion dollars to faith-based organizations to preach abstinence-only sex ed… I tell them, 'Vote wisely, but whatever you do, don't sit this one out.'"
Wolfson agrees, but points to a larger picture as well.
"Absolutely in these next five weeks people should be getting as many people to vote as possible in support of marriage equality and for candidates who will do the least harm," he says. "But I would also say people should look beyond the election and realize that, like any civil rights struggle, it is a long-term engagement, and the key to our success is [that] wins trump losses.
"As long as we keep having some states move towards marriage, and have more couples marrying and more non-gay people getting a chance to see the reality, rather than just right-wing scare tactics — that will outweigh any temporary defeats we take along the way."
WedROCK, a benefit for Freedom to Marry, takes places this Tuesday, October 5 at Nightclub 9:30, 815 V Street NW. Doors open at 7 p.m. $40 and up for tickets. Visit www.tickets.com.