Would you believe there's a female dance singer who's not getting the attention she deserves in clubland? Hard to believe, I know. Since the dawn of disco, the ladies have been the face and the voice of dance music. The men — especially gay men — may be the music's movers and shakers, but the dancing public wouldn't know that from what they hear.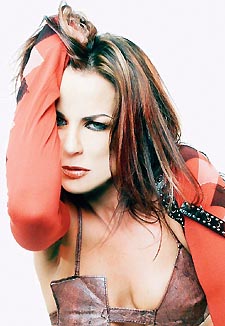 Gioia
Why doesn't the public know of Gioia Bruno? And worse, why don't gay men? Two months after Expose This was released, Gioia's irresistible, confectionary debut solo album has slipped under the radar with no press and no chart action to speak of. In years past she's had two independently released, moderately successful dance singles: the gay-affirming "Free to Be " and "From the Inside. "
So why, with even better tracks and major labor support, can't she get some attention?
The situation is an even bigger shame because Expose This sounds very much like an updated version of the widely appealing dance-pop sound of the '80s. Remember Exposé? That Miami girl group scored pop hit after pop hit, from "Come Go With Me " to "Point of No Return " to "What You Don't Know. " Gioia (pronounced JOY-ah) was the strongest singer in Exposé.
She was silent for more than a decade, due to an inoperable tumor on her vocal chords leaving her unable to sing, or even talk, for years. Thankfully, the tumor disappeared and Gioia has returned. Most of the 13 songs on Expose This sound very much of the moment, though you can still hear Exposé's influence — most noticeably on the misbegotten ballads. There are only three such forgettable ballads here, and the worst, "Until the End of Time, " comes at the end, well after you've already fallen under Gioia's spell.
She's most spellbinding on "Barely Breathing, " an awe-inspiring club track that demonstrates why Gioia deserves more attention on the dance floor. If proper attention were paid, this would be the biggest dance hit of the year, and not just one of the best.
Unlike most of her contemporaries, Gioia's emphasis here isn't to show-off her vocal prowess. She lives out the title of "Barely Breathing " by restraining her vocals, audibly letting out only enough oxygen to serve as the front winds of the music's transfixing Hurricane Francis-like marathon mood. She also holds back on the lyrics, though she could have worked a little harder to firm up those she does include. She begins "Barely Breathing " in imbecilic form: "When it's cloudy and the raindrops fall, but inside I'm ok/I get strong, from the child in your eyes. " On "Incredible, " she sings, "Talk to me in a language I believe/Found the kind of love I need. " It's often hard to believe in the lyrical language she's speaking, much less understand it. But musically? The language is dance, and it's hard not to love.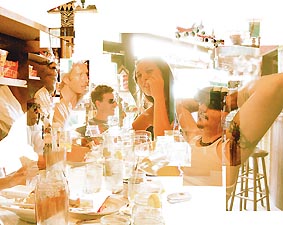 Sweetback
Sade hasn't seen much chart action since the '80s either — she releases full-length albums only occasionally, which doesn't help matters. Still, her brand of sensual, laidback R&B has a steady base of support even today. It would follow that her own backup band, Sweetback, deserves much of the credit for that lingering appeal. In 1996, the three men at the heart of Sweetback released their group debut, on which popular R&B singers Maxwell and Amel Larrieux subbed for Sade.
Stage [2] sees the British group enlisting several new singers subbing for Sade. No one noteworthy though — in fact, precious little of the album is noteworthy. Few tracks register much feeling. Your mind will be challenged not to wander as several of the laidback tracks take lazy, hazy, circuitous turns, serving as nothing more than, and way too much, album filler.
All that filler buries the few sprightly gems. Among these, there's the sweet, organic pop of "Things You'll Never Know, " the Jill Scott-esque romantic notions of "Love Is The Word, " and the lilting jazzy electronica of "Round and Round. " Newcomer Aya oozes out her sweet, smooth voice on all three, and on half the album too. So it only makes sense that the gentle-voiced Aya, a natural smooth-jazz singer, embodies both the good and the bad of Stage [2]. It charms you one minute with tenderness, dulls you the rest of the time with listlessness.