By 71, a thoughtful person should reach a point where he has learned a thing or two. One thing Keith Kerr has learned is that the Pentagon's policy for lesbian and gay military personnel, infamously known as "Don't Ask, Don't Tell," (DADT) is seriously flawed. As a retired, gay brigadier general of the California State Military Reserves, Kerr should know what he's talking about.
"It's not working," Kerr says, speaking by phone from his home in Santa Rosa, Calif. "It's still harming people. Careers are ruined. The military loses a lot of good people."
Kerr will be bringing his message to Washington on Oct. 2, when he addresses the Servicemembers Legal Defense Network "End the Witch Hunts" national dinner. SLDN is a national group whose mission is to end discrimination and harassment of military personnel affected by "Don't Ask, Don't Tell."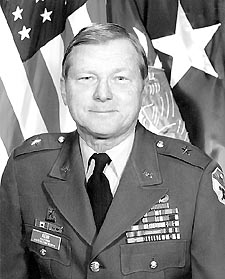 Ret. Gen. Keith Kerr
During his military career, from his enlistment in 1953 to his retirement from the Reserves in 1995, Kerr says he never came out to another member of the armed forces. Kerr seems a very private person, though. It's not difficult to imagine him going through life with his cards very close to his chest. It's more difficult to imagine the courage it took for him to come out publicly in the pages of the New York Times in December 2003.
Kerr, along with two fellow officers, and with the help of the SLDN, penned an opinion piece criticizing the DADT policy. The Times didn't run the essay, but instead wrote a news article about the stand Kerr and his two gay peers were taking. The story pushed Kerr out of the closet.
"After they assigned a reporter, I sent a heads-up to my brother, to my two nephews and their wives, and to two Army generals who had been instrumental in my career," Kerr recalls. "I immediately got back wonderful letters of support. By this time, they had long ago figured it out. I just felt awkward about bringing the topic up because it had been unspoken for so long."
Unlike Kerr's well-wishers, and unlike the two generals to whom Kerr wrote — who did not respond — Kerr's father had a different response years earlier.
"He intercepted an indiscrete letter I had written," says Kerr, who points to his father as a strong presence during so many stages of his life. "My father and I became estranged."
While sparse with details about the letter, he explains that the fallout with his father was fiscal as well as emotional. The estrangement hit Kerr as he was entering college, meaning he couldn't count on his family for any financial help. The Army was a relief from the deprivation.
"I wasn't particularly attracted [to the military] at the time I enlisted," Kerr admits, pointing out that he had already deferred the draft by attending college for four years, but that appendicitis and a change of colleges had put him behind. He feared that if he didn't enlist at a time of his choosing, the draft board might pull him from school in the middle of a semester. The summer 1953 ceasefire had just been declared in the Korean War, and Kerr decided the timing was right.
"I enjoyed the life," says Kerr. "It was a big relief. I was supporting myself in college. Now I was able to have funÂ…. It was an orderly way of life. I found that when I did a good job, I was recognized for it."
The Army was a good fit for Kerr. After a Cold War tour of duty in Germany, Kerr returned stateside where he completed his undergraduate education at the University of California, Berkeley. But while his military obligation was fulfilled, he was not ready to cut his ties to Uncle Sam. He liked the Army, and pursued a commission.
As Kerr's affinity of the military grew, so did his affinity for the same sex. In his military career, Kerr maintained a poker face that kept would-be accusers from suspecting his homosexuality. Meanwhile, Kerr pursued a civilian career teaching and renting a house with two gay roommates. He did, however, go through the motions of trying to be heterosexual during this period in the early '60s.
"I had really deceived myself that I would be attracted to the opposite sex," Kerr insists. "I was dating a lady that I sincerely liked, but didn't love. [Around] 1962 or '63 I decided, 'You're not going to marry. It would be a mistake for you to do so.'"
Kerr says that having two gay roommates helped him come to terms with his decision. "There was never any question in their minds about their sexual orientation," says Kerr. "They weren't trying to dissuade me [from dating women]. We were all very tolerant of one another. That's when I realized that this is my lifestyle."
Kerr's new sense of identity, coupled with a sexual revolution brewing in his backyard, could not overcome Kerr's devotion to the military.
"I was mostly standing on the sidelines, not quite sure whether it was going to crash and burn or not," says Kerr, referring to the new '60s call for sexual tolerance.
Though Kerr managed to keep his distance from the Summer of Love, he couldn't keep his distance from discos. In 1974, he found his partner on a dance floor.
"We met in a disco," Kerr offers. "If you remember that song from South Pacific, 'Some enchanted evening, you may see a stranger across a crowded room.' That was exactly the way it happened. We were dating for a year, then he moved in."
Alvin was, however, another component to hide from Kerr's military superiors. For the next 21 years Kerr remained in the military, and his domestic situation remained under the radar. His closeted position led to a recurring nightmare of being followed by a military investigator.
Considering the stress of being closeted in the military for so many years, Kerr initially welcomed the "Don't Ask, Don't Tell" policy when then-President Bill Clinton announced it in 1993.
"I thought [it] was a great improvement," Kerr says. "There was an absolute prohibition previously."
But as Kerr insisted to the New York Times and elsewhere, the policy does not work. "The experiences of our 24 allies who have lifted the ban have all been positive. Homophobia has been instilled in the military for years. It's a value that's been passed down. What we find today, though, is that society has changed, that younger people, especially, don't seem to have the same attitude. Frankly, younger gays today are not willing to put up with the bullshit of hiding who they are."
SLDN 12th annual "End the Witch Hunts" dinner, reception and auction is Saturday, Oct. 2, 6 p.m., at the Renaissance Washington, D.C., Hotel. For more information, visit www.sldn.org.