After a number of uncertain years in which fundraising and attendance totals significantly decreased, organizers say that the 18th annual AIDS Walk this Saturday morning is poised to exceed previous years efforts.
"We're seeing a lot of interest," says AIDS Walk director Robert York. "We're really hoping that the momentum continues."
AIDS Walk is a marquee fundraiser for Whitman-Walker Clinic, with the money raised going to the organization's many medical and support services for people living with HIV/AIDS. Last year's walk raised $575,000, according to Whitman-Walker — this year's goal is to reach $580,000.
York is optimistic that they'll reach the goal — just last Friday they surpassed the pre-Walk team total from 2003.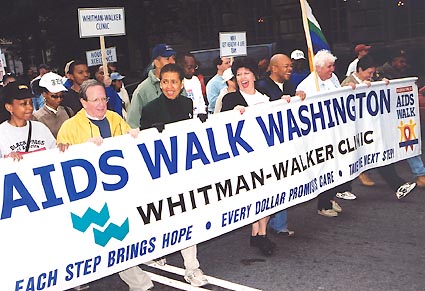 AIDS Walk 2003 led by Councilmember Graham, Congresswoman Norton, Mayor Williams, W-WC Director Baker, Councilmember Schwartz and others
In comparison to some of the AIDS Walk's largest years in the 1990s, attendance has suffered somewhat in previous years for a number of reasons. Some of that drop-off has been attributed to a growing perception that AIDS is not a pressing crisis as it was in the 1980s and 1990s. The event has also been a victim of timing — the 2001 AIDS Walk, held shortly after the Sept. 11 terror attacks, saw an enormous drop in participation.
"I think the upswing is definitely back," York said of the projected increase for 2004.
AIDS Walk will begin at 8 a.m. on Saturday morning, Oct. 23, with a stage program including welcomes from local officials and a pre-walk aerobics workout. On-site registration will be available at the Warner Theatre atrium at 13th and E Streets NW. Walkers will gather on Freedom Plaza, 14th Street and Pennsylvania Avenue NW, for the start of the walk at 9 a.m.
In a change from recent years in which the event has run on sidewalks or along the National Mall, this year's walk will take place on Pennsylvania Avenue and other major avenues around Capitol Hill. A post-walk celebration on Freedom Plaza will include performances Simone Denny and Practically Einstein.
Although the clinic has not set any attendance goals, York believes that this will be a successful year both in funds raised and people participating.
Ron Collins is a firm believer in the importance of the AIDS Walk — he's walked or volunteered for the past 17 years and will be working registration at this year's walk.
"I walk and participate in honor of those people who have gone on," says Collins, a fifth-generation Washingtonian who has also volunteered for many Whitman-Walker programs and served on the organization's board of directors. "By participating in the walk, I honor and continue to remember them."
Collins remembers his early participation as motivated by the urgency of the AIDS crisis — he lost many friends as well as his brother to the disease. The AIDS Walk was a way to raise money and awareness at a time when it was a struggle even to have proper care delivered in hospitals. He recalls the hospital stay of a friend of his — the friend couldn't get his meal brought to him. "The hospital folks left his food tray in the hall. They refused to bring it in his room."
Since that time, Collins says that "it's been a given that I would participate." He says that AIDS Walk is important both for the money it raises and for the opportunity to educated people about the importance of protecting themselves from HIV.
York says that support for the event is broad, while still including the traditional base of supporters.
"It's definitely a pretty diverse crowd," he says, noting that many local companies have teams participating. "The gay community is very involved as well, with teams from different organizations, sports teams, leather groups — so many different groups are involved and represented."
Collins hopes that everyone in the gay community will see the importance of coming out for an event such as AIDS Walk. Although apprehensive at first, his own father has participated in the walk, as well as his sister and other relatives.
"If my dad considers it serious and important," says Collins, "I think a whole lot of people should as well."
For more information, visit www.aidswalkwashington.org.