When Andrew Sullivan took the stage Sunday night at DC9, a hipster bar filled with punk sensibility, a handful of hisses and under-the-breath utterances floated from the crowd. Perhaps for some, the presence of a famously conservative gay political animal was incongruous at an evening devoted to gay bloggers, many of whom were more demonstrably liberal in outlook.
But Sullivan's overall reception was warm — he did, after all, focus his reading on his disgust with the Bush administration's attempts to pass a constitutional amendment banning gay marriage. And it couldn't hurt that of the eight bloggers who read from the stage, his blog is the most famous: www.andrewsullivan.com was one of the early blogs that brought mainstream attention and legitimacy to a new media form that's growing day by day.
Ranging from on-line journals to personal political activism to ruminations on cultural esoterica, blogs have come to the forefront this election cycle as a popular, unleashed alternative to traditional news and political media. The gay members of the blogosphere gathered for the Sunday night "Blogjam: The Homo Speak" represented both the well- and the lesser-knowns of the medium, stepping out from behind their Internet masks to read works drawn from their own blog entries for the 100 or so mostly gay white guys who gathered to hear them.
Apart from a few nervous miscues when bloggers lost their places in their text, or had trouble reading their own handwriting, it proved a successful evening, with topics ranging from the political to the personal, from wildly funny to tearfully serious — "from heartbreak to hairy bears," as Jim Barrett, a Blogjam organizer, put it.
"Everybody came up to me afterwards and asked, 'When are you doing this again?'" said Bob Mould, emcee for the night and the blogger behind Boblog (modulate.blogspot.com). "It got to the point it was annoying." But annoying in the best possible way. His answer: "I haven't really thought much about that, but maybe in the spring. I don't think it could be a monthly event."
Blogjam is the first of its kind in Washington and one of just a handful of similar events nationwide. Barrett, of the blog JIMBO (www.jimbo.info/weblog), read at New York's first exclusively gay blogging event in June, and decided he wanted to organize a similar session in Washington. It turned out as he had hoped.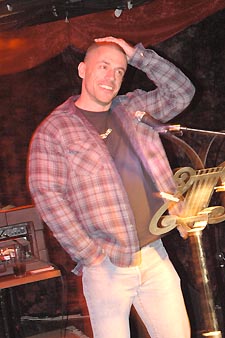 Stephen Cox, the man behind geekslut.org
"It was a nice creative outlet that you don't get to experience much in D.C.," he said following the event. "Maybe in the future we'll put a theme to it, and work to expand the reader lineup to include more than just gay men." In fact, Washington gossip blogger Wonkette (www.wonkette.com) — a.k.a. the hetero and married Ana Marie Cox — was scheduled to appear, but was called away to cover something else at the last minute (she told Mould it was something about Jon Bon Jovi, and she felt really bad about having to miss it).
"It was great to see all these smart homos in one room together, drinking and sharing stories," Sullivan said after the readings. "It doesn't get much cooler than that."
At their best, the personal-oriented bloggers represented at Blogjam turn life's mundane happenings into profound insights that all can learn from — or at least laugh at. Is anything off-limits? Based on his years of experience, Barrett says that "blogging about work is now forbidden, and it's dangerous to talk about your friends or dates."
Stephen Cox doesn't have any such compunction though. The Ft. Lauderdale-based provocative blogger known as GeekSlut (www.geekslut.org), Cox generally withholds only the real names of his "fuck buddies" and assorted tricks on his 19-month-old site. He's a popular blogger due to his propensity to get pornographic in detailing his multitudinous sexual escapades, as much for his delight as for the reader's. He told the crowd of an erotic time he experienced after lights out while serving in the Army — after telling the story, he snickered and made a show of readjusting himself.
But along the way he throws in just enough serious firebombs — in his swaggering, meant-to-offend manner — that works to keep readers enraged enough to come back for more. "It's grown from me telling my stories to bashing crystal-meth heads and talking about HIV," Cox says.
At Blogjam, he told extemporaneous stories based on what he's written in his blog. He said he's through with fucking crystal addicts, that crystal use has become an "epidemic on the scale of AIDS in the '80s. It's time our community wakes up to the horror," he said.
Sullivan makes money from his site through numerous banner advertisements as well as reader contributions. But none of the other Blogjam bloggers seem interested in turning a profit from their sites, and none currently do. Mould sees it as little more than a venue to promote his music and keep friends informed of his activities. D.C.-based blogger Chris McCarthy, of the blog Chrisafer (chrisafer.com/bbbs.htm), has no intention of giving up his day job as a public relations professional and turning his site, which he considers a hobby, into a commercial venture either.
Still, there's always the route of the infamous-for-fifteen-minutes Capitol Hill staffer/blogger/prostitute Washingtonienne. McCarthy jokes, "I'm not ruling out taking part in a sex scandal, blogging about it, then landing a book deal."