Washington's newest local celebrity is Mary. She's the central figure in a new campaign aimed at smokers who are trying to kick the habit. Ads around the city invite voyeurs to monitor Mary's efforts at MaryQuits.com. One advertising medium for the campaign made its debut last week as the first weekend of October came to a close. Around the city, Mary Quits cigarette urns turned out in force, 60 in all. Many gay venues were included in the campaign. There were two in front of Club Chaos on 17th Street. Another urn — each looking like a bucket with a post rising from it, two holes at the top for cigarette butts, wrapped in Mary Quits placards — was dropped in front of Green Lantern, just off Thomas Circle. Another ended up in front of Hamburger Mary's on 14th Street.
"Two of these smoke pits showed up in front of my restaurant last week and I immediately called the number and told them that they had 12 hours to come fish them out of my dumpster before the trash truck picked them up," Glenn Mlaker of Hamburger Mary's wrote, as posted online on a nightlife bulletin board managed by Mark Lee. Lee is one of the city's best-known gay nightlife promoters and a leading opponent of efforts to ban smoking in the city's entertainment establishments.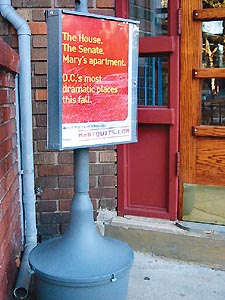 'Mary Quits' urn
(Photo by Will O'Bryan)
Lee's response to the urns was both immediate and unequivocal.
"It appears that extraordinarily well-funded proponents of an anti-smoking campaign have begun illegally 'dumping' — without any attempt to notify or receive permission from affected local community businesses — free-standing promotional displays advocating anti-smoking efforts," Lee wrote in an Oct. 5 e-mail message circulated via his Atlas Events e-mail list. "These materials have been produced by a national anti-smoking group known as the American Legacy Foundation — and this activity presumably includes anti-choice supporters of the recent failed attempts to impose a total and forced mandatory smoking ban on the nation's capital."
Gerald Schwinn, a commissioner of the Dupont Circle Advisory Neighborhood Commission 2B, used stronger language in an Oct. 7 letter to the American Legacy Foundation: "Please remove your illegal public space advertising from the sidewalks in our neighborhood. Your illegal activity has been reported to the D.C. Office of Public Space. I intend to introduce a resolution at the Oct. 13 meeting of the Dupont Circle ANC requesting the Office of Public Space to vigorously pursue the removal of your obstructing objects and that appropriate fines be levied on each object found on the city's sidewalks."
The fallout from the cigarette urns has been heated. But Chris Cullen, the American Legacy Foundation's executive vice president of marketing and communications, says his group doesn't deserve the heat.
"From our perspective, that's not the way we operate," Cullen insists. "We have no intention of burdening a business owner in any unlawful — or even inconvenient — way. That's not how we operate."
Cullen says that the company ALF hired to do the job, Max Custom Media, must've dropped the ball when it came to deploying the "MaxPosts" for Mary Quits.
"Max Custom did this for us in New York," Cullen explains, referring to a similar "Bob Quits" campaign. "It was successful, so we asked them to do something similar for us in D.C. In New York, the Max Custom Media Group gets permission from the property owners to place them there. If they get no permission, they wouldn't go there."
Along with Mlaker at Hamburger Mary's, several other affected venues say they nevertheless got the urns without granting permission.
Irv Morgan, the operations manager for JR.'s Bar & Grill and Cobalt, both on 17th Street, says he received a letter asking for permission to place urns in front of both establishments. "I was looking at the letter, sitting on it,Â… I didn't do anything with it," says Morgan. "Then four or five days later, literally overnight, one appeared."
Morgan added that many other establishments along his strip of 17th Street notable for its many gay venues had similar stories. "Universally, it's not been well received," Morgan says.
Morgan says he feared that he may be liable for the urn, in regard to city regulations that control what is placed on sidewalks and other public spaces.
"No one instructed [Max Custom Media] to place any guerilla postings," Cullen insists. "What they've done was either through ignorance of the district's regulations, or incomplete administration of authorization. Somebody was going to wait for the bar owners to say yes. They were not instructed to do this without permission."
Carlos Aguilar, who manages Club Chaos on 17th Street, says someone dropped two urns by his front door, telling his assistant that the urns were free for Chaos's use. But on Oct. 7, they were gone.
Bill Rice, a spokesperson for the district's Department of Transportation, says the department's Public Space Management Administration received a number of complaints about the urns. In response, Rice says the DOT told Max Custom Media to remove the urns.
"You need a permit, generally, to occupy the public space," Rice explains. "I want to emphasize that when there appears to be a violation, we always give a warning first." Star Kalatzan, the chief operations officer of New York-based Max Custom Media, confirms that 60 MaxPosts were placed around the metro area. And she confirms the DOT request to remove them.
"Max Custom Media launched this program in New York City this past March, and we are going to be rolling it out across other markets in the future," says Kalatzan. "Washington, D.C., was one of the cities in the rollout. We believe it is a worthwhile piece that can help keep cities clean of cigarette butts. However, we do not want to break any laws and respect that the city does not see this as a private piece of furniture and are complying with the removal request."
Despite the furor over the urns, and suggestions that the Mary Quits campaign is related to efforts to ban smoking in D.C. venues, Cullen insists that's not the case.
"As a matter of fact, as a 501(c)(3), we're not authorized to influence legislation in that regard," says Cullen. "As far as the district's position on smoking, the foundation cannot and will not take a position. We're about youth prevention. We're showing them how to quit. There are other groups involved with clean indoor air."