Andrea Martin has never seen Hello, Dolly!
"I guess I'm the only person in the world who has never seen that musical," says the actress who has taken on the role of matchmaker extraordinaire Dolly Levi in Thorton Wilder's frothy classic, The Matchmaker, the comedy from which the musical was cut. With no memories of Carol Channing or Barbra Streisand to influence her take on the character, Martin was able to make the role her own.
"Since I have nothing to compare it with," she says, "I'm really coming to it from a fresh place. If I had seen it, I think it would have been very difficult to do this part."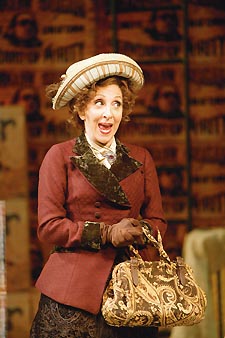 Martin
Martin, who's had a long and varied career in both stage and screen, and is renowned for her outstanding comic work in the late '70s with the television comedy troupe SCTV, leapt at the chance to perform Wilder's play at Ford's Theatre, where it plays through October 24.
"I loved the idea of doing this classic play written by Thornton Wilder at this historical theater," she says, noting that she has much in common with the character of Levi, despite the fact that the latter is a character borne out of the turn of the last century.
"We're probably the same age," she says. "I'm resourceful, like her. And like her, I'm optimistic in that I believe in second chances. I certainly know what it's like to want to stay isolated and to feel a certain contentment in the kind of everyday ritual of my life, which isn't particularly adventurous. But then, at a certain point, I just have these little epiphanies and I say 'What are you doing, Andrea? Get out, join the human race — have a chance at love a second time and give back!'
 You can't really can't get a lot out of life sitting home contentedly," she concludes. "I think life's meant to be shared — find something in you that is charitable, that can help the world to give back. Because only when you give can you actually get something."
The Matchmaker plays at Ford's Theatre through October 24. For tickets, call 202-347-4833 or visit www.fordstheatre.org.