Green Day drops the faggot word bomb — "Maybe I am the faggot America, I'm not a part of a redneck agenda " — early on its latest album, American Idiot, on the blistering, kick-off title track. And then the band does it again, two tracks later. It's an offensive epithet, but obviously the goal is less to provoke those of us in gay America — which probably doesn't include lead singer Billie Joe Armstrong. Though he proclaimed himself bisexual back in the band's breakthrough Dookie days, he's been silent about it ever since. Instead, the goal is to provoke "Idiot America " and the man all-but identified as its leader, the never-named but very-present President George W. Bush.
No beating around the bush here: American Idiot is a masterpiece. For someone not even a Green Day fan it's a revelation. Their first album to debut atop the Billboard album chart since the trio busted into the mainstream a decade ago with their intensely melodic brand of pop-punk, the album is also the best musical statement yet capturing the angst of today's political left. And even though the best band in rock, U2, has an album waiting in the wings, American Idiot looks to stand firm as the best rock album of the year. And it makes their concert, October 31 at the Patriot Center, all the more of a must-see.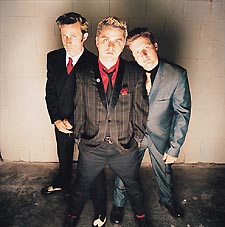 Green Day
Green Day hasn't reinvented the rock wheel, or even created anything altogether new. American Idiot succeeds precisely because the trio of Armstrong, Mike Dirnt and Tre Cool stick to fashioning irresistible, catchy melodies built on the same three-chord punk music bed they began with. They've turned the rage up a couple notches: Armstrong on guitar and Dirnt on bass practically test the endurance of their strings. And Cool does the same with his drumsticks, pounding out taut, riveting, ricocheting beats. Much hoopla has centered on two nine-minute rock-operas, "Jesus of Suburbia " and "Homecoming. " But as creative and high-concept as they are, these are not the best tracks on the album.
In fact, it's the high-concept picture painted by the album in full that's truly noteworthy: the impressive deliberation of the album's assembly, the consistent lyrical theme that straddles, as one track calls it, "the space that's in between insane and insecure. " Armstrong handled all the writing here, except for two sections of "Homecoming, " and his writing suffers in spots from heavy-handedness and abstruseness. Most of the 13 tracks, and one of the mini-rock-opera parts, are time-stamped, in chronological order, with a specific month and day.
"American Idiot " ("Feb. 23 ") kicks off the album with a take-no-prisoners attitude. It's a hopeful and despairing anthem all at once. A battle cry, with its forceful melody and lethal lyrics, for Americans to rise up against "the age of paranoia. " With its clear anti-Bush theme, this is a track that could be played loudly — it couldn't be played quietly, no matter how hard you might try — if John Kerry should win the presidency a month from now. It could be played even louder, though, in frustration if not.
Another perfectly realized track could serve as the anthem for every future September 11 remembrance. "Wake Me Up When September Ends " is time-stamped "Sept. 10, " it's track no. 11, and it opens with the lyric, "Summer has come and passed, the innocent can never last. " Even more than the pained lyrics, the exquisite melody is so affecting to be tear-inducing. "Whatsername " ("January 1 ") closes out the album in just as dazzling a fashion as it began, though with an appropriate, added sense of parting sorrow. "Remember, whatever, it seems like forever ago, " Armstrong sings.
But really, it's never too soon again.
Read more of Doug Rule's music reviews in the MW Archives.