"I am her father, " booms the familiar sub-bass voice that immediately conjures up sci-fi scenes teeming with Jedi fighters. "Ethel's her mummy, and I'm Norman. " That terse description would almost sum up Ernest Thompson's seemingly straightforward On Golden Pond, if it weren't for that pesky little item known as a dramatic plot. But from the rather pithy summation offered by the incomparable James Earl Jones, the all-important storyline is all but forgotten.
From the moment Jones attempts his first subtle entrance, bumbling down the blonde wood staircase of designer Ray Klausen's domestic wicker-woodsy set, we know we're in good company, instantly at home with the Thayers, an elderly Wilmington couple spending what may be their last summer together on the Maine shores of Golden Pond. You can smell the clean New England air, hear the mating calls of the loons, even taste Ethel's freshly baked biscuits.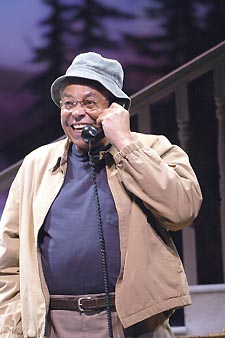 James Earl Jones
Everything about Pond is as classic as it ever was, minus the three Oscar-caliber performances from Katharine Hepburn and Henry and Jane Fonda in the unforgettable 1981 film adaptation. This time around, Leonard Foglia directs an all African-American ensemble to convey the bittersweet, beloved tale of the Thayer family. The tour de force leverage comes from the legendary Jones, with a surprise turn from Leslie Uggams, who stepped into the role at the last minute after Diahann Carroll sustained injuries from a herniated disk.
Those expecting the same emotional density delivered in Thompson's screenplay will find only occasional snippets of that dimension, as the stage version is not nearly as comprehensive as its cinematic counterpart. Thompson's story still inspires a few lumps in the throat, though his tightly-constructed script lacks the tension or action to survive beyond its service as a potent star vehicle.
Still, Jones and Uggams offer indelible portrayals as the endearing older couple, making perpetual excuses for each other as they learn how to cope with growing old and staying young. Of course once thirteen year-old soon-to-be grandson Billy Ray (Alexander Mitchell) shows up on the scene for the summer, pronouncing Dumas as "dumbass " and cursing as his preferred means of expression, the Thayers find themselves rejuvenated, and Norman can stop checking the classified ads for a new purpose in life. All of this lively behavior builds more anger and resentment in estranged daughter Chelsea (Linda Powell), now 42 and married again, and she finally confronts her aging parents about her less-than-perfect childhood. 
On Golden Pond
To 10/17
Eisenhower Theater
202-467-4600

With only one week to rehearse her role, Uggams, 61, proves to be an energetic Ethel with more than just a spring in her step and a bounce in her gait. Her spirited wife and mother is a dear, lovely lady treasuring her memories. Outfitted in sweet maternal sweaters and preppy knits, Ethel is a huggable, loveable grandmotherly type who still loves to romance her Norman.
And Jones, in his savory portrayal of the "tough old buzzard " who has captured his wife's heart, is likely to give in to that romance. The actor, who blazed to fame many decades ago in Arena Stage's A Great White Hope, brings to Norman a warm sense of humanity and agility. At 73, Jones is more adorable with more attitude than ever before. And on this Pond or any other, he is still a bright and shining star.
---
After 50 years, Thornton Wilder's The Matchmaker hasn't aged very well. Despite an enchanting star turn from Andrea Martin as the widow Dolly Levi Gallagher, Mark Lamos' new production at Ford's Theatre is a tepid, shallow romp through 1880s New York. Martin, best known for her eccentric Aunt Voula in My Big Fat Greek Wedding and the SCTV series, can't manage to save Wilder's dim, paltry escapades from the thick blanket of moth dust growing over its prickly period humor.
The Matchmaker
To 10/24
Ford's Theatre
202-347-4833

Sometimes dry, sometimes wet, but always bland, Wilder's comedy about the vibrant New Yorker bringing people together and tearing convention apart, features an intricate plan for Dolly to hitch herself to Horace Vandergelder (Jonathan Hadary), a wealthy merchant from Yonkers preoccupied with ruminations on foolish behavior. Vandergelder's two store clerks, Cornelius and Barnaby (David McNamara and Christopher J. Hanke), follow him into the city for a rip-roarin' adventure filled with millinery hi-jinx and high-end restaurant foibles where the two innocents meet the women of their dreams. Naturally, everything ends in harmony after a meal at (where else?) Harmonia Gardens, and all misfit couples marry their match made by Dolly. Ah, sweet mystery of life.
Lamos' direction lacks a much-needed earthy quality, one that would have lent the story some substance. Much like a sugary, syrupy confection that melts away into a pastel swirl, the evening melts away into an empty, unsatisfying heap. While Martin's "bossy, scheming, inquisitive " Dolly is delightful, performed with impeccable timing and a ready wink toward the audience, most of Hadary's golden nuggets of witty repartee fall hopelessly flat among other lines of unfunny, unamusing dialogue. Both McNamara and Hanke do their best with the naïve, enterprising clerks who shout, "Pudding! " at any remote source of excitement.
The evening is encumbered by too many poor technical decisions, including Rui Rita's questionable lighting on Michael Yeargan's sloppy, illogical scenic design. Without Martin's quiet, moving soliloquy to her deceased husband Ephraim, the only interesting thing about Wilder's Matchmaker would be its end.