Richard Morel partners in a local legendary dance music producing/songwriting duo, records with his five-piece band for a highly regarded dance music label, and creates respected remixes for artists ranging from Pet Shop Boys to t.A.T.u. All that, and he's a gay man living in Takoma Park, Md., with his partner of 11 years.
So why don't you know him better? Or at least know more than his Blowoff work at the 9:30 Club with Bob Mould? Morel's bubbling-under status probably has much to do with his sound. It's the sound of a different era — though an era just as likely to be found in the future as in the past. His brand of rock 'n' roll electronica has been quietly building over the years, and a new slew of groups, most prominently the Scissor Sisters and Interpol, are mining the divergent melded categories of punk, post-punk and new wave.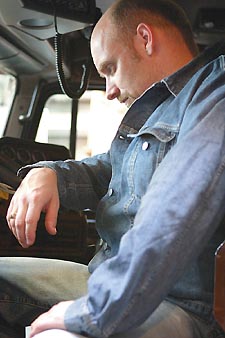 Morel
It may be only a matter of time before Morel's eponymous band ignites. In fact, it may be only a matter of weeks: the group's latest album, Lucky Strike, drops next Tuesday, and the group kicks off a national promotional tour on Saturday, October 23 at the Velvet Lounge.
Lucky Strike, even more than 2002's Queen of the Highway, is a perfect reflection of modern-day American sentiment: a yearning for hope, a call for smart, sophisticated songs, and a request for vivacious melodies and a beat you can groove to — all the while never forgetting life's uglier, frightful realities. It's thrilling and exhausting all at once. "I'm alive, I'm alive, I'm alive/But I feel like checking out, " goes the threatening chorus of "This Song Is Broken, " which features a peppy secondary melody that conjures Michael Jackson's "Human Nature. " The first single, "If You Love Me, " is a breezy summer melody that masks world-weary lyrics: "It's getting hard to be with you/It's getting hard to be all by myself/I wish I was you and you were/someone else. "
Richard Morel writes most of his music and savvy lyrics, and the album reinforces our luck in having such a great gay musician living amongst us. His raspy, resonating voice alternates between sensuous and spooky. Sometimes he strains it when he dips a note or two too low into his bass register. He finds greater success at the opposite end of his range, successfully recalling Mick Jagger. He's a fine purveyor of Rolling Stones rock, too ("Waiting on You "). But usually he sticks to singing in his appealing baritone range, complementing the gritty pop soul turned out by his guitars-and-drums bandmates.
Morel's 15-years of music production experience in L.A. shine brightest on its opening and closing songs. The fantastic album opener "Cheerful " is a sophisticated three-part and seven-plus-minutes stunner, where the same melody is played throughout in different keys, and where enchanting strings and blinding percussion collide with charming vocals about not-so-charming things.
"Driving to Heaven " originally appeared on a Deep Dish compilation, but it's perfectly positioned here as the album closer, carrying the listener out with a wistful melody and an irresistible rhythm. "My sex is sad and lonely/My skin feels all alone/This is how the world ends/Not with a bang – but with a whimper. " Armageddon never sounded so woo-hoo good.