One hundred thousand dollars.
That's the goal attempting to be met at this year's Art for Life Auction. The eleventh annual function, which benefits the Whitman-Walker Clinic's Latino Services Program, is one of the more unique (not to mention culturally classy) fundraisers in town, involving over sixty artists, most of them local, who donate pieces often created specifically for the auction.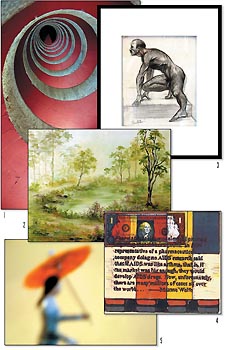 Works by 1. David Amoroso, 2. Mireya Perez-Power, 3. Rob Kleinsteuber, 4. Steven Munoz and 5. Jennifer Leeman.
This year's event, which features both a silent and live auction, will be held on Tuesday, October 26, at the Carnegie Institute, at 16th & P Streets, NW, with a reception at 6 p.m. and the live auction commencing at 7:30 p.m.
Art for Life was started eleven years ago by local entrepreneurs and life-partners Jay Haddock and Hector Torres, who stepped down last year after a decade as co-chairs.
"They've left behind an incredible legacy and some big shoes to fill," says Vince Rodriguez who stepped up to the organizing plate and, along with Ted Culler and Philip Doyle, is serving as co-chair. Rodriguez notes, however, that thanks to the previous efforts of Haddock and Torres, the auction is on a smooth, and possible record-breaking, track.
The exhibit, which features an online component at which people unable to attend can place absentee bids, was curated by Sandra Rottman, a photographer who has volunteered her time for the past several years to the cause. There are pieces by several returning artists — including David Amoroso, Torres, Rottman, and Jorge Zamora, who holds the record for the most money raised on a single painting ($4,800) — as well as some new faces, including Alexandria-based Robert Vanderzee and Puerto Rican artist Noel Nazario, whose donated piece "Burning Soul" is a rhapsody of color.
Though Rodriguez is not an artist, he claims to have deep appreciation for art. And he's even thinking of bidding on an item, but diplomatically won't reveal what. "All I'll say is that I've got my eye on two pieces already." — Randy Shulman
Art for Life takes place this Tuesday, October 26, at the Carnegie Institute at 1530 P Street NW. Tickets are $75. For more info, visit www.wwc.org and click on the Art for Life section.