Is dance music losing its groove? Is it, in fact, dying? Randy White thinks it's tracking that way.
"If it continues the way it's going even the DJs here now are going to have to play R&B and hip-hop in their set," he says. "They're not going to have a choice cause there's not going to be anything. [Dance music] going to be just so underground."
"It has never gone away, completely, but it could," he adds. And that's as frightening a prospect to White as it is to dance fans, since nightlife is his lifeblood. He's the reigning resident DJ at Apex, and a lighting and sound-system designer and manager for nightclubs, including Apex and almost every other club in town.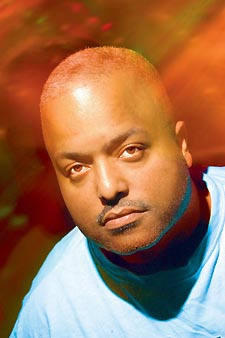 DJ Randy White
What's killing dance music? White cites several factors, but the reluctance of many DJs to play true songs with vocals and melody is chief among his gripes. "All they do is play tracks. All you hear is just beats and beats and beats and beats." More pointedly, he asks of his fellow DJs, "If you play 50 million songs that nobody else has and that nobody else can buy and get, who does that benefit? If the person who hears that song goes and tries to buy it, they're never gonna find it. If it's not recognizable, it doesn't help the music."
Since 1993, White has become the DJ most associated with the long-running venue formerly known as Badlands. He's spun most every night of the week there, and for many years he ruled the Badlands Friday night. Since its name change two years ago to Apex, White has spun roughly one Friday a month, as well as two Saturdays a month for Liquid Ladies.
 White, who is straight, started spinning at the club at the encouragement of a DJ friend who worked there. "If I didn't have to play in a straight club, I wouldn't," he says, noting that most straight clubs are "musically bankrupt. You play to a crowd that's there to be seen, it's not about the music."
A former Billboard chart-reporting DJ, White has taken part in the cyclical back-and-forth nature of dance music's dance with the mainstream, from disco to New Wave to C+C Music Factory and other early '90s hitmakers. But that last dance was essentially a decade ago. White's still waiting for the next round of mainstream attention. He's growing increasingly disillusioned.
  White goes so far as to say he may retire from the turntables if things don't improve by the time he turns 40, less than two years away.
 "I don't think there's anything in particular that I can say that I would listen to over and over and over and over again," he says of the current musical spectrum. "Everything's kind of mellow right now. [There's] nothing spicy."
Randy White will spin next Friday, October 29, and on Saturday, November 6, at Apex Nightclub. Visit www.apex-dc.com for more information.