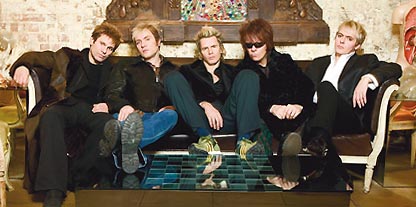 Blasting off: Duran Duran
A quick scan of the lyrics from Astronaut, Duran Duran's new album, provides a snapshot of what must have been on all five original band members' minds as they created their first album in over two decades. "Gonna take it back, take back the life that you want to lead, " they begin the chorus of "Finest Hour." "You've got to believe it'll be alright in the end, " goes "What Happens Tomorrow." "In this moment everything is born again, " goes the lead-off track and first single "(Reach Up for the) Sunrise, " just one of many hopeful, if trite, lyrics from an impossible-to-dislike song. Other lyrics and other tracks, however, are easier to dislike. What were they thinking with the wholly misbegotten "Bedroom Toys, " in which lead singer Simon LeBon essentially raps — talk-sings really — about sexual aides, without, mercifully, ever getting graphic? "Oh my god, what's this? " he declaims at several points.
It's a good question to ask about the album. Longstanding fans of Duran Duran will find much to like on Astronaut, which sees the Fab Five still more than capable of churning out infectious, uptempo, anthemic pop. But what about those who more likely than not forgot all about the Fab Five a decade ago or longer? The album's best song, "Want You More! " just may capture that feeling best. "It's a thrill that makes me curious, " LeBon sings. Which is to say, Astronaut is a thrilling trip down memory lane, with song after song recalling the band's heyday. But it's a trip all the more curious because few people beyond those who grew up with the band are likely to find it appealing. Despite their years in absentia, and despite early reports, Duran Duran's sound is as it ever was. No serious attempt was made to update the sound to appeal to today's teenagers and assorted musical hipsters. Which is a shame.
Maybe, after the disastrous "Bedroom Toys, " one of the first songs written for the album, the group decided to make only subtle updates to their sound for the remaining cuts. And few could argue the decision. But still, they put celebrated pop producers to work, in particular Dallas Austin (Janet Jackson, Madonna, TLC), who produced "Want You More! " As good as that track is — and as good as the similar-sounding "Nice " is — we're still left to wonder why it doesn't sound more contemporary. Purposeful pounding on keyboards and syncopated strumming on electric guitars — all to a mid-tempo beat — are the familiar, exaggerated sounds of post-disco'80s electronica, not of today.
If Duran Duran is not likely to get mainstream airplay for Astronaut, another '80s pioneering group, Tears for Fears, is even less likely to do so with Everybody Loves a Happy Ending, the reunited duo's first album in 14 year. Popular taste being what it is, there's little chance that Roland Orzabal and Curt Smith's sound will turn the ears of today's teens. Hats off to them — they don't even bother trying. The Fears are appealing to their own age group, aging baby boomers, as they augment their initial, heavy, split-harmonizing pop-rock anthems with the sounds of their youth. So on Happy Ending you hear traces of influence from popular folk artists like Bob Dylan ("Closest Thing to Heaven ") and Neil Young ("Size of Sorrow ").
That said, the duo has largely abandoned soft rock and turned most of its attention to cultivating late-Beatles-esque sophisticated art-rock. The title track is a masterly playful romp through key, tempo and tonal changes, including a middle segment that could have been lifted directly from The White Album. It ends — happily of course — with a harmonized one-note direct homage to John Lennon and Paul McCartney. And then there's the album's true anchor, and the true Beatles homage, "Who Killed Tangerine? " If John Lennon were alive today, this could be his handiwork. Meticulously intricate songcraft.