With cold weather quickly taking hold and banishing any lingering thoughts of summer, it's becoming the time of year when nature prepares for the coming winter. It's the time of the year when bears begin thinking of hibernation. Well, at least those bears that live in the woods. There's another type of bear that's not thinking hibernation. In fact, they're thinking invasion.
Bear Invasion, to be exact. And it's coming to town this weekend in all its furry finest, courtesy of the D.C. Bear Club (DCBC).
Chances are that even if you're not a bear, you've heard the term floating around the gay community ever more frequently over the years. And for as many different people as you'll find in the bear community, you'll find almost as many different definitions of what, exactly, a "bear" is.
But there's near universal agreement on a few elements of what makes up a bear. For example, you won't find many skinny, hairless bears.
"There are as many definitions as there are people in the community," says Chris Wilkins, a founding member of DCBC and the co-chair for this year's Bear Invasion. He jokes that the definition of what makes a bear has broadened so much over the past ten years that "it's actually gotten ridiculous."
"I've always defined bear as someone of a stocky stature," he says. "I guess the term would be beefy. Usually there's some amount of body hair involved and almost always some sort of facial hair. Everyone's got preferences for what they like, that's why you have so many definitions."
In a gay male culture often perceived to be obsessed with perfectly toned and youthfully hairless bodies, the bear community can offer a much welcome respite. Being a bear isn't necessarily about repudiating that culture, but for many it can be a way of dealing with the realities of the human body.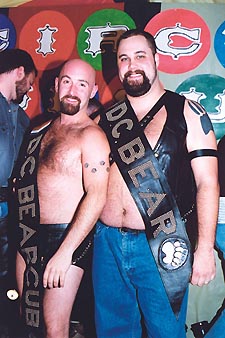 2003 Mr. D.C. Bear Cub, Cubby (left) and Mr. D.C. Bear, Zach.
(Photo by Michael Cornelison)
"Being a bear is about coming into manhood, and [realizing] that you're not always going to be a beautiful twenty-year-old twinkie," says DCBC member Scott Billings. "It's about accepting your masculinity and the power of your masculinity."
Greg Zehnacker, a founding DCBC member and the owner/operator the Green Lantern, sees the bear community as only partially about the look and body type. "It's kind of a friendly type, with a little less attitude than some of the other subsets of our community," he says. "It's a little more open and warm and inviting….It's less likely to be concerned with the latest fashions, and is more down-to-earth."
Billings says that the term "bear" is good because of the breadth of what it covers.
"It doesn't pin you down sexually," he says. "It's not saying that you're promiscuous, although some people are looking to hook up. ['Bear'] doesn't really say anything about you sexually, and I think that's a good thing. I don't like to categorize too much."
There are, however, a few categories of bear to take into account, although as Billings notes they are used to denote types as opposed to sexualities. For example, an "otter" is someone who is hairy but slim, while a "wolf" is a more aggressive personality. Bears who are young in age, outlook or both are known as cubs.
And the really super hairy guys? They're "werewolves."
Zehnacker thinks a lot of the "regular guy" bear outlook comes from such things as family and geographical backgrounds.
"A lot of the bear guys have lived in less urban areas," he says. "Oftentimes they have more blue collar jobs — or they maintain that look in their fashion sense.
"It all comes down to beauty is in the eye of the beholder. That's why there's someone for everyone."
So when more than 300 men who identify as bears — or cubs, or bear admirers — gather for this weekend's ninth annual Bear Invasion, the vibe will focus heavily on camaraderie and fraternity.
Those aspects played a large role in the formation of DCBC ten years ago, when Jack Bell gathered the initial group of members who would form the organization. Bell, who passed away in 2000, helped start the group, which patterned itself after leather clubs such as the Spartans and Centaurs.
Wilkins was one of the founding members at the first meeting, and the view of the bear community was quite a bit different at the time. DCBC bridged a gap between the leather and bear community, he says, noting that at that time, "the leather community really saw bears as just fat guys."
Since that time, however, the communities have become much closer, although DCBC and the bear community in general maintains its separate identity.
"We support the bear community and we support the leather community," Wilkins says. "Over the years we've kind of merged and the groups are able to work together better than before."
As a fraternal club, DCBC invites members to join and has requirements for membership beyond just paying dues — many of those requirements revolve around providing service to the community. That commitment to service is one of the driving forces behind the Bear Invasion, a large portion of which is dedicated to raising funds for GLBT organizations.
Billings works closely with DCBC's fundraising efforts. Last year the event raised around $4,000 for charity groups. This year proceeds are slated to benefit Brother Help Thyself, the Mautner Project for Lesbian Health, PETS-D.C., and the Sexual Minority Youth Assistance League (SMYAL).
Since the first year, when it drew 100 people, Bear Invasion has attracted more people annually, with the exception of the two years following the 9/11 attacks. DCBC expects 350 people for this year's Invasion.
One of the highlights of the weekend, both as entertainment and fundraising, is the D.C. Bear and Cub competition, which Billings says is "the longest-running bear event in the country." In addition to their performances and appearances on stage during the competition, the contestants also work the crowd for donations. The more donations one receives, the more points one gets toward winning the title.
The year's contest, Saturday night at the Four Points Sheraton downtown, will continue the tradition. Hosted this year by drag diva Lena Lett, it should also continue to bring in a crowd of both bears and non-bears — anyone, in short, who's looking for an entertaining show.
But Wilkins and Billings both say that what they look forward to most in a Bear Invasion weekend is the contact with old friends and the opportunity to meet new ones.
"Every event is structured around how we can get people to meet other people and mingle," says Billings, pointing to this year's newest event, the Saturday afternoon "Hook You Up" party. "We were sitting around trying to figure out how to increase the chance that someone's going to meet a new romance or friend, and we decided a version of speed dating was the way to go."
The weekend is also an opportunity for potential bears and their admirers to learn more about the community.
"There are people who come because they are curious," Wilkins says. "It's small enough that they don't feel overwhelmed, and they do have an opportunity to meet people. If somebody's curious to find out what the whole bear thing's about, it's a good weekend for that."
The D.C. Bear Club's ninth annual Bear Invasion begins Friday, Nov. 12 and runs through Sunday, Nov. 14. The Mr. D.C. Bear and Mr. D.C. Cub 2004 Contest will be held Saturday, Nov. 13, at 8:30 p.m. at the Four Points Sheraton. For ticket information and a full schedule of events visit www.dcbearclub.org.