"The world doesn't [care] what I have to say," grumbles Miles Raymond. "I'm so insignificant. Half of my life is over and I have nothing to show for it." A high school English teacher, aspiring (but as yet unpublished) novelist, and recent divorcee who still pines for his ex-wife, Miles is filled to the brim with the bile of self-loathing.
The one passion in this brooding shlub's life is wine. His knowledge on the subject is profound, if a little over-the-top snooty ("I sense a hint of asparagus," he says of one vintage). And he tends to drown his sorrows a bit too much, to the point where staggering home and enduring morning hangovers are a daily routine.
In Sideways, Alexander Payne's triumphant new film, Miles embarks on a weeklong trek through California wine country with his friend, Jack, a former soap star one week away from his wedding. Miles emerges from the trip if not a renewed man, then at least as someone with a slightly improved perspective on the mechanics of his own life.
Payne, whose previous films include the acidic social satires Citizen Ruth and Election and the sweetly frumpy, somewhat meandering About Schmidt, strikes a perfect balance with Sideways. Working from the novel by Jim Taylor, Payne tackles the male mid-life crisis question with a soulfulness that is never plodding or clichéd. The movie blends childish antics with awkward romance, dramatic impact with humorous fizz.
Throughout the course of their week, Miles and Jack each undergo a personal revelation, inevitably resigning themselves to their designated pathways. Jack's sophomoric insistence on having a premarital fling with a wine-shop clerk (feisty Sandra Oh) serves as a wake-up call for Miles to either find a renewed sense of hope within himself or wither on the vine. It's not an easy realization for Miles, who considers himself "a smudge of excrement surging out to sea," but the actor Paul Giamatti makes it a fascinating journey to behold.
Giamatti, who's been around for years playing relatively minor character roles, came to light last year with his magnificent portrayal of underground godfather (and perpetual grouch) Harvey Pekar in American Splendor. In Sideways, the actor, through a gently understated, finely-detailed performance, evokes a complex blend of remorse, anger, longing, tenderness and self-pity. The way he stands, with his head cocked to one side, alone tells us volumes about the character. Giamatti's performance is so good, we find ourselves pulling for this morose sourball with a trod-upon heart, hoping he'll get over himself and uncover at least some of life's abundant hidden joys.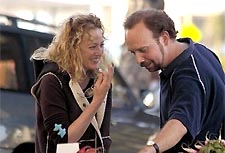 Sideways is also about the frequently illogical friendships we forge with people that life has thrown randomly in our path. Initially, it's hard to envision an intellectual like Miles chumming around with a carnally-obsessed lunk like Jack, but that's exactly Payne's point. We don't always choose our friends; sometimes our friends are there because they got in the way of our lives. In the case of Miles and Jack the end result seems to be a relationship that, although not without friction, is bound by loyalty and a deep, abiding affection.
Sideways
Starring
Paul Giamatti and Thomas Hayden Church
Rated R
123 Minutes
Area theaters


Area Showtimes
As the self-serving, emotionally callow Jack, Thomas Hayden Church is every bit Giamatti's match. Best known for his work on the sitcom Wings, Church gives the kind of sharp, engaging performance that might finally get him noticed by Hollywood's major casting directors. Virginia Madsen adds luster and warmth as Maya, the object of Miles' reluctant affections. There is a shimmer and glow to Madsen's scenes, and one in particular, in which she waxes eloquent on the life-affirming complexities of wine, is the movie's most blissful, transfixing moment. "A bottle of wine is alive," she says, "and it's constantly evolving — until it peaks and begins its eventual decline." The problem is that Miles himself has not yet peaked; his internalized grapes of wrath keep him from achieving full bloom.
As refreshing as the best Pinot Grigio and yet as full-bodied and rich as a perfectly-aged Cabernet, Sideways fully engages your emotional and intellectual palates. Drink it in.