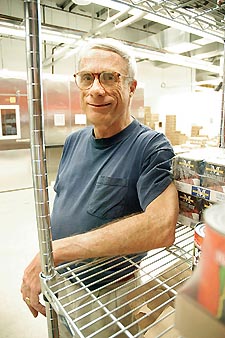 Graham Beard
Graham Beard, Volunteer
Graham Beard holds the distinction of being Food & Friends' first volunteer, having responded to a classified ad in 1988. He's been helping out wherever needed ever since, whether it's deliveries, chopping carrots or packing grocery bags.
As a retiree, Beard has plenty of time to donate to Food & Friends. After a career of uniforms in the Army, he appreciates being allowed to wear shorts "on the job." The staff is also a plus. "They're bright, happy people on the staff," says Beard. "It's a happy organization." Another perk, says Beard, is the cheesecake.
Cherry Chocolate Chip Cheesecake
1 1/2 cups graham cracker crumbs
1/3 cup melted butter
1/3 cup sugar
2 pounds cream cheese, softened
3/4 cup sour cream
3 eggs
1 cup sugar
1 cup chocolate chips
1 cup frozen cherries, thawed and drained

Combine graham cracker crumbs, butter, and 1/3 cup sugar. Press into bottom of 9 inch springform pan.
Combine cream cheese, sour cream, eggs, and one cup sugar. Mix until no lumps remain.
Fold in chocolate chips and cherries.
Pour into springform pan.
Bake at 350 degrees until top is set and lightly browned, about one hour. Cool 6 hours or overnight before serving.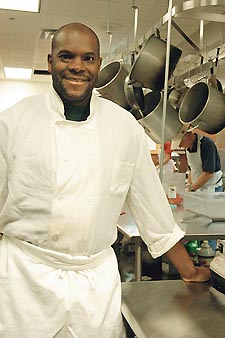 Jerry Hairston
Jerry Hairston, Assistant Executive Chef
Moving from 300 clients to 1,000, with plans for 3,000, has been the greatest change for Jerry Hairston during his eight years with Food & Friends. He jokes that the volume can be a little intimidating. "Initially, we planned to have expansion room built in. I don't want to be here when it gets to the point when we need a new building!"
Hairston can be grateful that his recipe for Mexican Lasagna hasn't changed.
Mexican Lasagna
16 ounces black beans, drained
16 ounces refried beans
1 cup salsa, chunky
1 cup sour cream
1 cup cottage cheese, drained
2 whole eggs
12 oz. Monterey jack cheese, shredded
3/4 cup green chile, diced
8 corn tortillas
1 cup enchilada sauce
Salt, pepper, and chili powder to taste

Drain cottage cheese overnight in a colander.
Combine black beans, refried beans, and salsa. Season mixture with salt, pepper and chili powder.
Combine sour cream, cottage cheese, half of Monterey jack cheese, green chiles, and egg.
Spray casserole dish with non-stick cooking spray.
Dip corn tortillas in enchilada sauce and arrange a single layer on bottom of pan; the number of tortillas will vary depending on size.
Spread layer of black/refried bean mixture evenly over tortillas.
Layer again with dipped tortillas.
Spread layer of cheese and egg mixture evenly over second layer of tortillas.
Layer for third time with dipped tortillas.
Top entire casserole with shredded monterey jack cheese.
Bake uncovered at 325-350 degrees for 45-55 minutes. Be careful not to burn top cheese layer.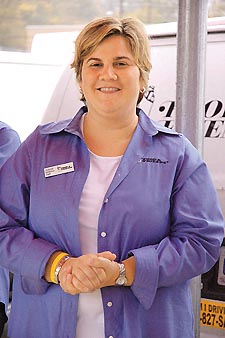 Suzanne McMahon
Suzanne McMahon, Director of Development
Suzanne McMahon, who will be leaving Food & Friends as soon as her partner gives birth to their twins — which could happen any day — says she can't imagine how her life might be without Food & Friends. She's determined, she says, to maintain a connection to the organization she's been a part of since 1990.
One thing she'll be able to take away from Food & Friends, she says, is Black Bean and Citrus Salad. "I've tried making it at home. It's tasty, and great in the summertime. I like it at like four o'clock, as a snack. It's fresh and protein-filled. It gives you energy."
Black Bean and Citrus Salad


1 cup diced onion
1 cup diced red bell pepper
1 tablespoon grated lemon zest
1/2 tablespoon sugar
1/2 tablespoon salt
1/2 teaspoon ground cumin
1 dash hot sauce
1/2 cup orange juice
3/8 cup lime juice
3 cups mandarin orange sections, raw
1/2 cup chopped cilantro
2 16 oz. cans black beans, drained

Sauté onion and bell pepper until just wilted.
Stir in lemon zest, sugar, salt, and cumin and let cool.
Add orange juice, lime juice, and hot sauce to onion and pepper mixture.
Toss dressing with oranges, cilantro, and beans.
Let stand at room temperature for 15 minutes or chill overnight.
Toss before serving.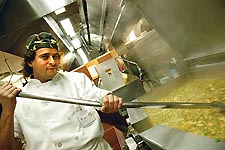 Oscar Ramos
Oscar Ramos, Chef
When Oscar Ramos whips up a batch of soup, a calculator can't be far behind. With his reliable, 80-gallon, industrial-sized kettle brought from L Street, Ramos knows it takes 65 gallons of soup to make 1,000 servings.
"For right now, everything has been focused on putting the building together and unpacking," says Ramos, who joined Food & Friends in 2001. "Pretty soon, probably, we'll be making more than 80 gallons of soup."
He offers his recipe for Beef and Mushrooms in Dijon Sauce for six.
Beef and Mushrooms in Dijon Sauce


3 pounds beef cubes for stew
1 pound mushrooms, sliced
2 onions, diced
6 garlic cloves, minced
4 1/2 cups beef broth
1 1/2 cups sour cream
3/8 cup dijon mustard
1/2 cup parsley, chopped
Salt and pepper to taste

In a Dutch oven, brown meat cubes lightly on all sides.
Add mushrooms to pot. As mushrooms release liquid, scrape bits of browned meat that are stuck to the pan.
Add onions and garlic and cook until onions are slightly translucent, about 5 minutes.
Add beef broth and return to boil; simmer until beef cubes are tender, about 20 minutes.
Stir in sour cream, mustard, and parsley. Heat through but do not boil.
Season with salt and pepper to taste.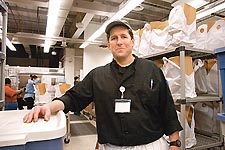 Hilton Hunter
Hilton Hunter, Executive Chef
Hilton Hunter has a lot to be thankful for, considering he insists he looks forward to coming to work every day. And that was even before the new kitchen.
"It's a great kitchen. We're still getting used to it, though. We're definitely happy with our new space."
Hunter shares his favorite recipe from the kitchen: the dessert-like Bishop's Bread.
Bishop's Bread

2 sticks cold unsalted butter, cut into 1/2-inch cubes
1 cup packed light brown sugar
1 3/8 cups sour cream
3 large eggs
2 1/8 cups flour
1 3/8 cups sugar
1 tablespoon baking powder
3/4 teaspoon baking soda
1/2 teaspoon salt
1/2 cup chocolate chip
1 cup nuts

Beat together cold butter and brown sugar until crumbly; set aside.
Mix sour cream and eggs.
Combine flour, sugar, baking powder and baking soda and add to sour cream mixture until just smooth; be careful not to over beat or the batter will be tough.
Stir in chocolate chips and nuts.
Spread in greased pans and sprinkle with butter and sugar streusel mixture.
Bake at 325 for 40-45 minutes, checking after 30 minutes.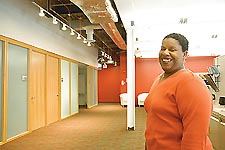 Charnay Henderson
Charnay Henderson, Client Services Manager
When it comes to clients' complaints or compliments, the buck stops with Charnay Henderson.
"When I first started as an assistant in 1998, I was the first person the clients spoke to," says Henderson, explaining that clients can call for a number of reasons, from complaining about a missed delivery or to compliment the kitchen. "Now, as manager, I'm the last person people speak to. By the time they get to me, they're either really happy or really angry!"
Though Henderson says she has a good record of fixing any problems clients may encounter, the kitchen's Orange Poppy Seed Muffins can help her take the edge off a stressful day. "You can smell them through the [whole] building."
Orange Poppy Seed Muffins

2 2/3 cups flour
1 cup sugar
1 1/2 tablespoons orange peel, grated
1/2 tablespoon baking powder
1 teaspoon baking soda
1/2 teaspoon salt
1 1/2 cups sour cream
1 stick butter, melted & cooled
1 1/2 egg
1 1/2 tablespoons orange juice
2 1/2 tablespoons poppy seeds

Mix the flour, sugar, orange peel, baking powder, baking soda, and salt.
Mix the sour cream, butter, eggs, and orange juice.
Add sour cream mixture to flour mixture and stir until just combined; fold in poppy seeds.
Scoop into lined muffin tins.
Bake at 350 for 20-25 minutes until a toothpick inserted in the center comes out clean.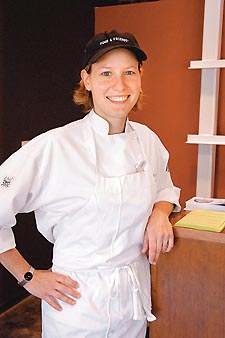 Marta Mirecki
Marta Mirecki, Chef
After ditching her desk job for culinary school, Marta Mirecki continued volunteering for Food & Friends. Still, during that year, Mirecki says that making the move from volunteer to staff member never occurred to her.
"I knew I wouldn't end up in a restaurant. That didn't appeal to me," she says. "But the idea of Food & Friends didn't hit me till I graduated. That's when Hilton [Hunter] asked me if I knew of any students who wanted to come in. It all fell into place. It was serendipity, I guess."
A full-time staff chef since July 2003, Mirecki fits with the kitchen as well as the flavors in her favorite Food & Friends recipe, Tortellini and Sausage Soup.
Tortellini and Sausage Soup

1 pound Italian sausage (turkey or pork), crumbled
1 cup chopped onion
2 large garlic cloves, sliced
3 quarts beef stock or canned broth
2 cups chopped tomatoes (about 3/4 pound)
1 8-ounce can tomato sauce
1 large zucchini, sliced
1 large carrot, thinly sliced
1 medium-sized green bell pepper, diced
2 tablespoons dried basil
2 tablespoons dried oregano
8 to 10 ounces purchased fresh cheese tortellini
Freshly grated Parmesan cheese

Sauté Italian sausage in heavy Dutch oven over medium-high heat until cooked through, crumbling with back of spoon, about 10 minutes.
Using slotted spoon, transfer sausage to large bowl. Pour off all but 1 tablespoon drippings from Dutch oven.
Add onion and garlic to Dutch oven and sauté until translucent, about 5 minutes. Return sausage to Dutch oven.
Add stock, tomatoes, tomato sauce, zucchini, carrot, bell pepper, wine, basil and oregano.
Bring to a boil and simmer until vegetables are tender, about 20 minutes.
Add tortellini to soup and cook until tender, about 8 minutes. Season soup to taste with salt and pepper. Ladle soup into bowls. Sprinkle with Parmesan and serve.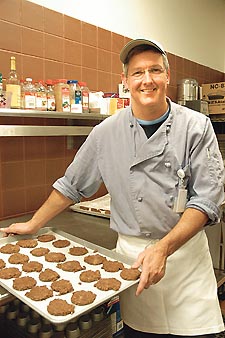 Tim Devine
Tim Devine, Pastry Chef
"We're so excited. It's incredible the way we've changed," says Tim Devine, who's been making desserts for Food & Friends clients for nearly 10 years. "I never thought we'd have our own building."
To put that in perspective, he says an average day might have him baking a batch of 1,000 cookies.
"All the clients like desserts! I always make extra to make sure everybody has a treat."
Chocolate Chip Cookies

1/2 cup sugar
3/4 cup brown sugar
3 tablespoons butter
6 tablespoons margarine, soft
1 egg
1 1/4 teaspoons vanilla
1 1/2 cups all-purpose flour
1/4 tablespoon baking soda
1/4 tablespoon salt
3/8 cup nuts, chopped
3/4 cup chocolate chips

Mix together sugars, butter and margarine until pale and slightly fluffy.
Add egg and vanilla, and mix to combine.
Combine flour, baking soda and salt; add to butter and sugar mixture.
Stir in nuts and chocolate chips.
Line baking sheet with parchment paper. Scoop one or two tablespoons of dough onto sheet, spacing 3 inches apart.
Flatten dough with wet palm of hand.
Bake at 350 for 10-12 minutes, checking after 8 minutes.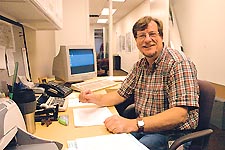 Donnie Hickman
Donnie Hickman, Delivery Manager
After nearly two decades in Los Angeles working in marketing communication, Donnie Hickman returned to D.C. in 2000 to take care of his ill father. In L.A., Hickman also volunteered with an AIDS hospice, and with Project Angel Food, an organization that delivers meals to people with HIV/AIDS.
"It was only logical for me to seek out a similar organization when I moved back to Washington," says Hickman.
That's not to say he always seeks the familiar. After all, this "serious red-meat eater" is sold on the Food & Friends Vegetable Lasagna.
Vegetable Lasagna


2 cans cream of broccoli soup
1 1/2 pounds broccoli, chopped
1 1/2 pounds carrots, sliced thin
1 1/4 pounds onions, diced
1 1/2 pounds mushrooms, sliced
1 package lasagna noodles
3 cups mozzarella cheese, shredded
2 cups ricotta cheese
2 1/2 large eggs
2 cups Monterey jack cheese, shredded
Salad oil, as needed

Make soup according to directions on can, adding only half as much liquid as indicated.
Sauté carrots and onion.
Sauté mushrooms and add to carrot mixture.
Mix eggs, ricotta and mozzarella in large bowl.
Spray a casserole dish with non-stick spray.
To assemble, spread about one cup of soup in bottom of pan. Add lasagna noodles to cover pan.
Spread half of vegetable mixture over noodles, followed by half of ricotta mixture.
Pour one cup of soup and spread evenly.
Repeat one layer each of noodles, vegetable mixture, ricotta mixture, and sauce.
Finish with one layer of noodles and remaining sauce.
Top with Monterrey jack cheese.
Bake uncovered at 350 until top is evenly browned.