After five years at the helm, Cornelius Baker is stepping down as the head of Whitman-Walker Clinic. The Dec. 15 announcement comes not long after other high-profile departures, from Cheryl Jacques at the Human Rights Campaign to the collapse of the D.C.-based LLEGO (the national Latina/o LBGT organization). Combined with the fallout from the November elections, this latest announcement is one more shake-up to keep gay Washingtonians on their toes. But Baker says the resignation was a long time coming.
"I think it's just the announcement that's sudden," said Baker, sitting in the conference room off his office on the Friday morning following the announcement. The crisp, bright morning provides appropriate context for Baker's sunny disposition. "Oh my God, I just feel terrific! I feel terrific in the context of this decision. So I just have this joy now."
When Baker left the National Association of People With AIDS (NAPWA) in 2000 to join the clinic, he initially signed on for three years. Carrying the weight of WWC on his shoulders for five years has had its rewards, Baker says, but there have been costs.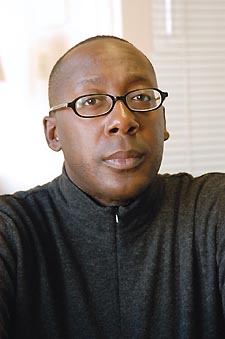 Baker
"My first time looking at [resigning] was about a year and half, two years ago, when I had a health scare and my T-cells sort of plunged," says Baker, who is HIV positive. "I talked about this with my doctor…but I pretty much ignored him till this November when I got shingles for two weeks. It was painful, and it's stress-related. I was stressing out about the finances here and the budget. It's been five years of that."
Although his health was a primary indicator that it might be time to change gears, Baker says time spent with his grandmother and other family at Thanksgiving emphasized the point. "I realized two things," offers Baker, pointing to a conversation that began this summer. "One, that my grandmother is very old, and that as much as I don't want to talk about it, she's not going to be here forever. This summer…we were having some very serious conversations about the way she wants to die, how she wants to be buried. It's troubled me for the last six months. Last night we had a wonderful conversation together about what we want to do over the next couple months with each other. I'm looking forward to that."
Baker says that he doesn't want to undersell the difficulty of the work involved with guiding WWC.
"I also don't want to be Pollyanna. This work is really hard," he says. "For the most part, I enjoy that. But I'm also at a stage in my life where I want things to be a little bit easier to process. That's important."
Aside from family activities, Baker has no concrete designs for his future. With his resignation announcement still fresh, though, some have already expressed an interest in Baker's expertise.
"There are conversations," he admits, wryly. "It's kind of hard. Yesterday something came along, and I was like, 'God, that really is exciting.' Then I thought to myself, I hadn't even walked out the door and I'd already gotten excited about doing something. That's contrary to my intent. I have to discipline myself. I have worked almost every day of my life. I have never not had a job. My grandmother said to me last night, 'God's talking.' I want to be able to listen. I don't think I can listen if I am immediately re-engaged in the work."
While Baker's departure from the stresses of WWC may be just what the doctor ordered, his resignation may add more stress to the lives of some gay Washingtonians. After all, Baker has been the very outgoing public persona of the clinic for five years. For many of the city's gay men especially, losing Baker may be akin to losing one's family doctor. Baker may not be an M.D., but many gay men have a more intimate relationship with the staff and volunteers of WWC than with their regular physicians. In this time of change, Baker is aware that the community may be suffering some anxiety. Actually, Baker points to anxiety over the election as an indirect reason for him to leave WWC.
"What's going on in our country right now and where we are has actually been part of my process," says Baker. "My cousin's partner called me a week after the election, and he was just so incredibly upset, passionately upset. He was desperately searching for answers — how the country could, he felt, so thoroughly reject gay people. What was most important was that he wanted to do something. I feel that as well, and I feel that time is of the essence….
"That brings me to sort of the professional level. Last night when I was talking to my grandmother, she ended the conversation in a very different way for her. She always ends with 'be careful, be good,' like I'm still 13-years-old. Last night she started to say that, then she said, 'No, you're already good. And you're doing what you need to do. You just go forward with that.' …The message I would send to our community is whether it's about my own questions about my health and where I go, or whether it's about our community right now, this is just one little block that we're stepping over. In the long term, we have such resilience."
Baker says that he hopes that whomever the board chooses to be the next executive director will be someone who moves within the community, rather than above it.
"We can't just be these totems out there," he insists. "We have to be living and breathing in the community. We have to see what's going on. We have to be a part of it. If you're not going to have a drink at the Diner every now and then and listen to people tell you about their lives, how on earth can you have a vision about what it is that we're aspiring to? Every now and then you have to stop in JR.'s or the Eagle or Bachelor's Mill or Wet. We have to go to the softball games, to [Metropolitan Community Church]. We can't set ourselves above. That's deadly."
With his future uncertain beyond a planned railway tour of the South with his grandmother, Baker says he is certain about one thing: Washington will remain his hometown.
"This is my home," says Baker. "I may work in any part of the world, for a day, for a year, but this is my home. This city has been so incredibly generous to me. I came here as a 20-year-old, and I can never repay the debt that I owe to so many people here. I just feel that I'm in service to this community until the day I die."