When Molly Smith invites Everett Quinton, renowned alum of Charles Ludlam's Ridiculous Theatrical Company, to direct The Importance of Being Earnest at Arena Stage, it's perfectly reasonable to expect absurd, outrageous things to come from the man who helmed the company after Ludlam's untimely death. It's also reasonable to expect a rather outlandish update to Oscar Wilde's 1895 comedy of manners, maybe even to anticipate a few gender-bending turns or some other spectacular twist à  la Quinton. But what appears as a very fresh, very flavorful comic treat soon wilts into a very stale, starchy evening of melodrama.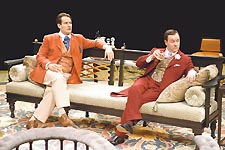 Wilde, Wilde life: Kahn and Skinner
(Photo by Susan Suchman)
Thanks to the colorful imagination of Zack Brown, Wilde's gardens and drawing room look finer than ever. Adorned with larger than life sunflowers and antique chandeliers, the Fichandler stage is primly set to accommodate all of the bumbling comedy that should play out upon it over the course of three chaotic hours. But when Brown's delightful costumes upstage the very actors they garnish, we soon recognize The Problem with Being Earnest, and it has nothing to do with mistaken identities or lack of social graces.
It isn't that Brown's extraordinarily ornate gowns, bedecked in their beaded corsets and sparkling sequins, don't look ravishing upon Lady Bracknell, Gwendolen Fairfax, and Cecily Cardew. It's that the cast, under Quinton's straightforward direction, doesn't ever quite match up to the quality and nuance of their wardrobe, which is a sad state of affairs for such a wacky world of brisk one-liners and culinary whims (lest we forget Lady Bracknell's absolutely requisite cucumber sandwiches).
While Quinton's ladies seem lost in their sea of trestles and millinery marvels, his fraternity of gentlemen don't fare much better with their superficial delivery of Wilde's sublime text. It's almost as though Quinton couldn't devise any new concepts on how to revive Earnest, so he relies heavily upon the script to inform his ensemble, examining Wilde's (suspected) underlying gay themes with the inexplicable casting of Marybeth Wise as Reverend Chasuble. If it's an implied lesbian relationship between the clergyman and Miss Prism (a giddy Helen Hedman) that he intends to evoke, his message is lost in such a base approach.
The Importance of Being Earnest
To 12/26
Arena Stage
202-488-3300

Susan Lynskey's Gwendolen is a memorable vision, swishing around in her peacock feathers and pointing her parasol, while Claudia Robinson's Lady Bracknell is a scornful Madame who believes that everyone around her acts with impetuous behavior. But both actresses suffer from acute overacting and a tendency to broker cheap laughs. Ian Kahn as Algernon Moncrieff and Michael Skinner as Jack Worthing, the country and city mice who unwittingly craft Wilde's eponymous farce, are palatable (if a bit bland) in their respective roles. Only Tymberlee Chanel offers an interesting turn as the innocent young Cecily.
Although not one of Quinton's actors fully taps into the cadence of Wilde's language — there is a lovely rhythm to his humor, one that ebbs and flows with melodic laughs and intentional beats — Lynskey and Chanel do manage a proper war of words in a taut version of the classic garden scene where each lady suspects they have become victims of infidelity. Aside from their refined sparring match and the comic relief from one fidgety toupee, Quinton's Earnest is a little too sincere for its own good.
---
She's got a way about her, indeed. When Holly Cruikshank hits the stage in Movin' Out at the National Theatre, she's all legs and wonderment. Pure, aesthetic, virtuoso wonderment. Although Cruikshank is the most expressive in a cast of dozens of talented, classically-trained movers and shakers, she is not the only phenomenal dancer. She is joined by the indefatigable Ron Todorowski in Twyla Tharp's high-octane ode to Billy Joel and his music.
Movin' Out
To 12/19
National Theatre
1-800-447-7400

Featuring over two dozen of Joel's pop-rock hits and classical compositions, Movin' Out is not strictly a work of musical theatre — it's more or less a "dancical, " one of the many currently popular trend-setting music and dance shows that emphasize movement over storyline or plot development. Here the songs are delivered by a ten-piece rock band led by Darren Holden on the piano. Holden is a terrific facsimile for Joel himself, as he belts his way through Joel's songbook with incredible ease. Although he never gets to sing Joel's signature "Piano Man, " he and his fellow musicians hover over the stage on a static, elevated platform, delivering Joel's score with a loud rock vibe.
More live music video than concert, and more rock concert with choreography than ballet, it's easy to develop a love-hate relationship with Tharp's tour de force production. It's easy to fall in love with Tharp's passionate choreography and with the otherworldly athleticism of her dancers, but it's also easy to hate Movin' Out's lack of continuity. We're supposed to believe its threadbare story about five Long Island kids looking for love and life amidst the Vietnam angst-ridden era of the '60s. There's Brenda and Eddie (you'll remember they were the king and the queen of the prom), and James and Judy and even Tony ("Anthony works at the grocery store/Saving his pennies for someday "). But most of the plot seems a little silly, even pointless at times, serving as filler between some of Tharp's more fantastic numbers.
Joel's hits "Uptown Girl " and "She's Got a Way " are highlights of the evening, while the lyrics to "Goodnight Saigon " have never seemed more effective or emotional, including the powerful phrase: "We said we'd all go down together. " Only a few misshapen numbers dampen the evening, such as an ill-conceived "We Didn't Start the Fire, " the bawdy countrified twangs of "Shameless, " and an absurdly dramatized "The Stranger. "
But all is forgiven once we finally arrive at the sensational "River of Dreams " medley, where Todorowski seems to use any old phrase as an excuse to throw himself through the air in gravity-defying leaps and twirls and feats of gymnastic agility. Over two and a half hours of Tharp's ingenious choreography and Joel's infectious jingles, the sweat flies, the bodies contort and entwine, and audiences are delirious with glee. It may not be musical theater, but it certainly qualifies as theatrical music.
---
The Diary of Anne Frank
To 12/12
Round House Bethesda
240-644-1100

There are only a few opportunities left to catch Rebecca Bayla Taichman's sturdy production of The Diary of Anne Frank at Round House Theatre in Bethesda. Featuring the 1997 script that opened on Broadway with Natalie Portman in the title role, this Diary presents the newly adapted material from Wendy Kesselman through deft clarity from a refined cast of eight.
It's still the same powerful, heartrending history told through the voice of a spirited young Jewish girl and the seven other stowaways who barely survive two years in the attic of an Amsterdam office annex in 1942. Only this time, Lea Michele, who makes her Washington area debut as thirteen year-old Anne, must reveal Anne's internal struggles with staking her independence along with the revelation of her nascent sexuality.
Taichman's cast delivers the palpable sense of terror that comes with such bracing, suspenseful drama, and Rick Foucheux provides an excellent incarnation of the sympathetic Mr. Van Daan, who cannot bear the rations of food among the house. Gary Sloan's unforgettable monologue as Otto Frank lends a stirring conclusion to a very numbing experience.
While modern audiences can never fully grasp the horrifying fate of the victims of genocide or living in fear of the Nazis' "ethnic cleansing " scheme, Taichman ensures an evening that discloses the solitude of living in silence, hiding away from the rest of a violent, war-torn world.