Less than one year after taking the helm, Cheryl Jacques has resigned as the head of the Human Rights Campaign, the organization announced Tuesday evening, November 30.
In a press statement, HRC cited "a difference in management philosophy" as the reason for Jacques' resignation. In that statement Jacques pointed to the success in her goals for the organization.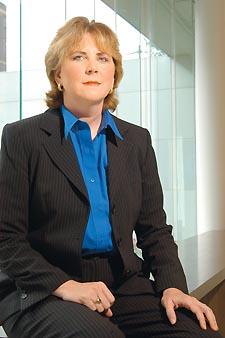 Cheryl Jacques
"My priorities were to defeat the Federal Marriage Amendment, expand the organization's membership and fundraising capacity, increase our diversity and maintain a strong voice in the media," said Jacques.
Jacques declined through a spokesperson on Tuesday evening to comment further.
HRC Board of Directors co-chair Michael Berman and Hilary Rosen will head the organization while the group conducts a search for a new president. Rosen, formerly the president of the Recording Industry Association of America (RIAA), has served on the group's board and worked closely with HRC's marriage equality efforts. Rosen is also the partner of Jacques' predecessor, Elizabeth Birch.
Board co-chair Gwen Baba praised Jacques in the HRC statement, saying "We will miss her leadership and professionalism, but we understand her desire to move on to other challenges."
The HRC release did not specify what differences in "management philosophy" existed between the board and Jacques. However, sources familiar with the situation say that significant tension existed between Jacques and the HRC staff, which is what led to Jacques' resignation under pressure from the board.
A member of HRC's Washington, D.C. staff who has been with the organization for more than two years insists that in the end, Jacques' departure is in HRC's best interest.
"We'll be going forward, that's what's important. It's not about the past, it's about the future," said the staffer, who asked that his name not be used. "It'll be a better day."
The staffer said that Jacques' managerial style was a key factor in the board's decision.
"The biggest focus of the conversation really dealt with what is best for the staff," he said. "That was a big bone of contention. The staff was not being respected the way that they should be. That was almost a consensus.
"The nature of the organization from its conception was that it is very open," the staffer said. "Then it developed this shutdown. It just wasn't working. She was a politician. Though HRC is a political organization, our executive directors have never been politicians. The management style she came in with was not conducive to the health and well-being of the organization."
As rumors swept across the internet on Tuesday, some local gay and lesbian leaders said that Jacques was in a difficult position from the start.
"The average tenure for someone replacing a charismatic and successful executive director is only 18 months," said Kathleen DeBold, executive director of the Mautner Project for Lesbian Health, referring to the long service of Jacques' predecessor, Elizabeth Birch. "That's pretty much across the board, so I wouldn't say that [her leaving] was unexpected…. I think she did a good job in a very difficult situation."
Joshua Friedes, advocacy director of the Freedom to Marry Coalition of Massachusetts, praised both Jacques and HRC for their support of marriage rights in the state, and the defeat of the Federal Marriage Amendment, calling her "an incredible leader."
Friedes said, however, that while disappointed, he was "not entirely startled" by Jacques' departure because the "same scenario" plays out in most organizations in which someone takes the place of a successful leader.
"The key thing is that I continue to hold both Cheryl Jacques and HRC in absolutely the highest regard," he said. "In the political season, this is the quiet time, this is when you assess your situation and make your change. I think it's a credit to both Cheryl and HRC that they're making these realignments at this moment.
Political commentator and blogger Andrew Sullivan offered a mixed view of Jacques' tenure.
"I do think it was a mistake to turn HRC into a branch of the Kerry campaign," he said. "The 'George Bush: You're Fired' slogan was foolish in so far as it now makes any relationship with the administration and the congressional leadership all but impossible."
On the positive side, Sullivan praised Jacques' embrace of marriage rights as a goal for the organization, and said he hopes the organization will continue on that track.
"If the board wants to short-change marriage rights, as they did for years and years, they will be making a mistake," he said. "We need a leader who can articulate our message on marriage clearly and relentlessly and unapologetically."
Community activist Peter Rosenstein, who has been critical of HRC's political and organizational direction in past years, said that the departure of Jacques would be an opportunity to change how gay rights organizations pursue their goals.
"I hope when they look for a new leader that they don't just do what many of our groups do, and retread old leaders," he said. "It really is time to think differently if our community is going to move forward."
Rosenstein says its time to reassess whether the movement needs large political organizations in Washington, as opposed to state and local groups developing their own leadership supported by "leaner" national groups.
"It's hard to micro-manage the movement in the states," he said. "Let them decide how to move forward."
In the HRC statement board co-chair Berman said the group is moving ahead with its efforts.
"HRC has a very deep bench of experienced and talented senior staff who are already working on new strategies in the fight for equality," he said. "In addition to recalculating our political efforts, we will enhance our activities in the corporate world, in the media and, most important, in communities of faith."
The HRC and HRC Foundation boards of directors will be meeting with staff in early December in Las Vegas at their annual meeting and will, according to HRC, "prioritize the agenda and organize the transition to new leadership."
Staff writer Will O'Bryan contributed to this report. For updates on this and other stories visit www.metroweekly.com.