Even with all the talk of love and marriage, 2004 proved that pop music and politics don't go together like a horse and carriage. No matter how many pop musicians entered the political fray to oppose the nation's ruling political class, they proved themselves powerless to affect voters.
At least many pop artists held sway over us in the area that counts — actual music. The year 2004 was a great one for pop. Gwen Stefani, the Magnetic Fields, U2, Kanye West, Spalding Rockwell — we could fill a whole page simply listing those pop artists who had us singing for joy this year. We could spend another half page listing those artists who had us crying instead, for failing to impress — Interpol, R.E.M., Jill Scott, Eminem, Fantasia.
But none of those artists created the very best — or worst — albums this year. No one came close to Green Day, whose American Idiot is far and away the best album of the year, a grand concept deftly carried through without turning insufferably grandiose. From the explosively angry title track to two mini-operettas and the achingly pining "Whatsername, " the queer friendly pop-punk band raised the bar for what constitutes pop perfection.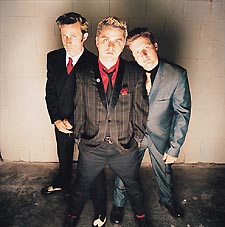 Queer-friendly punk boys: Green Day
It took Green Day more than a decade to get to perfect. As hard as it is to believe, Britpop band Keane did it this year with its first time at bat. The clearly Coldplay-inspired Keane didn't set out to reinvent pop music with Hopes and Fears — they simply created ten perfectly appealing songs, dramatic and lush, imaginative and irresistible.
If not for his voice, it's hard to imagine Rufus Wainwright not garnering more mainstream attention for Want Two. It's a masterwork of an album, with exquisitely orchestrated songs of unparalleled contemporary beauty — modern-day secular church hymns. I'm still convinced that he should focus more on songwriting and piano-playing, and less on singing, letting others (say k.d. lang) handle the vocals. But Want Two is the first from Wainwright that I can wholeheartedly endorse, and I'm not precisely sure why: He either intentionally restrained his nasally crooning voice, or the music is that much better.
Gaelle Adisson has been heard from before (singing Wamdue Project's late-'90s dance-pop hit "King of My Castle "), and one listen to her debut Transient — you can stream it from www.giantstep.net/artists/556 — is enough to want more. Repeated listens to Transient proves it to be the best album from a female in 2004. Actually, it's not so different from Jem Griffiths' Finally Woken, though Gaelle's roots as an American-reared daughter of Haitian parents adds both sunny and somber texture to her electronic-based pop. By contrast Jem, from Wales, creates pop music that's overcast but restless. Jem co-wrote one of Madonna's better recent songs, "Nothing Fails, " and her own album features several tracks even better than that.
On the downside of the year, George Michael's rich baritone sounds as bewitching as ever, but his music, never worse. Patience failed most because Michael didn't bother to worry about creating captivating music — he wholesale lifts the music for one of the best tracks, "Flawless, " and retreads tired R&B balladry for much of the rest. It's as if he couldn't wait to be through with music.
After a string of delightful dance-pop hits and several appealing albums, Amber started her own label and released her first album in 2004. Sadly, what's good news for her isn't so for us. It's especially painful to say that My Kind of World is an especially painful album, suffering from too much thought and too little movement. The mood is as dark and sleepy as the dance floor would be were this to get much play there.
The same goes for Janet Jackson, who, in hindsight, obviously knew what she was doing: she would have likely sold even fewer copies of her vastly underperforming Damito Jo had she kept her left breast under wraps. Would that she had done the same with this, the worst album of her career.
2004's Best Pop Albums
American Idiot, Green Day
Hopes and Fears, Keane
Want Two, Rufus Wainwright
Transient, Gaelle
So Jealous, Tegan and Sara
Van Lear Rose, Loretta Lynn
Hymns of the 49th Parallel, k.d. lang
Candi Staton, Candi Staton
Finally Woken, Jem
Scissor Sisters, Scissor Sisters
2004's Worst Pop Albums
Patience, George Michael
Classified, Bond
Inspiration, William Hung
Space Under Sun, Ari Gold
My Kind of World, Amber
Exodus, Utada
Astronaut, Duran Duran
One, Dirty Vegas
I Com, Miss Kittin
Damita Jo, Janet Jackson