Before we dole out the accolades for superlative — and abysmal — dramatic achievements, it's important to acknowledge a year that has ushered in such a tremendous growth spurt at so many Washington-area theaters. New production facilities are cropping up all over town, in a city whose theater scene is second only to the Big Apple and where space is increasingly limited. With a community so committed to the performing arts, larger companies such as The Studio Theatre, Arena Stage, the Shakespeare Theatre, and Arlington's Signature Theatre are building more stages while the Kennedy Center continues its major renovation projects. Meanwhile the African Continuum Theatre Company (ACTCo.) will soon begin producing at the new Atlas Performing Arts Center and at long last, the dust is settling in downtown where Woolly Mammoth will finally open their very first set of permanent doors next spring and roam no more.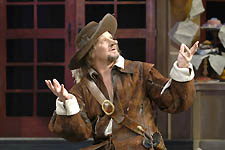 A Nose for Greatness: Wyn Davies
With all of this exciting construction underway, it's easy to lose sight of what is most important. Ever since Source Theatre woefully dimmed its lights more than a season ago, Washington theater's lifeblood, the once-thriving smaller companies full of visionary directors and designers, seems to have halted their active revolution toward groundbreaking, searing theater fare, opting instead for safe, innocuous scripts from familiar, though distant, playwrights. Local writers are left to settle for endless readings (if they even get that far) and the occasional new works "festivals. " Which begs the question: Where has all the innovative zest that once shattered our polite theater scene gone? In order for the larger enterprises to produce some real firebelly works, they need the flame ignited by passionate audiences who are accustomed to truly daring and intimate work. When there's no pressure to deliver, we're stuck with a year of mediocrity on stages that are capable of so much more.
Now on to the all-stars of 2004:
Cyrano, Shakespeare Theatre — Barry Kornhauser's sparkling adaptation is the most romantic heartthrob of a play since Shakespeare penned Romeo & Juliet so many round moons ago.
The Syringa Tree, Studio — Two words: Gin Hammond. The singular sensation effectively summoned dozens of characters to life in Pamela Gien's human kaleidoscope set in post-Apartheid South Africa.
The Two Gentlemen of Verona, Folger Theatre — It could have been re-named The Three Ladies of Washington. Yes, Kate Eastwood Norris, Holly Twyford and Lucy Newman-Williams were that good.
Joe Turner's Come and Gone, ACTCo. — One of the finest productions Jennifer Nelson and company have presented to date, Joe Turner divined its mesmerizing spell through an artful Frederick Strother.
Children of Eden, Ford's — Musicals are really the heart of Ford's and they produce them so well. So why not give us one more each season?
Mahalia, MetroStage — Alexandria's flagship theater company offered up this musical gem about gospel great Mahalia Jackson, and we were blessed by Bernardine Mitchell's rousing vocals.
Orpheus Descending, Arena Stage — When Molly Smith gets it right, it's so very, very right. With red hot lust simmering between Matt Bogart and Chandler Vinton, Tennessee Williams never seemed so downright Sexy.
The Russian National Postal Service, Studio — Besides a memorable performance from Floyd King, it's the only play to evoke Queen Elizabeth II, Lenin, Stalin, Martians, and bedbugs on stage all at once. Now that's an artistic accomplishment.
Mary's Wedding, Theater Alliance — What a lovely, lovely, lovely production, all thanks to Jeremy Skidmore's eye for meticulous casting and graceful direction.
Grace, Woolly Mammoth — The best thing about a Woolly play is that you never know what to expect. And when you add profound musings from Craig Wright to the equation, you'll always end up with an extraordinary result.
Honorable Mentions: Yellowman (Arena Stage), Porcelain (Tsunami Theatre Company), The Glass Menagerie (The Kennedy Center), Ugly Ducklings (Venus Theatre), and Beehive, the '60s Musical Sensation (Kennedy Center).
And now, the worst productions of the year:
Jumpers, Washington Shakespeare Company — A mess with a capital "M." Tom Stoppard never seemed so damned perplexing. Or more bloody English.
Far Away, Studio — Even with Joy Zinoman at the helm, Caryl Churchill's political psycho-fest felt like an uncooked egg, still oozing with hazardous salmonella.
Henry IV, Parts I and II, Shakespeare Theatre — After sitting through both dismal plays of Shakespeare's paternally-driven cycle, you'll wish you had those combined five hours back when you're laying on your deathbed.
The Who's Tommy, Studio Secondstage — What better company to rescue Tommy from the pits of pinball despair? Yet through gross miscasting and a staged concert version of the 1993 Broadway blitz, poor Tommy wasn't the only one rendered comatose by evening's end.
A Streetcar Named Desire, Kennedy Center — Patricia Clarkson's absurd Blanche DuBois was the first grave mistake to throw Garry Hynes' Streetcar off the tracks. Adam Rothenberg's wailing Stanley Kowalski shut the railway down altogether.
Antigua, Natural Theatricals — Paula Alprin's fledgling theatre company suffered through her nascent script that combines Sophocles' Antigone with a modern-day Joan of Arc, and so did we.
A Man's a Man, Arena Stage — Bertolt Brecht gave us such a rich story for such applicatory times. Too bad Eniko Eszenyi had no idea what to do with it.
The Tempest, Washington Shakespeare Company — So what if Prospero is female? Jenifer Deal and co. still had a rough time reigning in the sea with their wayward aquatic adventure.
Anna in the Tropics, Arena Stage — Pulitzer, schmulitzer. Nilo Cruz's Anna proves that just because an idea sounds lusty on paper doesn't necessarily mean it will translate well on stage.
The Highest Yellow, Signature Theatre — Vincent van Gogh singing falsetto from a cold bathtub. Need I say more?