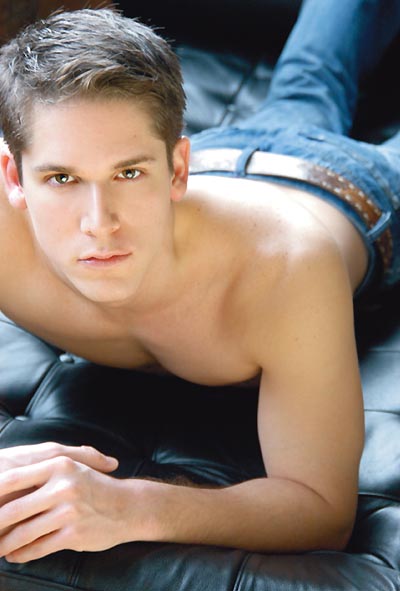 Will Bell
There is a chance that Will Bell may be having a mild quarter-life crisis. "I have my education to fall back on, I've traveled out of the country, and I've moved to New York without a job just because I wanted to — there are things like that I'm proud of," says Bell. "But when all your friends are graduating from law school and have 'careers,' and you're 25 and still trying to figure out what to study in grad school, it can be a little disheartening."
To borrow a line from a band before Bell's time, "It's gruesome that someone so handsome should care." Rather, it's not that Bell is so fetching that jaws necessarily drop when he enters a room, but that he has that certain golden quality that makes the rest of us look a little slovenly. To make matters worse, he's a junior philanthropist: "I give money to the [American Civil Liberties Union] religiously. Anytime I get upset by something that's happened, I give them a little more money. I give money to Americans United for the Separation of Church and State, because I'm a very, very, very strong believer in keeping religion out of public schools, out of the government."
Some of Bell's affinity for the separation of church and state may come from his own Catholic background, something he says he now considers more a cultural heritage than his spiritual calling. He notes, however, that he was very religious in high school.
Before high school, Bell spent his life with God's creatures great and small. Until he was 14, Bell lived on a farm in rural Missouri, along with all the attendant animals. Farming, says Bell, was one of his father's many phases, though he never left his full time job as an airline pilot.
"It was a dream," says Bell of his agrarian childhood. "We had a huge acreage. We had our own forest, our own river. It was a lot of fun."
The closest neighbor was a mile away. The nearest town, population 250, was four miles away. Although he had a slightly older brother to play with, by his early teens Bell was about to crack. "I wanted something more," Bell remembers. "By the time I was 14, I was dying. I really wanted to leave that environment. It was a very closed-minded, conservative area."
Like his father before him, Bell was off to Mercersburg Academy in Pennsylvania. Although when the senior Bell attended the academy the place was a strictly conservative boys-only environment, coats and ties the rule. But the universal constant of change applies even in Mercersburg, Pa.
"When I went, it was quite the opposite. My teachers were big hippie, liberal atheist types," Bell recalls, with seeming fondness. "They corrupted me. It was like this Utopia in the middle of Hicksville. It was very intellectual, very progressive and non-conformist." To a point.
Bell says that even in this socially insulated slice of charmed academia, coming out was not an option. "As liberal as it was, it wasn't the correct environment," insists Bell. "Kids will be kids. As liberal as they think they are, I still would've gotten beaten up."
That's not to say that Bell's memory of the academy is in any way tarnished. He speaks highly of the experience, especially as it afforded him the opportunity to study in Barcelona during his junior year. During his college years at Georgetown University, where he majored in Spanish and business, he returned to Spain for a six-month stint in Madrid. It remains his favorite country in the world.
A mixture of borders and bureaucracy puts Spain out of reach today. Nevertheless, after seven years in Washington, including his years at Georgetown, Bell says it was time to go. Since July, he's been calling New York home. Specifically, Astoria.
"I've dated people who lived in New York, I've had friends up there. Before I moved there, I went up every weekend," Bell explains. "I was always there. Finally, it was like, 'Fuck! I want to live there.' Now I love it. My only regret is not having gone sooner."
Bell is cautious to frame his love for his new home within a context of caveats to protect his D.C. associates from any possibility of feeling snubbed. "After seven years, you make a lot of really close friendships," says Bell, adding that some of his friends were upset by his decision to move north. "I've got a very strong safety net [and] social network in D.C. It's like a family almost. It was nice to walk into Cobalt, for example, and see ten people that I knew. Some people were upset [by the move], but they knew it was something I wanted to do for a long time. Now they come to visit me all the time. It's not that far away."
While Bell goes out of his way to point out all he likes about Washington, there is no denying that New York is not without its charms. Especially for an attractive, well-educated 25-year-old with some style.
Bell says he'd like to pursue a career in media or public relations. His new job in Time Warner's office of corporate responsibility is certainly a step in the right direction. Then there is his stated hope to devote more time to creative pursuits. And who would argue that any city in America boasts a more creative culture than New York? Throw a budding new relationship into the mix, and there doesn't seem to be much of a contest.
"We've only been together for a month, but it's pretty serious," Bell says, referring to his new boyfriend, Patrick.
With roughly half a Big Apple year under his belt, Bell says he's still getting settled in his new environment, still figuring out how to proceed. This is where the quarter-life crisis resurfaces. Bell says that his time in Spain gave him an appreciation for a more measured pace of life. New York — and America in general — offers instead an unceasing pressure to perform.
"[Spaniards] enjoy things we overlook, like sitting in a café, smoking their cigarettes and drinking red wine. They appreciate family and relationships more, but not in the scary way Americans do. The family is a support network, and no matter what you do, they're always there for you. They don't think about work the way we do.
"Here, we're so obsessed with making money. It's all-consuming. Here, you have to save for retirement because Social Security is a mess. And we don't get healthcare unless we have it through our jobs. There's so much pressure here to go to a good school, to get a good job. If you're not making a certain amount of money by a certain age, you're a failure. Basically, [in Spain] they work less than we do, and they enjoy life more."
So how will Bell find his way out of this crisis? As he watches his peers continue to graduate from law school, he'll keep thinking about it. Insisting that he puts a high value on education, he seems certain that he will enter a graduate program. To an outsider, Bell's life seems less a matter of finding a course than trying to choose one out of the myriad possibilities available. That he will choose that path in the near future seems a foregone conclusion, even for Bell.
"Do I feel pressure [to choose]? A little bit," he says. "But I'm trying to rebel against it as long as I can. I'll get there eventually."
Coverboy of the Year Prize Package
$500 Cash
Annie's Paramount Steakhouse — $50 Gift Certificate
Apex — 10 Admission Passes
Arena Stage — Two pairs of tickets to any of the remaining shows from the '04-'05 season
Atlas/Lizard Lounge — Lizard Lounge $150 Bar Hospitality Voucher and a selection of Mixed CDs by Lizard Lounge Resident DJ Kostas
Beacon Bar & Grill — Brunch for two
Cherry — Two Host Passes (Date TBD)
Chaos — $30 Food and Drink Gift Certificate
Cobalt — $100 Bar Tab, plus five VIP Passes
Empire Video — 50 Free Rentals
Follies — $100 Gift Certificate for merchandise
Freddie's Beach Bar — Sunday Champagne Brunch for four
Green Lantern — Two-hour cocktail party for winner and up to 50 friends
Hamburger Mary's — Dinner for two

Halo — $50 Bar Tab
Heat — $100 Bar Tab
JR.'s — $50 Bar Tab
Kennedy Center — Two tickets to a performance of dance or ballet at the Kennedy Center during the '04-'05 season
Landmark Theatres — Eight single admission passes
Leather Rack — $75 Gift Certificate
Mid-Atlantic Leather Weekend 2005 — Full Weekend Pass to this year's Centaur MC-sponsored event, including the Reaction Dance
Omega DC — $50 Bar Tab
Reel Affirmations XV — Two Lincoln Theatre passes to next October's GLBT film festival
Signature Theatre — Two tickets to Fallen From Proust
Studio Theatre — Two tickets to Take Me Out
Velvet Nation — Free admission for 2005
Wet — $100 Bar Tab
Ziegfeld's/Secrets — $50 Bar Certificate

Please note: Some restrictions may apply to certain prizes.