Last Thursday morning, January 6, at 5:15 a.m., one of the GLBT community's biggest hearts gave out.
The passing of Billy Collison at the age of 40 was sudden and unexpected, a tragic loss not only to the community groups he so tirelessly served, but to the countless friends he made throughout the whole of D.C.'s gay and lesbian world. A member of the Centaur Motorcycle Club since 1995 and a Washington-area native, Collison's energy, volunteerism and radiant smile were the stuff of local GLBT legend.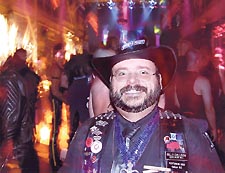 Billy Collision
"He did everything. He didn't want to slight anyone," says Chris Brush, Collison's partner since 1994, and a fellow Centaur. "He felt like he had to give equal time to all the groups. It was a constant struggle for him just to say no."
"Billy never said, 'I can't do that, I can't commit to that,'" says Centaur Danny Linden. "He would almost always commit to anything that he was asked to do. And even when he wasn't asked to do anything, he was the first to volunteer."
"He was a workhorse," agrees Centaur Steve Kenney. "He was always the first to respond, without even a second thought. 'I'll be there, I'll help, I'll work.' No complaints."
"Billy gave to the community because he knew that he needed to give to the community," says Brush. "If he was helping other people, that alone for him was worth doing whatever needed to be done."
Collison's primary affiliation may have been as a Centaur — he owned a Harley Sportster, had a great passion for motorcycles (according to fellow Centaur J.P. Halford, "Billy loved the rumble of bikes") and relished his job early on as an organizer of the group's road trips — but he also gave time to the Academy of Washington, served as Vice-President for Brother, Help Thyself (BHT), and was a charter member of the Atlantic States Gay Rodeo Association (ASGRA), for which he served twice as Rodeo Director.
"Billy had an interest in Country-Western dancing," says ASGRA's Mike Lentz. "But he also liked that cowboy mystique."
Lentz recalls a few years back, when he and his partner brought home their newly adopted son, Collison arrived bearing a gift for the three-and-a-half year-old. It was a stick horse. "I said, 'What's that for?'" recalls Lentz, "and Billy said, 'It's never too early to get a cowboy started.'"
Collison was highly regarded for his diplomatic abilities. He could defuse a situation with his patient demeanor and broad, seemingly effortless smile.
"He never thought ill of anyone," says Centaur Dan Dutcher. "He could turn any disagreement toward a positive light. He was a great arbitrator."
"He was a peacemaker," agrees Lentz. "He didn't like tension, and always wanted people to work together to try and find common goals."
"He had his short moments, but he saved those for people he knew best and knew would have to forgive him," laughs Brush.
"What makes Billy's passing even more difficult to comprehend," says Linden, "is that he was just so full of life. Always, always, always on the go. Always with his bag full of papers, just zooming off to the next meeting. I don't know how he pulled it off."
"Billy pushed himself constantly," says Brush, citing Collison's love of baking as an example. "The night before Scarlet's Bake Sale, he'd say to me 'Why make only two cakes when six would be so much better?'" Above and beyond was Collison's way of life.
"He was never too busy or involved to take on yet another project," says Halford. "He pushed me to caution him on more than one occasion, 'Billy, you're never content until you've got too much on your plate.'"
But Collison wasn't happy unless his plate was full.
"He was my go-to person," says BHT Executive Director Larry Stansbury. "I would turn to Billy to resolve any problem." In his capacity as BHT's webmaster, Collison utilized his professional skills as a computer programmer.
Recently, Collison donated a computer to BHT for its new offices. And Collison's abundant generosity to the group continues still, says Stansbury, noting that on the day of Collison's death, a routine trip was made to the BHT post office box. Inside was an envelope from Collison, containing a donation.
"He never, ever let being sick stop him," says Brush of Collison's ongoing battle with HIV. "He'd been HIV-positive for as long as I'd known him and there had been no opportunistic infections."
But in the days leading up to his death, says Brush, "he'd been kind of sluggish and his co-workers noticed his color was off; he was jaundiced." On Wednesday evening, January 5, Collison attended a planning meeting for this year's Mid-Atlantic Leather Weekend. Collison was in charge of the Mr. MAL Contest. "He was his usual feisty self," says Brush, but it was clear to the attending members that Collison wasn't feeling well.
"I asked him repeatedly, 'Are you in any pain?'" says Brush, "and he was like, 'No, no, no I'm fine.' Obviously he wasn't." Later that night, says Brush, Collison collapsed "on the bathroom floor. It was clear he to me he wasn't getting enough oxygen to his brain. When I managed to pick him up I noticed there was blood." Brush called for an ambulance.
"Five minutes after we got him to the emergency room, he went into cardiac arrest."
Collison isn't the only Centaur to have passed away recently. Within the past few months, the group lost members Ollie Allman and Jeff Hackett as well as associate member Michael Evans. But says the group's Centurion, Bailey Walker, "We knew those other deaths were coming and we had the chance to pre-grieve. Billy was totally unexpected. We're all just completely devastated."
When writing e-mails, Collison's traditional salutation was "Leather Hugz."
"That one word — Hugz — was the spirit of Billy," says Stansbury. "That, and a smile. It was never a handshake. It was a hug when we met, it was a hug when we left. You could always count on those two things from Billy, a smile and a hug."
"If I was feeling down," adds Walker, "he would always sense that and, without being maudlin, just kind of give me a hug. And that's not going to be there anymore."
"I'll miss his constant giving," says Brush. "His smile. His warmth. His buddiness. And I'll miss woofing at each other. That was our common greeting, our universal affirmation of 'Hi, how are you? I'm thinking about you. You're cute.'" Brush pauses. "Partway through our relationship I told him that one of the things I found most admirable about him was his nobility. He was astonished that I used that word."
"A huge gap will be left in his absence," says Lentz. "I think people already realize that they miss him, but I don't think it's going to sink in until they're trying to do something that he was a part of. Then they'll see just how much he really did."
Mid-Atlantic Leather Weekend 2005 Features