Alfred de Musset lives. Though the French romantic never saw his epic Lorenzaccio presented upon the stage during his lifetime, European audiences are familiar with its dramatized history of 16th-century Florentine politics and Lorenzo de Medici's calculated murder of his distant cousin, the tyrannical Duke Alessandro de Medici. Michael Kahn and playwright John Strand have reimagined the foreign classic and summoned the spirit of de Musset to life with a new English adaptation that simmers with bloody intrigue and pierces with sharp, moral drama.
And with Lorenzaccio, the Shakespeare Theatre introduces two formidable Broadway talents to the local stage: Jeffrey Carlson as the stealthy assassin Lorenzo, and Robert Cuccioli as Alessandro, an unjust Duke who rules with no regard to the will of his countrymen. The republic of Florence has crumbled, and the Medicis, wealthy bankers with powerful allies, have risen to power, backed by the Pope and the Holy Roman Emperor. Alessandro led a ruthless monarchy, beckoning young virgins to his lair in the middle of the night. Bedecked in ducal garments and his notorious shirt of armor, Cuccioli swaggers around his stately bedroom like an Italian cowboy, high on his own power. With the city of Florence ruled by such corrupt government, Lorenzo (also known as the reviled Lorenzaccio) aligns himself with the Duke in order to earn his trust as a loyal liege — only to conspire against his own cousin with preemptive force.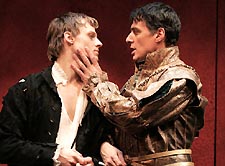 Killing cousins: Carlson and Cuccioli in Lorenzaccio.
Carlson's Lorenzaccio isn't the stiff literary hero proposing that justice is best served bloody, but rather a three-dimensional poet and philosopher who aspired to achieve greatness, a tormented soul that twitches with conviction and rattles with unsettling anguish. His performance is colored by a youthful patriot clinging to sky-high ideals of freedom and infamy, and his posture suggests a forced apathy in the presence of authority. As presented by Carlson, it is a brilliant initiation for Lorenzo's American debut.
Both Carlson and Cuccioli are the gravy on Kahn's production, a muscular tragedy that outlines a turbulent Italy with remarkable efficiency. The air is thick with conspiracy and heavy with the burdened despair of a democracy that is no longer free, but Strand's version captures the essence of de Musset's story without the pages and pages of untidy narrative expected from a messy moral and political play. Ming Cho Lee's widely versatile set is reminiscent of the Italian square, and Kahn masterfully shuffles his players on and off the stage in magnificent regalia designed by Murell Horton.
The palette of rich characters originally drawn by de Musset in 1833 comes teeming with life — from Ted van Griethuysen's warm portrait of the rational philosopher Philip Strozzi (the patriarch central to Lorenzo's spiritual revelation), to Chandler Vinton as an emphatic Countess Cibo. And Michael Rudko has the right blend of slithery and sanctimonious sentiment for her brother-in-law, the power-hungry Cardinal.
Lorenzaccio has often been described as "unstageable. " But thanks to Strand's lucid interpretation, under the surefooted guidance of Kahn, de Musset's masterpiece is now an accessible, timely work with a heart heavy with betrayal.
---
While de Musset might be surprised to see his sprawling manuscript adapted for the American stage, Joyce Carol Oates wrote both the play as well as her 2003 novel The Tattooed Girl at the same time. A prolific littérateur nominated thrice for the Pulitzer Prize, Oates has crafted the ambitious story of Alma Busch, an uneducated, ignorant tramp from rural coalmining country who becomes the unlikely assistant to Joshua Siegl, an esteemed and sickly author who has penned a lauded book on the Holocaust. The roles of both teacher and student commingle in a relationship that is as confounding as it is unsettling.
Joshua fails to realize that Alma harbors vile resentment toward her Jewish employer, or that she is so desperate for money she is willing to betray someone she secretly trusts. Anyone who has witnessed the impoverished despair of small Pennsylvania townships — the coal communities of Ashland, Frackville, Mt. Carmel, Aristes, even Centralia, the abandoned ghost of a town where widespread mine fires rage every day miles beneath the earth's surface — will instantly profess that too many Alma Busches are raised in these insular pockets of humanity, where outsiders are suspect and locals are hard-pressed to find reasons to trust each other. But in Oates' introspective staged version, too much exposition and artificial dialogue muddles an otherwise startling and important story about the hope for change and possibility of progress.
Still, there are significant contributions to Oates' work, notably director John Vreeke's alluring stage pictures, the kind of theatrical imagery that defines a piece of art at a personal, intimate level. Dan Conway has constructed a striking library set with wide wooden stairs and a towering bookcase, perfectly complemented by lilting melodies from Mark Anduss and oppressive lighting by Colin Bills.
The anti-Semitic dialogue spewed from The Tattooed Girl is uncomfortable and offensive, and probably should come from an actress a bit younger, more seemingly impressionable, and less refined than Michelle Shupe. Still, Shupe presents an impressive — and convincing — figure of someone so easily influenced by everyone and everything around her. Michael Russotto imparts a wealth of empathy to his Joshua, aggressively sketching a compelling psychology for the overwhelmed and ailing scholar. 
Despite Oates' propensity for drawing complex characters and making light of confusing personal truths, her illogical plotline ultimately cheats her ideas out of a coherent script. The Tattooed Girl often chatters about as a transplanted piece of literature, and while it might make a fantastic, searing novel, it simply doesn't translate into a very exciting play.