Let's get one thing straight: a lot of men are not. But those who fervently claim they are, would never — I repeat, never pretend to be homosexual, endure endless private jests and public ridicule about their sexual identity and lifestyle, and move in with a (presumably) straight roommate, all for the sake of getting close to the women they so adore.
Hear me when I say this: It just ain't happenin'.
With such unrealistic pretense, local playwright Norman Allen contrives a contemporary sitcom for the stage: Girl loves boy. Boy loves girl. Enter gay Republican roommate. As Allen plays with traditional gender roles and the many different formulas possible between three open-minded friends, ages-old relationship issues rear their ugly heads and gay-straight stereotypes break down alongside his progressive ménage à trois.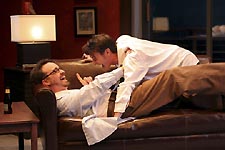 Manpower: Glenn and Boggess
Photo by Carol Pratt
Taunted as a "traitor to his kind, " poor Roger (Michael Glenn) is the gay Republican who gets a serene view of the Golden Gate Bridge from his new digs in trendy Sausalito. Life, however, is anything but serene when along with the gorgeous view comes the condo's owner — a testosterone bank otherwise known as Gary (Damon Boggess), who claims he has no problems living with a gay roommate. He and Michelle (Hope Lambert) have been dating for five years, and the jet-lagged Gary has yet to commit to marriage. And so Michelle enlists help from her man's sensitive (read: gay) new roomie to spark embers of jealousy as she embarks on her quest to be the most purposeful fag hag ever. But the melee really heats up when Roger confesses his love for Michelle, and Gary reveals some indiscretion about his private life away from California.
To their credit, Signature Theatre has made a habit, particularly this season, of premiering bold new scripts and introducing new talent to Washington audiences. The risk has yet to produce a handsome pay-off, even now with Allen's idealistic and improbable episode. From his director's seat, Will Pomerantz idly ignores the demonstrative acting and unnatural staging from his cast of four, instead shifting his focus to Allen's cutesy comedy and fun physical gimmicks involving two sets of balcony curtains hanging from another visually-gratifying, stylish set by designer James Kronzer.
The scenery is the most attractive component in Fallen from Proust, aside from two or three memorable lines, one briefly referring to the lasting effects of Cap'N Crunch cereal, the other delivered by Michelle in earnest amazement: "Men are the most fucked-up creatures on Earth, and in a gay relationship, there are two of them! "
In Lambert's hands, Michelle is a naïve, forced caricature of the devoted girlfriend, and Boggess matches her in a stiff, over-presentational interpretation of the closeted publishing professional intrigued by a gay roommate. Even when he delivers the juicy bit, "I'm not gay, I'm just horny, " Boggess feels as removed from his character as his jeans are from his boxers.
Only Michael Glenn and Daniel Frith (introduced in the second act as Gary's tart from New York) display capable acting chops in their respective roles. Glenn is particularly adept at conveying real vulnerability and psychological motivation in Roger's malleable skin.
Unfortunately the biggest blunder from Allen is his unintentional promotion of the dangerous assumption that gay or bisexual men will suddenly turn out heterosexual "after all. " While it's entirely realistic that some seemingly straight men secretly harbor homosexual desires, Fallen from Proust irresponsibly endorses the unrealistic expectations that straight women cling to while nursing their crushes on gay men. And while creating such bizarre love triangles might make marvelous fodder for a theatrical threesome, it ultimately lends itself to more serious cultural criticism — and probably not the kind Allen aims to evoke.
---
Mercutio is often portrayed in Shakespeare's Romeo and Juliet with hints of homoerotic jealousy toward Romeo and his romantic preoccupation with Rosaline. But in PJ Paparelli's inspired production at the Folger Theatre, Michael Urie's hyperactive adolescent is an obnoxious, visceral boy in a hurry to grow up and prove himself. In fact, all of Shakespeare's young lovers and fighters spring to life as the motley crew of unruly, immature kids they were written to invoke.
An obvious precursor to Paparelli's upcoming theater project columbinus, based on the high school shootings in Columbine and premiering later this season at Round House Theatre, the tragedy of Romeo and Juliet would have been a rudimentary exercise if not for the bend offered here by its visionary director. Paparelli is interested in the folly of youth: how over the course of a mere five days, two teenagers can instantly fall in love with each other and, clouded by their youthful lust and eschewing adult advice, be ready for death, both willing to commit suicide in their passionate innocence.
This isn't your familiar romantic tale of flowery sentiments and warring households — it's a very modern tragedy with modern consequences (though Paparelli intuitively leaves Verona fastened to its classic roots).  Paparelli concludes that the moral in Shakespeare's didactic drama lies in the absence of parents whom children can confide in and trust. Informed by local gang violence and shootings far too recent in memory, Shakespeare never seemed more eerily relevant.
Romeo and Juliet
To Feb. 20
Folger Theatre
$30-$48
202-544-7077
www.folger.edu

Urie's eye-opening turn as Mercutio is a triumph over stale text, ushering away ghosts of other effective interpretations. He is not the only brilliant actor featured in Paparelli's large cast. Graham Hamilton is outstanding as a heartfelt, poetic Romeo and Nicole Lowrance's fair Juliet gushes with exuberant melodrama. The Folger's Elizabethan stage is evenly sprinkled with savory performances from Nancy Robinette's giddy nurse and Edward Gero's sober Friar Laurence to tiny but remarkable character roles from a wry James Konicek and Michael Leibenluft's young Balthasar.
Paparelli's tightly focused reincarnation flashes with inventive staging and maintains a steady spotlight on the omnipotent clock, outlining the bloody chronology of the Montagues and the Capulets. This time the foolhardy young brawlers are not just literary characters inked by the feather of a dead scholar. They are the hotheaded sons, students, and neighbors we all know so very well.