For the past year, the Arlington, Va.-based Military Community Services Network has been trying to fill a niche. Today's military may have a commitment to service members' mental health and to easing the anxieties of a soldier's States-side spouse during a deployment, for instance, but the Pentagon drops the ball when it comes to gay and lesbian service members.
"The main impetus for starting MCSN was during the buildup for war in Iraq," explains Tony Smith, an Air Force veteran who founded the organization in January 2004. "My concern was, who was taking care of the families of gay and lesbian personnel? They can't access traditional military support systems. I started researching what was available and realized there wasn't much."
With a network of mental-health volunteers and gay military peers, Smith's new organization has framed its mission as "increasing the effectiveness and impact of organizations and people working and volunteering in the nonprofit sector that provide social services to lesbian, gay, bisexual and transgendered military service members, their partners and families."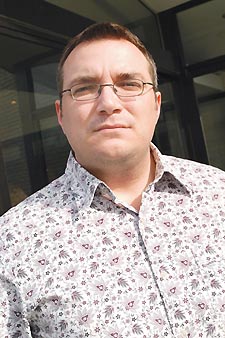 Showing support: Smith
(Photo by Ward Morrison)
Says Smith of MCSN's first year, "Mostly demand is on the mentoring program. Most [clients] are just looking for someone who can relate to their situation. From time to time, there is a need for individual counseling."
A peer mentor is exactly what one recent military retiree was looking for. He asked that his name and other particulars not be included in this story, as he still works with the government and fears a threat to his livelihood should any of his government contacts discover he's gay.
"I had decided to retire because of being gay," he says, explaining that he tried to ignore his sexual orientation while serving a distinguished military career for more than 25 years.
"I decided it was time to lead the life I wanted to lead," he continues. "I knew it was not compatible with military service, according to Congress and current policy. I just needed someone to talk to. I hadn't come out to my family or friends. I was stressed. I knew that resources were not available through the service. I was not able to approach anyone in the military.
"What was I going to do with my life? This is one aspect of my life I couldn't talk to anyone about. This created a tremendous amount of stress and anxiety."
An Internet search led the newly retired veteran to MCSN's Web site.
"Tony [Smith] replied immediately," says the retiree. "He had other military officers get in touch with me. A senior military officer and I communicated for a week over the phone. He was retired and had gone through very similar issues. It allowed me to talk with people who had similar situations, dealing with family, dealing with friends — the whole transition."
Smith has his own insights from his five years in the Air Force to inform his role as MCSN executive director. Smith served from 1990 to 1995, including postings abroad. But with America's military severely stretched due to current military obligations, cases like Smith's don't bode well for America's military readiness.
"I finished my enlistment and chose not to re-enlist," says Smith. "I quietly left because I could no longer serve under the policy. It was too demeaning, too burdensome. I just couldn't do it any longer. Otherwise, I would've stayed until retirement."
Smith points out that while there are statistics to point to how many people leave the military under the "Don't Ask, Don't Tell" policy, no statistics take into account how many gay military personnel simply leave of their own accord, finding they cannot reconcile themselves with the policy.
"They haven't quantified those who just quietly left," he says. "They had to retrain someone else for those positions. I was in a high position. I had a high-level security clearance."
Still, the Pentagon will be able to count on MCSN to continue to try to ease the burden on gay military personnel, possibly enabling some who would otherwise leave to remain in the military.
Smith says that during the group's second year, the focus will be on growing their database of health professionals, as well as training counselors who are unfamiliar with helping military personnel. With the Pentagon's combat deployments in Afghanistan and Iraq, Smith believes stress-related counseling may be of particular urgency.
"We're starting to see an increase in gay and lesbian service members with stress-related disorders, PTSD [post-traumatic stress disorder]," says Smith. "They're showing up in gay and lesbian centers around the country, drop-in centers. They're starting to contact us seeking assistance."
While Smith says he hopes for more funding, more volunteers, more growth overall for MCSN in the coming year, he concludes that regardless of his group's goals, gay Americans will continue to defend their country.
"The military families, regardless of sexual orientation, know they will face challenges, and they do it with pride, with honor, without complaints," says Smith. "With same-sex families, there are additional challenges, like the fear of being investigated. Most same-sex families don't complain about this. They look at it as something to bear for service to country."