"I fell in love with opera when I was 13, when I first heard the voice of Maria Callas," says John Pascoe. "I heard her at school and that was it. I was absolutely swept off my feet."
Forty-three years later the British-born Pascoe is one of the opera world's most celebrated director-designers, with credits ranging from The Met in New York to London's Royal Opera House to the Washington National Opera, where he's currently helming the World Premiere of Democracy, a comedic work composed by Scott Wheeler and featuring a libretto by Romulus Linney (Laura's father).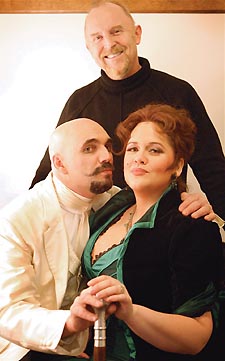 John Pascoe (standing) with Democracy'sRobert Baker and Keri Alkema.
(Photo by Karin Cooper )
Commissioned by the Washington National Opera and based on the novels of 19th century novelist Henry Adams, the work, set in 1875, features at its center a gay character — the Baron Jacobi, Bulgarian Ambassador to Washington — who involves himself in the life of two independently-minded women, who reject their high-powered suitors when corruption comes into light. In short, it's pure Washington.
However, cautions Pascoe, "this is not in any sense a gay opera. This is the story of liberation of two women who face up to the political corruption surrounding them."
Still there's no denying that an openly gay character is somewhat of a novelty in an opera.
"Normally somebody's homosexuality in an opera is not even discussed," explains Pascoe. "You might subliminally believe that a character through his — shall we say in 18th century terms — artistic tendencies might or might not have homoerotic feelings for another character.
"But this is something Romulus has decided was going to be clarified and made very specific."
Still, laughs Pascoe, himself an out gay man for years, "There's no onstage cuddling between men. I don't think there are too many people who are going to leave foaming at the mouth in outrage."
Democracy, sung in English with English supertitles, runs for two performances only, Friday, January 28 at 7:30 p.m. and Sunday, January 30 at 2 p.m. At GWU's Lisner Auditorium, 730 21st Street NW. Tickets are $22-$48. Call 202-295-2400.