"Will I ever be normal?"
The question is put to a psychologist by Walter, a 45-year-old man recently released from a dozen years spent in prison for molesting young girls between the ages of 7 and 12. Though we never learn the full extent of Walter's crimes, their ramifications continue to haunt the convicted sex offender as he struggles to reclaim a place in society in the powerful and compelling The Woodsman. And of the several complex and disquieting issues swirling throughout the movie, the forgiveness lies at its core.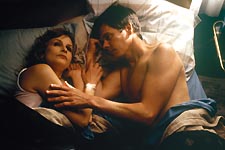 Directed with virtually no sensationalism by newcomer Nichole Kassell and starring Kevin Bacon in a career-defining role as Walter, The Woodsman doesn't aim to shock us in the way that films that dealt with similar topics have in the past — notably Todd Solondz's alarming yet brilliant Happiness — but it pulverizes emotionally nonetheless. The Woodsman isn't an easy film to take by any measure, and it's not aimed at the mass moviegoer, but the topics it addresses are important, since so often the pedophiles who have served their time are placed back into our own neighborhoods. Can society forgive such crimes? Can such men be redeemed? Are they even worthy of compassion, of trust, of a second chance? Or are they forever to be relinquished to their own private hells?
"I'm not a monster," Walter insists when his brother-in-law Carlos (Benjamin Bratt) informs him that his sister will neither meet with him nor allow him near the couple's 12-year-old daughter. But to Sergeant Lucas (Mos Def), a police detective who hounds Walter with clockwork regularity, he is indeed just that.
"I don't know why they keep letting freaks like you out on the street," remarks Lucas. "It just means we have to catch you all over again."
Indeed, the movie is structured in part to show how hard it is for Walter to abandon his sexual urges. He catches himself staring longingly at pre-teen girls at a nearby mall. He sees a young girl on a bus and deliberately misses his stop to get off at hers. Walter may be able to suppress his feelings, he may be able to avoid recommitting his crimes, but he can't fully control the instincts that propel him.
Since The Woodsman needs to make its points quickly and in a meaningful, potent way, Kassell and writer Steven Fechter (on whose play the movie is based) deploy several narrative shortcuts that feel contrived. Walter's apartment, for instance, is across the street from a grade school — and while this would almost certainly never happen in a real-life situation, it's a tactic that forces the movie's hand in an artificial manner. The opportunistic narrative even goes so far as to introduce a second pedophile who Walter, able to sniff out his own kind, observes on the daily prowl outside the school's playground.
At the lumberyard where Walter has been given a job (by an understanding former employer), he meets Vickie (Kyra Sedgwick), a strong, compassionate woman with a few demons of her own. She takes a strong liking to this quiet, reserved man. And while Walter doesn't reveal his secret shame to Vickie right away, when he does open up, his inner-shame, his fear of lying in judgment paralyzes the relationship.
The movie's most gripping moments occur between Walter and Robin, an 11-year-old girl (the affecting Hannah Pilkes) he befriends in a park. When Walter strikes up a casual conversation with Robin, it brings a horrifying clarity to The Woodsman. A second encounter is even more chilling, and although it is entirely based in dialogue, it's enough to make the audience gasp in unison.
Part of The Woodsman's brilliance is in the way Kevin Bacon forces us to sympathize with the lead character. Portraying Walter as a grim vessel of self-loathing and inner-turmoil, Bacon gives a masterful, uncompromising performance, one as intensely restrained as it is ultimately explosive. The choice of Bacon — a familiar face and an established Hollywood star — was inspired, in part because it simultaneously allows us a safe amount of distance as well as immediate access.
Bacon's gloss-free portrayal is every bit as compelling as Charlize Theron's turn as serial killer Aileen Wuoronos in Monster. (Interestingly, Newmarket Films distributed both films, as well as Mel Gibson's The Passion of the Christ.)
THE WOODSMAN
Starring Kevin Bacon, Kyra Sedgwick, Benjamin Bratt
87 Minutes
Rated R
Landmark's
E Street Cinema


Area Showtimes
Rappers-turned-actors Mos Def and Eve are both terrific in their supporting roles as thorns in Walter's side, and Sedgwick is marvelous as the warm, forgiving Vickie, a woman willing to take a chance on a life with a man fundamentally shunned by society.
Back to that question of normal. When his psychologist asks him what is normal, Walter mutters "To be able to be around a girl and not feel…"
His voice trails off, but the pain in his face lingers, his need to be free of the sickness that defines his life fully evident. Sadly, for Walter, it's