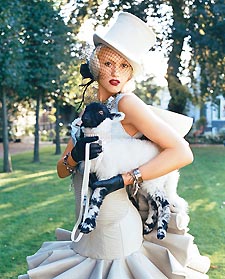 Pop on top: Stefani
Is Gwen Stefani the new Madonna or the new Cyndi Lauper? The question arises on the occasion of Stefani's marvelous debut solo album, Love. Angel. Music. Baby. Stefani is bit of both. Imbued with Madonna's sense of style and Lauper's sense of adventure, her music calls to mind the early sounds of the best of both her '80s-era counterparts, while still sounding contemporary.
With L.A.M.B., she has exceeded her own expectations and our wildest dreams. The album is better than even her band No Doubt's impressive last set, Rock Steady. It's more than just the "guilty pleasure " that she set out to make. It's a guilty pleasure that's virtually guilt-free.
It's not just Madonna and Lauper that Stefani channels here — she worked with more than a dozen writer-producers, from those who shaped the sound of pop during 35-year-old Stefani's adolescence as well to those shaping the sound of pop today. The latter includes No Doubt's Tony Kanal, whom she credits with introducing her to dance music.
Stefani co-wrote all 12 songs here, and it's obvious she didn't just simply sit back in her Hollywood mansion in her Galliano gown while her assembled producers went to work. Still, the work of the hot pop purveyors she corralled is where L.A.M.B. really sparkles. Linda Perry (4 Non Blondes, Pink) co-wrote three of the album's best songs, "The Real Thing, " "Danger Zone, " "What You Waiting For? " Those first two titles are '80s cultural references through and through. But wait till you hear the actual songs.
Stefani worked with Prince & The Revolution's Wendy and Lisa on "The Real Thing, " which opens with the two musicians dropping what sounds like the beginning of Lauper's hit ballad "Time After Time. " But then Peter Hook's patented New Order syncopated bass kicks in, followed in short order by the unmistakable voice of New Order's Bernard Sumner, backing Stefani in the sweetly moody chorus. It's essentially "Bizarre Love Triangle " redux: "I've seen your face a thousand times, Have all your stories memorized/I've kissed your lips a million ways, But I still love to have you around." Who am I to disagree?
Years after singing Wamdue Project's "King of My Castle, " Gaelle Adisson finally drops her debut album Transient. Like Stefani's album, it was released in late November, and it seduces you from the start. Transient's "Falling " progresses from the pitter-patter of a Sade-styled mild calming rain to a lilting Latin-tinged sweet snare-drum rainstorm, as her love grows (and ours). Like Jill Scott, Gaelle shows awe-inspiring ease with poetry throughout her album. But she never gets carried away, never turning insufferably pretentious nor embarrassingly pedestrian. She chews over telling couplets about love, whether new or old, lost or found, as she peels through the layers of meaning. On her most deeply felt track, "Fade Away, " she perfects her hopefully pessimistic (or darkly optimistic?) approach to songwriting, disguising optimism in shades of despair: "More often than not I keep forgetting, true love it can never end in sorrow/I hope and I pray for comfort, that never seems to come. "
Gaelle grew up in New Jersey and currently resides in Atlanta, but she was born to Haitian parents. Her music reflects the realities of life anywhere but especially, to my ears at least, a troubled paradise like Haiti, where sunny, percolating music does not drown out the sorrows that come with a sun-burnt existence. Gaelle's melancholic electronic music is as notable as her intelligent lyrics, and it's at its most powerful when its layered textures react to her carefully plotted vocal deliveries. On "Repetition, " Gaelle coos "I love you " 12 times in a sweet Dido-esque unassuming voice, and then apologizes for the "repetition " in a split-level, gently overlapping chorus of rhymed words, ending in "recitation. " But no apologies are necessary.
"I just can't get quite enough, I feel like I'm falling, in love, " she sings on "Falling, " as she gives voice to our own predicament.