2004'S TOP DANCE ACT…. Billboard's bestselling album in 2004 from a dance/electronic artist was not brought to us by a lesbian sex act. Despite half a year spent near or at the top of the chart, Scissor Sisters' eponymous debut was only the fourth bestselling artist album, just behind Legion of Boom from the Crystal Method and Talkie Walkie from Air. No, the bestselling album was Give Up, a first-class delivery from The Postal Service. It's likely, however, that you never heard of that particular duo. Well, do you like the Pet Shop Boys? Erasure? Or other soft-voiced groups with a serious passion for electronic beats and a wistful pop sensibility? If so, then The Postal Service could very well be your new favorite band.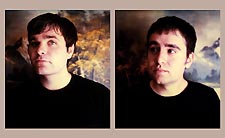 The Postal Service
If you like Seattle-based Death Cab for Cuties, no doubt you've heard of The Postal Service, since Ben Gibbard is the lead singer and guitarist for both bands. (And by the way, despite what you might expect, he's straight.) He started Postal Service as a side project with Jimmy Tamborello (a.k.a. Dntel and Figurine) in a mutual experiment to make "fun music" — and to see whether a long-distance band could exist sharing musical ideas and sounds by snail mail, from which the band drew its name. (Gibbard lives in Seattle, Tamborello in Los Angeles.) Obviously, they succeeded: Give Up was released in mid-2003, and it's pretty much dominated the Top Electronic Album Chart ever since. There's talk of the duo touring this year — a year that will also see a new Death Cab CD, now that the quartet has made the switch to major-label Atlantic Records. And the U.S. Postal Service, after initially fighting the idea of sharing its name with a pop band, plans to use the band's music in coming commercials, to tap the youth market.
But it will likely be another year for a follow-up set, leaving newcomers plenty of time to discover the moody delights of Give Up and its abundance of perfect pop songs with great lyrical dexterity. Check out the sheer galloping joy of "We Will Become Silhouettes," which will be released as a single next month, with a Matthew Dear remix. The original is already a marvel, however, with its accordion-instrumented, New Orleans-style festive flair for the danse macabre: The song has a happy, fearless message about humanity's inevitable death and destruction. "We will become silhouettes when our bodies finally goÂ… ba, ba, ba, ba," goes the cheery chorus….
2004'S TOP CLUB SONG… The top dance single played in the clubs in last year is also not exactly new. Gospel singer Vernessa Mitchell's "Took My Life" was actually first released as a gospel song 12 years ago. It's also not exactly familiar. Sure, around town it got play here and there, but certainly not more than Rosabel with Jeanie Tracy's "Cha Cha Heels" or Janet Jackson's "All Nite (Don't Stop)." And yet, somehow those two tracks didn't even factor into the top 20 on the 2004 Club Play chart. Strange….
2004'S TOP DANCE SINGLES FROM MAD/BRIT… On the Maxi-Singles Sales chart, Madonna reigned, snagging the three peak positions, but only as a Britney Spears accessory for the top spot's "Me Against the Music." Also here is George Michael for "Amazing" remixes, as well as Anastacia for her only domestic release, the single "Left Outside Alone." Her latest, self-titled album has still not been released stateside, even with its dominance of the year-end charts all across Europe. Nor has the U.S. seen release yet of her two hit follow-up European singles….
REMIXING FOR RELIEF… Björk will release by early March a two-disc set of remixes of her 1995 hit "Army of Me." That's a lot of remixes for just one song, but it'll be worth it, since proceeds will go to UNICEF in support of the charity's work for Indian Ocean tsunami relief. Björk solicited any visitor to her website last week to submit his or her own remix of the tune. She reported that a number of unsolicited versions have found their way to her in the past decade, ranging from "hi-energy to death-metal"….
FROM BOY, TO MEN… Boy George plans to raise more than just the energy level on the dance floor with his newest musical outing, reports Billboard. He's hoping to help release more than just music, too, with his contribution to the new gay porn film Manhattan Heat, from Lucas Entertainment. George's work in raising eyebrows (and other body parts) comes courtesy of his alter ego, the Twin, according to Billboard….