The year 2004 was both an encouraging and discouraging one for movies. On the bright side, we had several films that put the script ahead of all else, resulting in intelligent, alert, yet still profoundly entertaining, filmgoing experiences. A handful of gifted directors bucked the corporate beast and brought their own sense of style to the now-typical onslaught of blockbusters.
On the other hand, most of the American movies released in 2004 were either soundly mediocre or just plain awful, bringing to the forefront, yet again, Hollywood's insistence on producing commodity-based, market-tested movies virtually denuded of anything artistic. It's essentially the same complaint I've had for 20 years. And I'm sure I'll be complaining about it again next year — and for that matter 20 years from now. Because, when you get down to it, that's what critics do best, isn't it? Complain.
We begin, however, with the praise. The ten best films of 2004 are…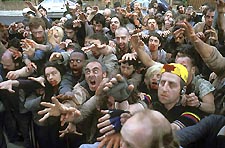 10. Shaun of the Dead — It's not every day you get a zombie film crossed with a romantic British comedy. In the wrong hands, such an odd combination could turn into to a very unpalatable, messy affair. But Shaun was in the right hands, thank goodness — star Simon Pegg, who co-wrote with director Edgar Wright — and the end result was a wickedly funny, playfully morbid, surprisingly poignant parody of zombie flicks.
9. Kill Bill, Vol. 2 — The second half of Quentin Tarantino's over-the-stratosphere epic was, surprisingly, far less violent than the first, and far more centered on the nuances of storytelling. It featured a dazzling performance by Uma Thurman as a vengeful assassin, and some stunning, understated work by David Carradine as the ultimate object of her murderous intent. Tarantino does some of his best work ever, including a taut, heart-stopping sequence in which Thurman is buried alive. But the film will be remembered for its battle royale between Thurman and Darryl Hannah, a one-eyed banshee with a sadistic streak.
8. Harry Potter & The Prisoner of Azkaban — Incoming director Alfonso Cuaron imparted a smart new sensibility to the ongoing series, elevating it to the level of masterpiece. It's still all wizards and magic — and a mighty winged creature known as a Hippogriff was a bit of extraordinary movie magic, indeed — but Cuaron replaced the glossy sheen and rote mechanics director Christopher Columbus brought to the first two films with a boldly dark, rich intensity. There's a greater attention to detail and a surprising amount of sophistication, both narratively and emotionally, and the trio of child stars at long last exhibited some acting chops.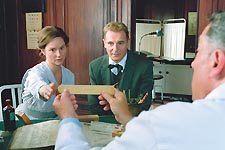 7. Kinsey — Bill Condon's elegant and absorbing biopic explored the life of the scientist generally known as the father of the sexual revolution. A probing, intelligent work, bolstered by fine, understated performances by Liam Neeson in the titular role, Laura Linney as his supportive wife, and Peter Sarsgaard as one of Kinsey's research assistants who has an affair with both.
6. Finding Neverland — Johnny Depp gives a graceful, elegant performance as J.M. Barrie, a playwright struggling to find inspiration. He unearths the muse mother lode when he encounters a widowed woman and her four sons. Barrie's frequent interactions with them led directly to the creation of Peter Pan, one of the most celebrated children's tales of the 20th Century. The movie is a testament to discovering the inner-child within, as well as tearing the lid off one's own imagination. It's directed with magical flourish by Marc Forster (Monster's Ball) and features stunning supporting performances by Radha Mitchell, Kate Winslett and Julie Christie.
5. The Incredibles — You can almost count on anything from Pixar to make the grade. The Incredibles, however, is one of the studio's finest achievements to date. From the hip '50s deco-influenced design to the swiftly witty script by director Brad Bird. This movie didn't just fly — it zoomed.
4. Spider-Man 2 — While we're on the subject of superheroes, was there a film more entertaining in 2004 than Sam Raimi's clever, engaging sequel to his 2002 hit Spider-Man. The villain — Doc Ock (played with delicious villainy and a hint of madness by Alfred Molina) — was marvelous. The set pieces, including the web swinger's heart-stopping encounter with a speeding subway, were spectacular. And the screenplay had a nearly Shakespearean tenor — just witness Aunt May's soliloquy to her nephew Peter. Bravo.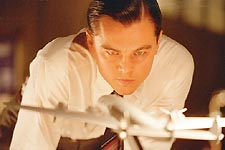 Fly guy: DiCaprio in The Aviator
3. Tarnation — Culled from over 160 hours of footage shot by Jonathan Caouette since the time he was 11-years-old (he's now 31), Tarnation was never intended for the big screen. But Caouette got lucky and caught the attention of some famous independent cinema angels and the resulting final product — edited by Caouette using Apple's iMovie program — is one of the year's most exhilarating, inventive, spellbinding achievements. The documentary's central focus is Caouette and his mother, Rene, ravaged by a life of mental illness and mistreatment thereof. The movie revives your faith in the power of a medium all-too-often impressed with its own mediocrity, rekindling with a blaze what used to be known as the art house movie.
2. The Aviator — Martin Scorsese's vibrant, detail-bursting glimpse into the life and obsessions of Howard Hughes is a transcendent piece of work. Its stylized artifice is offset by a remarkable, fever-pitched performance by Leonardo DiCaprio as Hughes and a Who's Who of a supporting cast that includes, among others, Alec Baldwin, Alan Alda, and Cate Blanchett, who as Katherine Hepburn is so spot-on perfect she must be channeling the late star.
1. Sideways — A rich, insightful look at the crises that often comes with middle age, told in a relaxed, ambling style and anchored by a couple of astonishing performances — notably Paul Giamatti as a depressed, romantically challenged wine snob, and Thomas Hayden Church as the freewheeling buddy he spends a week with on a trip through California wine country. Directed by Alexander Payne, the movie strikes a perfect balance of childish antics, awkward romance, dramatic impact and humorous fizz. It's a stunner.
---
And now, the worst…
10. Open Water — A one-note gimmick that grows old very, very fast. Two divers — a married couple — are accidentally left behind by their boat in shark-infested waters, they spend the day alternately terrified, exhausted, and wondering who will die first. The movie had a few unsettling moments, but generally it baited the audience into thinking it was a great thriller. Hardly. It was a relief to see the pair finally get eaten.
9. Alien Vs. Predator — You'd think a pairing of the two greatest sci-fi monsters would amount to something more than a loud, senseless hash. It didn't. An incredibly stupid kicker ending added insult to any injury already sustained.
8. Spanglish — When James L. Brooks creates a yawner, at least he does it with class. Or pretends to. Then again, having Adam Sandler and Tea Leoni as your top-billed stars ain't too high on the class scale.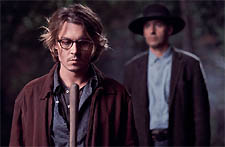 7. Starksy & Hutch — A totally unnecessary experience, made all the more unbearable by the pairing of Ben Stiller and Owen Wilson.
6. Secret Window — Even Johnny Depp isn't infallible when choosing projects and this thriller involving a writer with an extreme case of blockage, based on a short story by Stephen King, was so flaccid, even a dose of Viagra wouldn't have helped.
5. The Lady Killers — In attempting to remake a classic British film (a film that remains to this day a classic worth watching), The Coen Brothers, Joel and Ethan, concocted an abomination. Pity poor Tom Hanks, who must have been contractually obligated to see this turkey all the way through.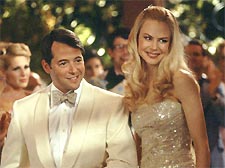 4. The Stepford Wives — The original had a creepy, paranoid, understated chill. There was nothing understated about the remake, which aimed for farce and achieved idiocy. The hatchet job was performed by director Frank Oz and writer Paul Rudnick, and featured some of the worst work ever produced by an assortment of otherwise fine actors — Matthew Broderick, Christopher Walken, Glenn Close, Nicole Kidman, and Bette Midler.
3. Van Helsing — Dracula, Frankenstein and the Wolfman, oh my! Somebody should have put a stake through this overbaked film's heart before it even got out of the production coffin.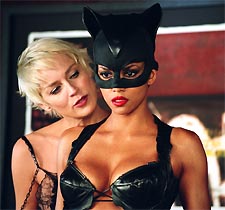 2. Saw — The previews were misleading — they made Saw seem unabashedly terrifying. In reality, this dumb thriller about a serial killer who plays nasty games with his victims, was less frightening than laughable, mostly thanks to Cary Elwes, whose performance was a classic study in appalling acting.
1. Catwoman — I said it before, I'll say it again: If movies were kitty litter, Catwoman would be the kind that doesn't absorb very well and fails to clump. Halle Berry's vanity project wasn't merely unwatchable, it was stinky. Really, really stinky. Rumor has it they're working on a sequel. All together, now: Hiss.