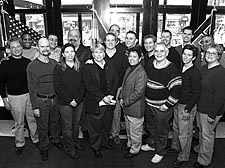 Members of the AVER National Capital Chapter
ORGANIZATIONAL MISSION: Founded in 2000, AVER National Capital Chapter is a veterans' organization dedicated to the fair and equal treatment of all service members and veterans regardless of sexual orientation or gender identity, while honoring their service and sacrifices. AVER's primary focus is assisting GLBT service members and veterans.
MOST COMMON ACTIVITIES: AVER members have begun regular visits to patients at Veterans Administration hospitals. The group organizes a color guard for several gay-related events, and offers social events for members, including a monthly happy hour.
BACKGROUND: In 1983, Army Capt. Galen Grant (ret.) was the first female named drill sergeant of the year at Fort Jackson, S.C. Despite her performance, she still feared of being kicked out of the military for being gay. Now out of the military and new to the D.C. area, Grant says she was interested in getting involved with the GLBT community. "I was drawn to this organization," she says. "I probably spend 10 to 20 hours a week in AVER activities." As president of the local chapter, Grant insists that AVER is not just for veterans like her. "This organization is for anyone who cares about the fair and equal treatment of Americans, anyone who cares about the direction of this country," Grant says, adding that current members include veterans and civilians, gay people and straight allies.
INFORMATION AND MEMBERSHIP: E-mail info@averdc.org. A membership application is online at www.averdc.org/join.html Annual membership fee is $35.
NEXT EVENT: Military Happy Hour, Thursday, March 3. E-mail activities@averdc.org for more info.