I'm not particularly fond of boxing movies. I flinch at the sight of fists curled up in big padded gloves, thrusting for blood. Nor am I all that hot-to-trot over the films of Clint Eastwood, especially his more recent, slow-as-molasses ordeals. It should come as no surprise, therefore, that I avoided seeing Million Dollar Baby — Clint Eastwood's latest drama, set in the world of boxing — for as long as humanly possible. Last weekend, I could avoid it no longer — not with the prospect of multiple Oscar wins in the film's future and with my only other viable options being The Wedding Date and The Boogeyman.
So let me put it bluntly: If you are avoiding Million Dollar Baby for any of the above reasons — or for reasons of your own — put them aside. This is the one film in current release you don't want to miss. It packs a K.O. punch like none other I've experienced this year, and it does so with exceptional cinematic grace, a powerful emotional sting, and without breaking a sweat.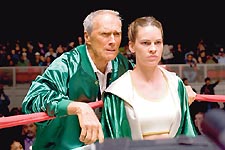 Eastwood and Swank
(Put it another way: If Martin Scorsese saw the film, he must have wept. "There's goes my Oscar," one imagines him thinking.)
Based on the boxing world stories of F.X. Toole, Million Dollar Baby is, at its core, a story of human bonding. It's the tale of two people who find meaning in their lives through their interactions with one another.
Frankie Dunn (Eastwood), a grizzled boxing manager, who owns and operates the Hit Pit Gym in L.A., is badgered by Maggie Fitzgerald (Hilary Swank), into becoming her trainer.
"I don't train girls," he barks.
"I'm tough," she replies.
"Girlie," he growls back, "tough ain't enough."
With the help of the gym's custodian Eddie "Scrap-Iron" Dupris (Morgan Freeman) — himself a former prizefighter — Maggie wears Frankie down. He takes her on and, under his tutelage, her raw talent is refined into something this side of a miracle. She becomes a one-hit wonder — rarely getting past the first round before delivering a knock-out punch to her opponents. Through it all, a friendship develops: Frankie fills a paternal void in Maggie's life (her roots lie in the white trash of Missouri), and she becomes a substitute for his estranged daughter, who routinely (and coldly) returns her father's weekly letters unopened. Following a world championship bout, they are put to an ultimate test, one that will require all of Frankie's faith and all of Maggie's stubborn resolve to overcome.
The movie is completely absorbing, containing none of the overripe histrionics that marred Mystic River, and none of the plodding momentum that typifies so many of Eastwood's directorial efforts. The story glides along at precisely the right pace, with gravity added courtesy Tom Stern, whose beautifully desaturated, shadow-rich photography teeters between warmth and bleakness.
Gravel-voiced and skin-creased, Eastwood at first plays Frankie with his patented tough-guy persona. He could be Harry Callahan, or that astronaut from Space Cowboys. But Eastwood eventually allows Frankie's shell to come loose, revealing a tender, sensitive man carrying a heavy load of remorse and in need of redemption. As Maggie, Swank is simply tremendous. Not only is she credible as a gifted athlete, her performance ultimately delves into depths that would challenge lesser actresses.
The supporting cast — from Freeman's wise, kindly half-blind Eddie to Jay Baruchel's exhuberant comic relief as a thick-headed, harmless boxing hopeful to Margo Martindale's starkly nasty turn as Maggie's scheming mother — all contribute wondrous moments. But the film belongs, really, to Eastwood and Swank. As Hollywood couples go, they make one of the best pairings in recent memory.