Elizabeth City State University is about as "small town" as you can get. It's roughly 45 miles south of Portsmouth, Va., just over the North Carolina state line. And it's the site of Brandon Braud's most memorable experience as the field organizer for the Human Rights Campaign's Historically Black Colleges and Universities (HBCU) Program.
"It's a very small community. Some people would even consider it 'backwoods,'" says Braud, who has been with HRC, the nation's largest gay-rights organization, for about three years. "I did a training for the residential folks there. I walked into the room and the majority of them were men, probably ranging from 35 to 50. I was concerned. I thought, 'This is not going to go well.' But it was completely, diametrically the opposite of what I thought it would be. Not only were they engaged, there were many stories they all had about LGBT issues that they didn't know how to handle. They were glad to have someone there to help them learn how to handle the issues sensitively.
"The most touching thing when I left was that one of the older gentlemen, probably in his early 50s, he walked up to me and shook my hand. He said, 'Thank you for the work you're doing. It's important and it needs to be done.' He'd lived in Elizabeth City all his life, and he got the importance of what this work means. I'm always touched by that memory."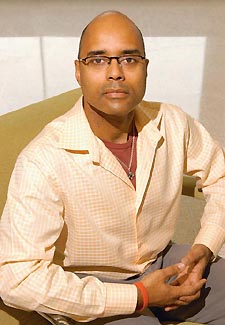 HRC's Brandon Braud
(Photo by Todd Franson)
As HRC's representative on HBCU campuses, Braud says his job is largely outreach to LGBT students, assistance with organizing groups or to existing groups, and more. "Support can come in many forms: conferences, speaking engagements, movies, panels — anything related to helping them foster a better environment on campus," Braud says. The work keeps him busy — he estimates that he spent nearly half of 2004 on the road.
On Friday, Feb. 11, however, Braud's work will come to him. That's the day HRC opens its second annual conference for GLBT students from HBCU, here in Washington.
"The [2004] conference was the very first time that these students had the opportunity to come together as LGBT people of color from HBCU and share their experiences," Braud says of the first event, which brought together 15 students from five universities. "To be honest, it was probably the most amazing thing I've ever been asked to bring together. Several students made the comment, 'Wow, I'm not the only one out here.' Or, 'We're not the only students who decided to enroll at HBCU knowing it would be a difficult struggle.'"
Robert Jackson, a senior at Howard University in D.C. is one such student. This will be his first HRC-HBCU conference, though he has participated in the connection forged last year between HRC and Bisexual, Lesbian and Gay Organization of Students at Howard (BLAGOSAH).
"I'm really excited about meeting people from different campuses," Jackson says of the upcoming conference, noting that a BLAGOSAH condom campaign has met with resistance from Howard administrators. "We really need that networking. We're a minority within a minority. We have to form those networks, those bonds. This conference will allow us to make a strategic plan for the next 12 months. We'll know exactly what we want to do and how to make it happen."
Clay Allen attended the first HRC-HBCU conference in 2004, along with one other student from his school, Atlanta's all-male Morehouse College. This year, Allen will return with a substantially larger contingent of eight to 10 students.
Allen offers a clear assessment of struggles unique to LGBT students on historically black campuses, particularly at Morehouse.
"We rallied ourselves and put a group together to help affirm and support gay students on campus. That's a huge step for a school that's struggled with homophobia," Allen explains. "It's been a struggle to get the administration to affirm us. Resistance comes from the fact that Morehouse has traditionally been the school to produce some of our greatest African-American leaders. Some people feel [a gay student group] will create a problem, 'taint the pride.' We have a long way to go with regard to policy." 
At this year's much larger conference, Allen and others will find support from one of the country's most notable university administrators, Johnetta Cole. Her academic career has included positions at the University of California at Los Angeles, the University of Massachusetts at Amherst, and Washington State University at Pullman. She was the first African-American female president of Spellman College, the nation's oldest college for black women. Today she is the president of Bennett College in Greensboro, N.C.
Joining Cole will be Emil Wilbekin, the gay former editor of VIBE Magazine, and a graduate of historically black Hampton University. He's currently vice president of brand development at Marc Ecko.
Braud says he's excited by the two high-profile attendees, as well as other changes to this year's conference, the theme for which is "Claim Your Truth — Black, Out, Proud and Visible." HRC is expecting 54 participants, up from 15, representing 12 universities. They have also added a kick-off reception, open to the public.
As the conference grows, however, no one involved seems to have lost sight of the point of the conference: Making progress for LGBT students on HBCU campuses. And Allen, for one, is perfectly optimistic.
"It's really important to note that Morehouse is a result of sacrifice, of someone standing up," Allen says, pointing to the founding of the Augusta Institute in Augusta, Ga., in 1867, just two years after the Civil War. Augusta Institute later became Morehouse College. "The school was established right after slavery. There were a number of obstacles to the school starting. No one wanted black people — particularly free people who'd been enslaved — to be educated. I'm a firm believer that if we simply follow in the tradition of the school, we can always be hopeful."
The HRC-HBCU 2005 conference opens Friday, Feb. 11, with a reception open to the public, 6:30-8:30 p.m., at the Human Rights Campaign Building, 1640 Rhode Island Ave. NW. For more information, contact Brandon Braud at brandon.braud@hrc.org.