If you're looking for non-ironic expressions of warm Valentine's feelings next week, you may want to steer clear of the Black Cat where mothertoungue stages its annual Anti-Valentine's Day Slam. It's the space where last year Chelsie Miller took to the stage to tell off a wannabe male paramour: "Let me make sure you got this straight — I'm not. And no, you can't watch."
An all-volunteer women's spoken-word organization, mothertongue is where you want to go if you're feeling more bitter than sweet about the rose-colored Hallmark holiday.
"Everyone has had their little hearts broken at one time or another, so a lot of the stuff the poets read folks can relate to," says Anti-Valentine's Day Slam organizer Michelle Sewell. The Slam is probably mothertongue's most popular annual event, and the audience has a huge influence on how the evening unfolds. At this year's event, 12 performers will follow strict Slam Poetry rules: Each poet will read original material that runs exactly three minutes, with no props or music. And they'll compete for a $200 first prize and a $50 second prize.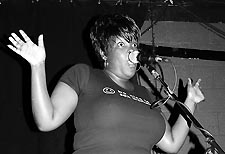 (Photo by Mary Cunningham)
All performers at the Slam and mothertongue's regular open-mike events are women, or "woman-identified," individuals, though men are always represented and welcomed in the audience.
"mothertongue is a critically important institution in D.C., the only one of its kind," Sewell says, calling it the opposite of the straight boys' club that characterizes most other spoken-word events.
According to former board member Courtenay Singer, mothertongue plays a central role in Washington's lesbian community. "[It] offers something pretty much unprecedented, which is a really accepting community for women to speak their minds." They do so, she adds, in an environment where the primary objective isn't to dance, drink or cruise, but to focus on art.
"Every month we provide a safe and supportive space for women," says Natalie Illum, the current vice president of mothertongue's board. "And we raise money for organizations that provide services to enhance the lives of girls and women." This year's Anti-Valentine's Day Slam beneficiary is the Rape, Abuse & Incest National Network (RAINN), the nation's largest anti-sexual assault organization.
"There is a contingent of people who don't like that we 'slam' Valentine's Day," Sewell admits. "Basically they're people without a sense of humor. The show is hysterically funny. Some of the things people get up on that stage and say — you almost can't believe it has happened to them."
mothertongue's Anti-Valentine's Day Slam is set for Wednesday, February 16, at the Black Cat. Showtime is at 8:30 p.m. Admission is $7, at the door. See www.mothertongue.org or www.blackcatdc.com for more information.