Bernie Pulliam and William Taylor have traversed an ocean and two decades, and they've taken it in stride. Their first meeting may have set the tone — fireworks, but no violins.
It was Oct. 2, 1982, and both men were living in Chapel Hill, North Carolina. Pulliam, then 31, was local, while Taylor, a 29-year-old Briton, was in town for a three-month research residency.
"We met through a mutual friend, one of my co-workers and a person William knew through church," Pulliam says. "He had an annual birthday party, and he invited everybody he knew. I think there were 200 to 300 people there. We met at that party. We liked each other."
Pulliam adds with a little laugh, "I think we hooked up that night."
Soft-spoken Taylor confirms, coyly, "I seem to remember going home with you."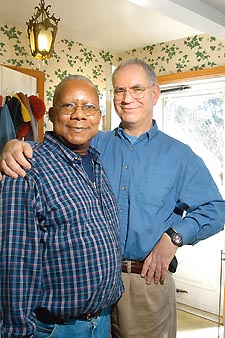 Pulliam and Taylor
That could have been the end of it. Neither Pulliam nor Taylor admits to any budding romance out of that initial liaison. Actually, it may have been boredom that pushed them together again.
"About two or three weeks later, I got bored and called [Bernie] up," says Taylor. "He had trouble figuring out who I was.
"Love crept up on us unawares, because neither of us were expecting any sort of relationship."
For this seemingly pragmatic pair, events began to unfold in ways neither of them had imagined.
Taylor says emotion crept in by late November, during a holiday trip the two took up to Washington to visit Pulliam's gay brother.
"I have it tied to Thanksgiving," says Taylor.
"I held out till Christmas," Pulliam counters.
"You muttered three little words at Thanksgiving," Taylor teases.
"Oh, I suppose I did."
By late December, Taylor had invited Pulliam along on a cross-country road trip, which marked the scheduled end of Taylor's residency. He'd soon be headed back to England.
Based on their dispositions and statements, an observer might come to believe that both Pulliam and Taylor have little regard for any saccharine emotion. Don't believe them. Barely a season had passed before Pulliam was winging his way to England.
"I quit my job in Chapel Hill that I'd had for eight years," he admits. "All my friends told me I'd completely lost my mind. Over the years, I've seen most of them married and divorced, but we're still together. I felt like it was the right thing to do, so I went…. I was going indefinitely. I had a one-way ticket. I think I stayed six months."
Meanwhile, Taylor had been searching for ways to return to the United States. His search paid off, and it wasn't long before Pulliam and Taylor were setting up home in Reston, Va., near to Taylor's new research job. Despite a short stint in Atlanta, the couple has more or less stayed put, now calling Fairfax home.
"I had no intention of staying this long," Pulliam laughs. "It just felt right. One day at a time, pretty much…. I was headstrong in my first relationship, headstrong and not really ready to settle down. By the time I met William, I was still sort of headstrong and not ready to settle down! But the years have sort of slowed me down a little bit."
Adds Taylor, "This is a relationship I did not expect to happen. Given that, I guess the expectation wasn't hard to beat. Once we'd been together, as Bernie says, it's felt right."
If their relationship were a plant, Pulliam and Taylor's might be a philodendron — perhaps the lowest-maintenance plant available. In that sense, Pulliam and Taylor have little to offer in the way of sage advice for other couples or single people. They simply have green thumbs for their own situation.
"I think we're good about giving each other plenty of room to be ourselves," Pulliam says. "It's not like we have to spend every minute together. We have our own separate interests and different friends…. When we do get together, we've had different experiences, so we have interesting things to talk about. I think that helps."
"We're not romantics," Pulliam says. "Some people need that and want that. It's nice every once in a while, but it doesn't need to be that way. It's nice at the end of the day to have someone to come home to, even if we just sort of sit there. It's the comfort and familiarity."
Taylor adds a clarification: "It's not just the companionship. We do happen to have sex from time to time."
"Yes, we do," Pulliam says with a smile. "The sex is still alive and well." —