Innocuous entertainment. That's how, if pressed, I would describe Constantine, another comic book-to-screen adaptation that is, at the very least, visually interesting for its two-hour running time. (Stay through the entire final credits or you'll miss a coda detailing the pivotal fate of one of the movie's characters.)
Based on the Hellblazer comic series — a series I admit to having never read (I'm a pretty straightforward Superman/Batman kind of guy, though I admit to harboring a special affection for Plastic Man) — the movie picks up a religious gauntlet, only to wield it tepidly before discarding it altogether. It's your basic keep-evil-down-below storyline — one that played out for seven seasons on TV's Buffy the Vampire Slayer and continues to play out on The WB's Charmed — but with a morbid, suicide-enriched twist.
John Constantine (Keanu Reeves) was born with a special gift allowing him to actually see half-breeds — demons and angels who walk the earth in human guise, gently influencing humans to do good or bad. Their success (or failure) helps to decide who lays claim to our souls — God or Satan — once we depart the mortal plane.
Constantine, however, is in a pickle. He attempted the mortal sin of suicide as a 20-year-old and briefly succeeded before being revived by doctors. He spent those few lifeless minutes — "an eternity," he notes — in the firepits of Hell, where sulfur isn't just for breakfast anymore. Determined to wash his sin clean and be accepted into Heaven, and with his time running out (he's got an advanced case of lung cancer), Constantine has devoted his adult life to hunting demons who cross the line of spiritual détente, deporting them back to the underworld. Despite his best efforts, he's not won the forgiveness of the Big Guy, at least according to the archangel Gabriel (Tilda Swinton).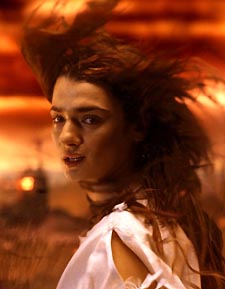 There's a lot more plot. Too much, in fact. Though, remarkably enough, it's not hard to follow. The main thrust has to do with a detective (Rachel Weisz), whose body is needed by Satan's rebellious son in order to create a Hell on Earth. Constantine works frantically to prevent this, along the way fighting demons, some of which are comprised of giant swarms of bugs.
Most of Constantine doesn't add up, and to some that may be part of its special fun. After all, the sight of Keanu Reeves sitting with his feet immersed in a bowl of water, stroking a cat is pretty silly.
I suppose fans of the comic series will get every tiny reference to every tiny little cosmic detail. Well, rah-rah-rah for them. My advice to the uninitiated: sit back and take a load off. As directed by Francis Lawrence, the movie has a solid, steady momentum and a creepy, uneasy visual flair, although it sometimes relies a little too heavily on CGI spectacle.
Reeves, of course, is perfect for the role of the stone-faced Constantine, a man who shows less emotion than your average Vulcan. The 41-year-old star is pretty much doing the Matrix thing, but with a little more bitterness and lot less messianic complex. I've never thought of Reeves as much of an actor, and his flat, monotone delivery in Constantine isn't going to do much to change that. But at least he's not taking on roles in which he's in over his head. The shallow waters suit Reeves just fine.
---
Academy Awards
ABC
Sunday, Feb. 27
8 p.m.

This year's Oscar race, to be broadcast Sunday, Feb. 27, on ABC is a no-brainer. Overall, it's going to be the year of Million Dollar Baby. Unlike 1976's Rocky, this is one boxing film that deserves every statuette it nabs. Still, you can't help but feel sorry for Martin Scorsese, whose Aviator was a blazing and brilliant frontrunner until Baby fought its way into theaters. But Scorsese, who has been snubbed before, will no doubt return to the Oscar ring. (To be honest, he should have won years ago for his own boxing flick, Raging Bull.)
As for actors, after several no-wins, Morgan Freeman will finally get his due. And Jamie Foxx will continue his trophy-collecting trend. Actresses are a little tougher to call, but my money's on Swank.
So here's my annual selection of who I think will win and who I think deserves to win in the major categories. Actor — Who will win: Jamie Foxx in Ray. Who deserves to win: Foxx.
Supporting Actor — Who will win: Morgan Freeman in Million Dollar Baby. Who deserves to win: Freeman.
Actress — Who will win: Hilary Swank in Million Dollar Baby. Who deserves to win: Swank.
Supporting Actress — Who will win: Cate Blanchett in The Aviator. Who deserves to win: Virginia Madsen in Sideways.
Animated Feature — What will win: The Incredibles. What deserves to win: Incredibles.
Adapted Screenplay — What will win: Million Dollar Baby. What deserves to win: Sideways.
Original Screenplay: What will win: The Aviator. What deserves to win: Eternal Sunshine of the Spotless Mind.
Directing — Who will win: Clint Eastwood, Million Dollar Baby. Who deserves to win: Scorsese.
Best Picture — What will win: Million Dollar Baby. What deserves to win: Baby.