One's first instinct is to dismiss James Murphy, who comes off as the world's snottiest and most insecure indie-music geek on "Losing My Edge. " Murphy name-checks pretty much every influential underground artist and pop-culture phenomena of the past several decades on the crude electronic track in a vain, self-defeating attempt to show superiority.
But pay closer attention, and you'll see it's all a brilliant, absurdist, self-effacing parody: "I hear everybody that you know is more relevant than everybody that I know. But have you seen my records? "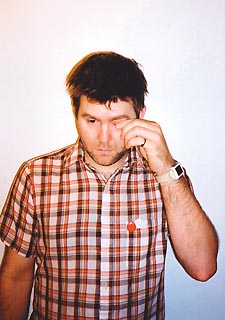 Name-checking: Murphy
(Photo by Tom Soter)
"Losing My Edge " was an underground sensation back in 2002. And now the rest of us can delight in it and a fabulous debut album from Murphy. ("Edge " is included on a bonus-disc of previously-released singles.) The eponymous set kicks off in boisterous form, name-checking another dance-rock act with "Daft Punk is Playing in My House. " Over a three-chord punk structure, Murphy imagines the French electronic duo performing at a party in his basement, where, "there's every kid for miles at my house…. God, everybody's peeing in my house! "
Hipster albums, especially for non-hipster listeners, don't get more amusing, and they don't come much better, than Murphy's LCD Soundsystem. It's difficult to imagine a better post-disco/dance-rock/punk-funk album will be released this year.
LCD Soundsystem is overstuffed with witty lyrics and irresistible music. Murphy repeatedly puts on airs and tries to make you dislike him or his abrasive, often dissonant, stripped-down music, which draws inspiration from decades of pop-music fashions. And every time he tries, he fails miserably. Murphy sings, when he's not merely talking, in an appealing, distinctive voice, sounding forever affected by a cold. Musically, Murphy builds on the best work of his contemporaries, besting Fischerspooner's unbounded electro energy ("Tribulations "), Death Cab for Cutie's fantastically grand melodic pop experiments ("Great Release "), and the Chemical Brothers' giddy techno ("Disco Infiltrator "). He even successfully emulates many of his musical idols, from Roxy Music to Joy Division to John Lennon.
The druggy "Never As Tired as When I'm Waking Up " is nothing less than a modern-day response to "Dear Prudence." "And it feels like I'm in love again, " Murphy sweetly sings. After several rounds of the phrase, he caustically, but even more sweetly, adds, "But not with you."
Greenskeepers is another underground punk-funk electronic act that could bubble up to wider attention this year with its sophomore album, Pleetch, especially with the first single and video, "Lotion. " "It puts the lotion on it's skin, or else it gets the hose again, " Greenskeepers' Nick Maurer coos, putting melody to the signature phrase of Silence of the Lamb's Buffalo Bill. It's a disturbing yet fascinating effect with its gentle guitar-strumming. And it's very silly. The video consists of re-edited images of Bill and his captive and his dog, all-mixed-up, to great, hilarious effect.
Greenskeepers aims to make silly party tunes, "to bring the fun back to the dance floor, " as the band's press notes put it. Founded by Chicagoan James Curd, the band doesn't always go for jokes, and some of its best songs, such as the Jill Scott-esque "Epiphany " and "Keep It Down, " could find a home at a trendy hip-hop club. "Lotion, " or the other comical songs on Pleetch — including "Filipino Phil " and its amusing video, featuring Tattoo from Fantasy Island — don't match the fun of last decade's Dee-Lite or even earlier disco ditties or funk jams. But several come close.