Alan Keyes — former ambassador, former presidential candidate, former Senate candidate, and Christian-right political pundit — has made a name for himself as one of the loudest culturally conservative voices in the country. Much notoriety comes from his rigidly dogmatic views about gay people.
"By definition, a homosexual engages in the exchange of mutual pleasure. I actually object to the notion that we call it sexual relations because it's nothing of the kind," Keyes told gay journalist Michelangelo Signorile during the 2004 Republican National Convention. "It is the mutual pursuit of pleasure through the stimulation of the organs intended for procreation, but it has nothing to do with sexuality because they are of the same sex. And with respect to them, the sexual difference does not exist. They are therefore not having sexual relations."
This was the same interview in which Keyes insisted that Mary Cheney is a "selfish hedonist" by virtue of being a lesbian.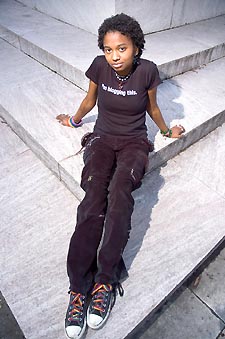 Maya Marcel-Keyes
Keyes' brand of politics has not rocketed him to the halls of power. On the other hand, his unwavering commitment to his principles — as extreme as they may be to many Americans — has earned him the respect of some who appreciate his integrity.
His daughter, Maya Marcel-Keyes, is one such admirer. Perhaps surprisingly, she's also a lesbian.
Earlier this month, Maya spoke at a rally in Annapolis sponsored by Equality Maryland, the state's gay-advocacy group. Though news of Maya being gay had already been spreading over the Internet, the rally marked her first official outing. Her new public profile coincided with being kicked out of her parents' Maryland home, as well as their refusal to provide financial support for her college education.
Word from Alan Keyes is that Maya is an adult and will have to live with her choices. It's a position that Maya says not only makes sense, but that she respects. While on the surface it may be hard to find common ground between father and daughter, their commitment to their ideals shows that the apple does not fall far from the tree.
That commonality aside, Maya, 19, now must fend for herself. Jamiel Terry has a good idea what she's going through. Terry came out publicly last year in an essay in Out Magazine. As the son of Randall Terry, founder of the anti-abortion group Operation Rescue, Jamiel's coming-out was newsworthy. Randall Terry, after all, does not limit his political interests to abortion. He's also urged Christians to challenge the "homosexual juggernaut."
Jamiel recalls meeting Maya in 2000 while accompanying his father to Vermont to rally against civil unions. He says Alan and Maya Keyes had also come to Vermont to join the right in rallying against same-sex unions.
"Alan Keyes is a very devout Catholic and a fundamentalist Christian," says Jamiel. "In the sense of his hard-line beliefs on homosexuality and abortion and even taxes, his and my dad's views are so alike, it's scary. And they're good friends."
While the Vermont trip can be chalked up to youth, some members of the gay community have wondered why Maya worked on Alan Keyes' failed 2004 Senate campaign, her father running as the GOP candidate from Illinois. Maya, however, sees no conflict with putting family ties above politics.
That's not to say that Maya is without conflict. Her activism has dedicated her to the plight of homeless queer youth. Some have become close friends, and some have died. Evidence of the conflict in her life can be found on her blog, with its links to self-help sites for "self injurers." The cause of self-injuring, which often involves cutting oneself, is believed to be a coping mechanism by which some people deal with overwhelming feelings. "I've had experience with it myself," says Maya. "It's an issue that some people need help with. It's something I'm still dealing with."
As Maya continues to deal with self-injury, she also has new challenges to face with this new turn in her relationship with her father and her new public persona.
Based on his very similar experience, Jamiel's advice to Maya is rooted in the metaphor that tells us we can't go home again.
"He was a great father and I love him dearly," Jamiel says of his own father. "I speak to him here and there, but our relationship is not where it was before my coming out…. I would tell Maya just to keep going forward. Once you go down this path, if you hesitate, if just hurts you. Stay strong. Living a lie is a lot more painful."
Last week, Maya and her girlfriend, Bria Murray, spent an afternoon discussing the fallout from Maya's speech, their relationship, politics, Alan Keyes, and what it means to be a queer anarchist.
METRO WEEKLY: Tell us a little about your life growing up in your father's household.
MAYA MARCEL-KEYES: Well, it was fairly normal. My parents are good parents. We went to school, went to church, did homework. Sometimes we would do lots of traveling because my dad would go around giving speeches and doing his presidential campaigns so I guess I got used to the whole political thing, running around, smiling at tons of strangers and shaking hands. But other than that, there is nothing really exciting or interesting to tell about my childhood. I am Christian myself, so it was kind of weird, I suppose, hearing all the time how homosexuality is bad, wrong, evil.
MW: At what point did you come to the realization that "I may be one of those people?"
MARCEL-KEYES: In middle school. Everybody else would be sitting around talking about actors and I was more interested in Angelina Jolie than Leonardo DiCaprio.
MW: What kind of conflict did that produce within you?
MARCEL-KEYES: Obviously, when you're young your parents sort of shape your whole world. When all I'd heard through my entire growing up years was how it was wrong and bad and evil and sinful, it didn't make me very happy when I began to realize that I was queer. But part of growing up is distancing yourself from only thinking what your parents have told you to think, shaping your own views of things. I started learning to accept that maybe being queer really wasn't all evil and immoral and wrong.
MW: So you lived with your feelings for a while, but kept it quiet.
MARCEL-KEYES: Yes. It really didn't make much sense to me to say anything about it when I knew exactly what my parents thought. I didn't think it would make life very pleasant.
MW: Did you at any point think that your being gay could change their minds about homosexuality?
MARCEL-KEYES: No. My parents believe what they believe because of their religion. My mom, if possible, is even more conservative than my dad. I didn't think it would change anything. If you think that something is morally wrong, just because somebody you know is doing it doesn't mean that you start accepting it. So if people like my parents really believe it is a sin, then because I'm sinning isn't suddenly going to make them stop and think, "Oh, well, it's okay now."
MW: You admire their dedication to their principles?
MARCEL-KEYES: Yes. They have a lot of integrity. I think they're wrong on this issue and I wish they would change, but I don't think they're going to.
MW: What are your feelings towards them?
MARCEL-KEYES: I love them. They're my parents.
MW: And what do you think their feelings are towards you?
MARCEL-KEYES: I think they love me. They're probably very upset at the moment, but they love me.
MW: You worked on your father's Senate campaign for several months. Why?
MARCEL-KEYES: I went up to Illinois to work on his campaign because he was my dad and I love him. He was out there working all the time and he was alone because the rest of my family was in Maryland. I thought it would be really nice if he had someone with him so I thought, "Okay, I'll take some time off from school and just be with him." That was the basic motivation behind it. There wasn't a whole lot of internal conflict.
MW: Did he appreciate it?
MARCEL-KEYES: I think so, yes. He was very happy when I decided to come help him.
MW: How was working on the campaign?
MARCEL-KEYES: Pretty hectic. The campaign was just non-stop. Most of the other people on the campaign were pretty nice. When the whole thing about my blog and being a lesbian came out, a couple other people on the staff had already known. The people who didn't, most of them were pretty cool. There were a couple of people who were like, "Well, you know she is a selfish hedonist. She shouldn't be here." But for the most part, nothing changed. They didn't treat me any differently.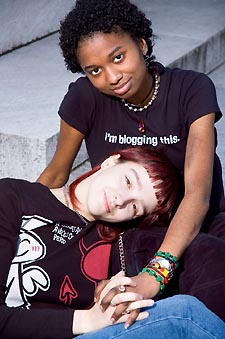 Maya Marcel-Keyes and Bria Murray
MW: When did you and Bria meet?
MARCEL-KEYES: About a year ago, through friends.
BRIA MURRAY: I started talking to a friend of Maya's on the Internet. He had a genetic disorder called xeroderma pigmentosum, which means you are basically allergic to light. When light hits your skin, you die.
MARCEL-KEYES: So he died and I was the one to call and tell her. And we just started talking all the time.
MURRAY: We just clicked and kinda liked each other a lot.
MW: How much time do you spend together?
MURRAY: Not nearly enough.
MARCEL-KEYES: The whole long distance thing is difficult.
MURRAY: But we talk often.
MARCEL-KEYES: Every day.
MW: Bria, what's your story?
MURRAY: I was raised with the same beliefs as Maya, that being gay was wrong, it was a sin. My parents were separated. My dad left when I was 7. He was abusive to my mom, and my mom was abusive to me. She would beat me and quote Bible verses at me. She was pretty ultra religious.
She read my journal where I wrote down "I think I might be bi." She called her therapist, all upset. I'm sure you're aware of "Focus on the Family." Are you aware of their [ex-gay program] "Love Won Out?" Well, she took me to one of those.
MW: Did you resent her for trying to change you?
MURRAY: No, because it was fascinating to me to hear all this "psychology." It was not what I expected, you know, "gays bad, going to hell." It was definitely not coming from a condemning point of view. So I don't necessarily resent her for that. I don't resent a lot of people for a lot of things. It's not worth my time nor my energy.
MW: Maya, are you hoping to get into politics now that you've had the campaign experience?
MARCEL-KEYES: I don't think I'd ever run for office. But in terms of activism, I'm very politically aware. I'm probably going to be studying political science in college, but I'm not sure if I want to actually get into being a politician.
MW: Do you have other plans aside from school? Do you two have some kind of short-term plan?
MARCEL-KEYES: I really have no idea at the moment what I'm going to be doing next week much less the next month or two.
MURRAY: I try to think of myself as committed to Maya for the long term. I don't take relationships very lightly. I try to be as committed as I can. I kind of love her. [Laughs.] I'm kind of fond of her. I think I'll keep her.
MW: Maya, are you "kind of fond" of Bria?
MARCEL-KEYES: Yeah, kind of fond.
MW: Can you frame for us what exactly happened with your story in the media?
MARCEL-KEYES: Some blogger found my blog on-line and spread it around the Internet. It never really became actual news in the mainstream press, but was kind of Internet gossip, like, "Alan Keyes' daughter is gay." There was a lot of that going on during the campaign. Then, just this past week, I was giving a speech for Equality Maryland, and that's when it did kind of break into the mainstream press because it was more than Internet gossip.
During the campaign, there were a lot of reporters trying to get in touch with us, but since we wouldn't talk to them they didn't really have any story. Now there have been amazingly chaotic numbers of people — every time I check my e-mail I have a dozen more media requests forwarded to me.
MW: Did you anticipate that kind of turmoil?
MARCEL-KEYES: I knew it would be sort of a big deal, but not as much as it has been. It's been insane.
MW: Is it mostly gay press?
MARCEL-KEYES: Actually, no. After the rally, I was on Wolf Blitzer's show. And ABC and Fox News have been trying to get in touch with me. But there have been a lot of gay requests, too.
MW: Roughly how long has your father known you are gay?
MARCEL-KEYES: He's known since the end of high school. I graduated in 2003, so a couple of years now.
MW: The story we're hearing is that he disowned you, kicked you out.
MARCEL-KEYES: He cut off all financial support, but that's something that I can totally understand. I am working for things that he's directly opposed to. It doesn't make much sense for him to be [financially] supporting someone who is working against what he believes in.
On a personal level, I'm not sure what's going to happen. It's been crazy.
MW: Why was there no conflict while you were working on your father's campaign if he knew you were gay?
MARCEL-KEYES: Well, basically, I think my parents have never really accepted that I was queer. They thought it was a phase. As long as I was quiet about it and it was just them who knew, they could kind of try and push me back toward heterosexuality. But when I actually acknowledged it publicly, then it was sort of like "Oh, gosh, we can't be having that around here."
MW: Vice President Cheney's lesbian daughter, Mary, is an interesting parallel to your story. Do you agree?
MARCEL-KEYES: I think with the Cheneys, it's kind of weird for them. But they have never not acknowledged it. Mary Cheney has been open about who she is. The Cheneys are under no obligation to stand up and be like, "Our daughter is gay." I mean, they never denied that she was gay and if asked about it they will acknowledge it. There's nothing else they need to do. They've been honest about it.
MW: Bria, what's your take on Maya's situation?
MURRAY: It makes me angry. I look at everybody and think, "Haven't you seen a lesbian before?" We're just normal people. I want to say, "If you would get to know the person behind the label — gay, straight, whatever — you'd find out much more about them."
But instead of spending my time being angry and bitter about what's going on, what can I do to be a positive force? I didn't ask for this. Maya didn't ask for this. But it's happened, it's here, so what can I do to be a positive force?
MW: What's positive that can come out of this?
MARCEL-KEYES: Well, for example, Equality Maryland asked me to speak at their rally, and I spoke about the problem of queer kids and homelessness, how it's a really big issue in the community and it's often overlooked. If I can take some of the chaos that's been swirling around all of this and channel it into something that will raise the awareness of things that I've been very concerned about over the years, some good will come of it.
MW: You are officially homeless, right?
MARCEL-KEYES: Technically speaking, I don't have anywhere to go. I have lots of friends and I could probably go crash with them. I'm going back to Chicago and I'm not really sure what I'm going to do when I get there. I have no place to live there, but there have been people offering to help me find housing, offering to let me stay with them for a little while until I figure things out. I don't have an official place to live but I really doubt that I will be spending much time wandering the sidewalks.
MW: What about college?
MARCEL-KEYES: After I graduated high school, I got into Brown University. I deferred and went to India for a year. There's an organization there that works with tribal people. They run a hospital and a school for the tribal kids. I was teaching English and computer skills to kids my age who were training to be nurses at the hospital. I came back to America when [my father's Senate] campaign started and I deferred for a second year. I was supposed to start this fall. My dad was supposed to be paying my tuition but that's not happening anymore. I was a little bit worried that I wouldn't be able to go, but the Point Foundation — a group that gives scholarships to LGBT kids — is willing to help me get to Brown after all. So, hopefully, I will be starting at Brown in the fall.
MW: How do you think your father is reacting to the fact that you're in the media, front and center, making headlines?
MARCEL-KEYES: I think he sees it as somehow me trying to hurt [my parents], which is ridiculous. I love my parents and I would never want to hurt them. If I just wanted to do something for myself, I would have never gone and helped with his campaign. I could be at Brown right now. I could have been at Brown two years ago. There would never have been any controversy, there would never have been anything. I would just be happily anonymous, studying, nothing to worry about, having my tuition paid for and going home for Christmas.
But I am queer. And people think it's news because I'm queer and who [my father] is. I can't help that. I'm not going to turn straight just because he thinks being queer is a personal insult to him.
MW: Are gay people doing enough to fight the opposition?
MURRAY: It depends what opposition you're talking about. I do think that the gay community does very well when it comes to gay marriage and hate crimes. But I also think that there are overlooked areas: the queer kids out on the streets.
MARCEL-KEYES: We're fighting to get married, which is very important. But at the same time you can't overlook the fact that there are kids who are fighting just to stay alive and they are a big part of the community. It's a massive problem that never gets attention.
MW: What should we do in this country to help homeless gay kids?
MARCEL-KEYES: There's a whole lot of support they need. They need places they can go to get shelter and food and health care.
MURRAY: They need a space where nobody can judge them because they feel very judged by everyone around them. Their parents have told them they're evil, they're wrong, they're sick, get out of our house. So they need a place where no one is going to preach to them. They just need a place where they are safe and not out on the street starving, having to sell themselves just to get food.
MW: Are there any politicians who you feel are taking a leadership role?
MURRAY: We're both anarchists. We don't believe in any sort of governmental system.
MW: What was your opinion of your father's Senate competitor, Barack Obama.
MARCEL-KEYES: I've met him a couple of times. He was a nice enough person. I'm pretty liberal, so I agree with him on some things. But I am pro-life, so I disagree with him on that.
MW: As a gay Catholic, do you have any conflict when confessing your sins?
MARCEL-KEYES: I'm in a committed, monogamous relationship. I think that's a whole lot better than someone out there like Britney Spears, getting married one night and then divorced the next. But somehow that's less wrong than Bria and I who are together with each other for a year.
MW: Are you upset with how the media have handled your story?
MARCEL-KEYES: There have been a lot of rabid media who don't care about anything I have to say. It's weird because all they want to know is do I hate my father, trying to get me to say bad things about him, trying to get me to say that I'm angry [at him], and none of that is true. He's my father and I respect his decisions.
MW: Do you think your father would be good in government?
MARCEL-KEYES: He has a lot of integrity. He's a very honest person and I think he would be better than a lot of politicians. He actually stands for what he believes in. I don't agree with what he believes in, but a lot of people in this country do. He would make a good representative for those people.
MW: I sense that you are very much your father's daughter.
MARCEL-KEYES: I try.