It's hard to imagine a more wholesome setting than the Matthews-Williams household in suburban Silver Spring. On a Saturday morning, the home buzzes with energy. Erica, the sole child in the household, toddles across the living room. The bounding family dog, Howard the boxer, has grabbed her attention. Near the leash lies a smattering of children's toys. But moms Kimberly and Pamela seem to be well in control.
Rewind to 1998, and these two women had not yet met. A "mystical" force was, however, about to bring them together.
"It was near the end of the Mystics season," says Pamela. "I had season tickets. I would see all these gorgeous women at the games. I was trying to figure out how to meet these people, but I'm not a person who likes clubs or hangs out in bars." Accordingly, she placed a personal ad, fishing for some of those gorgeous fans of women's basketball. It caught Kimberly's attention.
"I'd come out of a relationship a year earlier," Kimberly says, remembering when she spotted the ad in August 1998. "I was getting in touch with myself and feeling really good." She was also going to Mystics games, and responded to Pamela's ad.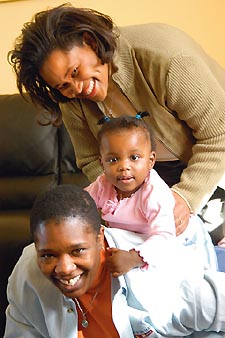 Pamela (top) and Kimberly Matthews-Williams (bottom) with their daughter Erica
"I got no return call," Kimberly says with a dose of exaggerated drama. Coincidentally, Pamela had been forced to travel out of town for about two weeks just as her ad ran. But better late than never, Kimberly got a reply.
"We started talking. We had all these things in common We talked on the phone the first night, probably for five hours," says Kimberly. "Then I said, 'You know, I'd really like to meet you.'"
Although it was 5 a.m., Kimberly managed to persuade Pamela to allow a wee-hours rendezvous on neutral territory, the lobby of Pamela's condo building.
"I remember telling my close friends afterward that we met in the lobby," admits Pamela. "Everyone was like, 'Are you nuts?'"
Kimberly interjects, playfully: "They called me 'psycho Kim.'" She says for her it was love at first sight, but Pamela needed a bit of wooing to come around. After a few middle-of-the-work-day picnics at Hains Point, coupled with late night meetings at the local International House of Pancakes, Pamela and Kimberly agreed they were on the same page.
"I remember sitting in the booth one night," Pamela says of the moment she decided that it was time to get serious about Kimberly. "I remember her smile. It was the way she smiled and the way she was laughing."
Neither Kimberly nor Pamela knows the exact formula for what has made their relationship work, but they've got a few ideas. They both come from families untouched by divorce, which they both credit with giving them good relationship role models. They agree that they share the same values. And they are both committed to their relationship.
Whatever the equation, it has seen them through to this point, with their split-level suburban home, hyphenated last names, happy and energetic daughter, and a Canadian marriage certificate. They've even managed to maintain some romance, they say, even if it's more mini-van than moonlight.
"[Pamela] likes to watch C.S.I., so I try to free her up from Erica or Howard, just so she can veg out," Kimberly says. "It may not sound romantic, but it meets our needs."
"Family life takes you in a different direction," Pamela says. "In terms of romance for us, it may not be what you'd consider traditional romance. It's not candy and flowers. It's more that we get to spend quality time with Erica and Howard. It's going down to spend a long weekend with Kim's family [near Norfolk]. If the four of us are together, we consider that a great time."
Before anyone assumes, however, that Kimberly and Pamela are shooting to be the new millennium's answer to June and Ward Cleaver, they readily admit that creating this life for themselves has required quite a bit of effort.
"Right now we live in a time when everything is disposable, including marriage," Kimberly says. "It's not going to be easy all the time. Have we been to couples counseling? Yeah! I think because we went to couples counseling, we're still here. If there is any piece of advice I can give a new, fledgling couple that's starting out, who are still all hot and whoo-hoo!, [it's]
if you hit a rough spot, don't throw in the towel. If you come to the resolution that you want to be a couple, then make a commitment to working it out.
"Believe me, I know the 'happily ever after' takes work. But I wouldn't trade it for anything. I wouldn't go back to being single. I wouldn't go back to hanging out and dating, anything like that. This is fabulous."