Contrary to the implication of its title, MetroStage's The All Night Strut! doesn't last all night long — though at several of its most sparkling moments, you'll wish it did.
Conceived and originally directed and choreographed by Fran Charnas, The All Night Strut! is a cheerful revue featuring popular tunes of the 1930s and '40s, from a pack of jazz greats including Duke Ellington, Johnny Mercer, Cab Calloway, the Gershwin brothers, Charlie Parker and Fats Waller. The songs flow in one steady stream of nostalgia from four singers who croon, hum, harmonize, yelp, cry, wail, belt and purr their way through twenty-nine classic melodies, most to dazzling effect.
When Matt Rowe's sound design is carefully tuned, everything in this Strut works beautifully. Nothing is more delightful on stage than a breezy rendition of 1938's "In the Mood " or a full-out scat session for "It Don't Mean a Thing (If It Ain't Got That Swing). " But when the sound is inconsistent and the levels uneven, the performers — who rely heavily on their body microphones to carry softer dynamics — are left in the cold. The mikes don't always pick up sound in the right places, and the result is a patchy soundscape that ultimately cheats the audience out of some lovely vocal stylings.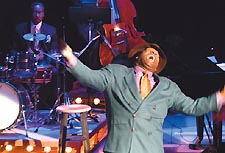 Taking flight: Hubbard
(Photo by Christopher O. Banks)
Thomas W. Jones II leads his small quartet through choreography that is equally as inconsistent. Some numbers are well-staged and appear effortless, while others are too taxing, so the effect is not very crisp. Certain transitions between songs appear natural, others are rough and inexplicable (particularly some staged behind small curtains hanging from construction scaffolding). Still, the spotlight here is on the music and, thankfully, musical director William Knowles, who leads his faultless trio from the piano, knows exactly how to navigate and ornament each song with grace and skill.
The evening's hosts — William Hubbard, Yvette Spears, Darryl Jovan, and Lori Anne Williams — are four blazing scat cats who do a fine job with standards such as "As Time Goes By " and "Tuxedo Junction, " while breathing fresh life into a highly-animated "Gimme a Pigfoot & A Bottle of Beer " and the slow and sultry "Java Jive. " But the entire cast nearly raises the roof on Bessie Smith's "Backwater Blues " and a rousing "Beat Me Daddy, Eight to the Bar. "
The All Night Strut!
To 3/27
MetroStage
1201 North Royal St.
Alexandria, Va.
$32-$38
1-800-494-8497
metrostage.org

Spears, whose thick, throaty sound pours over her notes like rich gravy, joins the effervescent Williams late in the second act for a steamy duet of "I Need a Little Sugar in My Bowl, " and the two ladies deliver a seductive hotbed of notes that bring Hubbard and Jovan to their knees. In the good hands of Colin K. Bills, the foursome is always well-lit and bathed in cool shades to complement Howard Kurtz's Cotton Club costumes.
There should never be audience chatter when performers are on stage, so seasoned theatergoers should be well-advised of the distracting, excessive noise as the audience prattles on after intermission when the musicians open the second act. This isn't background music for a bar or restaurant, though you wouldn't know that from the rude behavior exhibited by some audience members at a recent performance.
A lively production that will satisfy jazz enthusiasts of all ages, Strut isn't always neat and tidy and perfect, but like any good jazz hook, it's always alluring and always musical.
---
With Bohemians, an new work from the Russian husband-wife team of Paata and Irina Tsikurishvili, Synetic Theater, aptly named for its inspired synthesis of kinetic movement with the art forms of theater, music, and dance, offers a deeply gratifying performance combining the elements of story-telling with strong physical drama.
Bohemians
To 3/6
Synetic Theater
4041 South 28th Street
Arlington, Va.
$24-$29
703-824-8060
synetictheater.org

With such a unique brand of theater that employs an entirely different approach to movement and plot, it has to be done well if it is going to succeed. You never know what will happen next in ten fascinating scenes that explore the capacities of human nature for both good and evil from the beginning of time through the 21st century. Underscored by beautiful music that appears timeless, Bohemians always has a point to make, and makes it well.
Paata, who directs, seems to support the theory that art is only art if it has purpose. His scenes speak volumes about observations of the human condition, from sad recollections of religious and cultural origins to profoundly humorous musings on our global history. Irina provides the brilliant choreography and also performs in the piece, where her movement is contrary to Western thought with its focus on balance and perspective. She is unconcerned with repeated fragments of motion, instead presenting whole segments unlike any form of popular modern dance. The result is utterly bewitching.
Irina is the most expressive performer among a cast of seven other talented and athletic dancer-actors: Irakli Kavsadze, Jodi Niehoff, Greg Marzullo, Philip Fletcher, Catherine Gasta and Anna Lane. Highlights include an indelible dramatization of the Biblical parable of Cain and Abel, entitled "Brother's Keeper, " while "The Age of Kings " makes light of medieval rivalry, and an omnipotent eye watches the proceedings from above the stage in latter scenes, such as the corporate hustle in "A Business Proposal. "
As lit by Cherie Siebert, the production accomplishes more in plain black clothes and a bare set than most lavish costumes and scenic extravaganzas. Anastasia Ryurikov Simes has judiciously designed pieces that are carried on stage to create ambience and enhance the wonderful human story-telling that gives Bohemians its soul.
If this is what we label "experimental" theater, then Synetic's experiment is far and away an astounding success.