LYDIA'S FRESH CIRCUIT SOUND… Lydia Prim makes a good point in the liner notes to her latest circuit party compilation, Party Groove: Blue Ball Vol. 4. "[I] staunchly refuse to believe that the nation of party boys and girls want to travel to various events all over the U.S. just to hear the same songs played by different DJs," she writes. But is she right? Well, the assumed guiding principle of dance music is that every DJ has his or her own unique sound. In reality, a circuit-party DJ usually only reveals a unique style, while playing pretty much the same sounds and tunes heard by his or her competitors. And many clubgoers really truly do go for that — same sound, different DJ.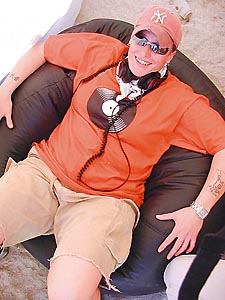 Prim
Prim's new compilation doesn't sound like most other current DJ compilations. Even better, it doesn't sound much like her previous mediocre Centaur sets. It's exceptionally good, featuring much less of her heretofore signature gospel dance sound and far more rock-flavored Euro-house. It sounds pretty much like live Prim. She goes with obscure artists in the category of dance-rock, a category inspired in equal measure by disco and post-disco punk. It's the freshest sound around. Nearly half of the 12 tracks here feature spangly strings and a not-quite-peak-hour club pace. There's even a surprisingly decent rip-off of New Order's "True Faith," performed by the one and only K, whoever that may be….
GRAMMY SPEARS VS. BRIT SHEARSÂ… While gay attention may be turning to this weekend's award orgy known as the Oscars, it's the award orgy known as the Grammys that is still dancing in our heads. As usual, this year's dance music awards — a record three of them — weren't broadcast. In case you didn't hear, the Jake Shears-fronted Scissor Sisters didn't win the Grammy for Best Dance Recording, for its wholesale rework of Pink Floyd's "Comfortably Numb." Don't cry too hard for the band, though, since the song wasn't the best of the bunch. Kylie Minogue's "Slow" deserved the win, but we are not surprised by and have no argument against Britney Spears' "Toxic" taking the honor instead. Another reason you can't cry too hard for the Sisters: just a few days earlier the band dominated the British equivalent of the Grammys, winning three Brit Awards. Though it probably would have taken Best Dance Album if the Brit Award organizers hadn't junked that category this year, the quintet nevertheless won for Best International Group, International Breakthrough Act and Best International Album for their self-titled debut, which was also the United Kingdom's best-selling album in 2004. Nothing to cry about here….
THE BITTERSWEET GRAMMY GOES TOÂ… Crying is in order for Basement Jaxx. Though the Jaxx's magnificent Kish Kash won the first-ever Best Electronic/Dance Album Grammy this year, the win was bittersweet for the British duo. Its American label Astralwerks had just given the Jaxx the heave-ho. Why? The label didn't respond to our requests for comment, and there was no official word from them. But backstage at the Grammys, the Jaxx told Billboard it figures the hard-to-pigeonhole band was too tough to market stateside. Maybe so, but here's hoping the Grammy award will convince another American label to step up to at least release the duo's forthcoming 15-track greatest-hits set The Singles….
GRAMMY HONORS NOTEWORTHY REMIXERÂ… In better Astralwerks news, the label will release a remix album from Jacques Lu Cont, who picked up this year's Grammy for Best Remixed Recording for his Thin White Duke remix of No Doubt's "It's My Life." The Grammy nod shows that its voters can occasionally be as forward-thinking as they often are in recognizing achievement decades late. Lu Cont, after all, has only been on the remixing radar for a couple years, and there hasn't yet been a widely released compilation from him (not in the U.S. at least). He may be still a novice, but his ingenuity with dance music cannot be denied, and his name — be it as Lu Cont or Thin White Duke or even his birth name Stuart Price (you see he's not French after all, but British) — should only grow more familiar with time.
Lu Cont has co-produced tracks for the forthcoming New Order album, Waiting for the Sirens' Call, which includes one track, "Jetstream," featuring Ana Matronic from the Scissor Sisters. And Lu Cont also just produced and remixed for the newest one-name dance artist, Juliet. Though the rock-oriented Philadelphian's debut album won't be out until this summer, her first single, the moody, hypnotic "Avalon," is quickly getting notice. Notice it yourself at www.astralwerks.com/juliet/