We call it "fine art " because it requires fine skill. Who possesses the skill, exactly how much ability they possess, and how they intend to use their talents spawns fierce debate between artists, their critics, and their patrons. But no one takes the issue more to task than the skilled apprentices at the artist's side. Jon Robin Baitz questions who painted what and, more importantly, who is credited with contributing essential inspiration in Ten Unknowns, a captivating gaze at the core of artistic license.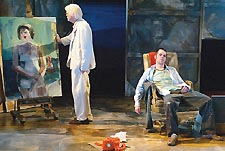 Making art: James and Casey.
(Photo by Carol Pratt )
Malcolm Raphelson was "sort of fucked over by abstract expressionism, " explains Judd, the edgy assistant to the fictional painter. At the height of his popularity in 1963, Malcolm escaped the demise of social realism by packing up and heading for a remote village in Mexico. It's nearly thirty years before a savvy art dealer from Wooster Street rediscovers the aging artist's work and stages a triumphant comeback. An ambitious young urbanite is sent down to Malcolm's catacombs to assist the painter, stirring up a kaleidoscope of raw energy and emotions. It's here in the unrestricted winds of another country that both master and apprentice engage in a symbiotic relationship to produce brilliant objets d'art. When the dealer appears from New York with pressure to deliver, and the sudden appearance of a young woman threatens to upset their balance of power, the carefully crafted work begins to crumble as the narrowly civilized become uncivil.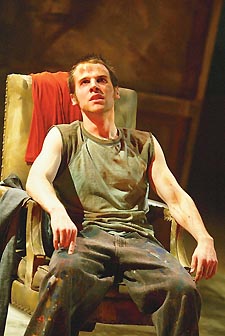 Baitz's intellectually gratifying drama not only lands Malcolm in the middle of a heated battle of passion, integrity and truth, but his beautifully resonant piece of theater also achieves its lofty goals of producing an accessible art installation for the stage. Chicago-based designer Stephanie Nelson has crafted an inspired set with art that is every bit as melodramatic as the territory that Baitz tangos around.
Driven by his rigorously stylized language of rapid-fire dialogue and cerebral poetry, Baitz's story outlines an imagination bubbling with creativity and smatters of genius. His hugely engaging script (with the exception of a needlessly gratuitous epilogue) could have easily become a stuffy, stoic affair with lesser actors. But under the flawless direction of Rick DesRochers, the canvas of Ten Unknowns is colored by a splendid trio of men.
You can practically smell the whiskey on Malcolm's breath in a well-tempered performance from Timmy Ray James. James is riveting as he argues that painting people and objects is not an easy undertaking. "They do not want to be painted, " he confesses, while his delivery suggests equal notes vehemence and surrender.
Ten Unknowns
To April 24
Signature Theatre
703-218-6500

Both Nigel Reed and Evan Casey are electric as the Manhattan art tarts entangled in Malcolm's game. Casey, in particular, is a dormant volcano waiting to erupt as the caustic assistant concealing "propriety issues." Sarah Douglas is the only misfire as a San Francisco grad student studying frogs. Douglas stays at one level throughout the evening, anticipating her next thought without listening to the other characters.
A powerful display of acting and art, Ten Unknowns is a fascinating portrait of how men address questions of ethics and aesthetics while wrestling with each other both physically and emotionally.
---
While Baitz occasionally toys with elements of charade and farce, Luisa Contini of Arthur Kopit and Maury Yeston's musical Nine contends that "Life is not a farce. "
Nine
To April 17
Landless Theatre
301-613-7133

Neither is Nine.
So it takes a particular kind of theater company to refashion such strong material into farcical entertainment. Yet that is precisely what Landless Theatre Company has accomplished. It's a mere half-step up from community theater fare.
It's difficult to take Nine seriously when so many performances fall into heavy caricature, such as a ree-deec-you-luss-lee demanding French producer and her mysteriously intimidating bodyguard packing some heat. Not only are some of the performers emotionally disconnected from their characters, but the typical rule of thumb in casting is to hire actors who, at the very least, can pass for the ages of their characters.
Co-director Andrew Lloyd Baughman takes the lead as Guido Contini, an Italian film director "nearing forty. " It's a one-man show featuring a cacophony of women, and Baughman's hollow version of the magnetic director ultimately drains the energy of the remaining cast.
Based on Federico Fellini's 8½, Nine sets Guido up as a married man devoted to his extra-marital affairs, which include women and work. His work here is inspired by Hilarey Kirsner, whose clever filmed sequences offer the only comic relief in a night of dark shadows and relentlessly bad lighting design.
Nine's sole redemption is offered through Caroline Cash's brief appearance as the voluptuous Saraghina for her bright "Be Italian " number. Though it's a remarkably ambitious production, it's also remarkably evident that Landless is still not quite ready for prime time. Perhaps future engagements will prove otherwise.
---
Afterplay
To April 17
The Studio Theatre
202-332-3300

Another production not ready for prime time is Brian Friel's esoteric Afterplay, an intermissionless theatrical gimmick ripe for Chekhovian scholars and the drama literati. Those who are unacquainted with Chekhov's Uncle Vanya and Three Sisters are well-advised to avoid the 70-minute bore. Friel's Afterplay is no more than a lovely afterthought extended what should be no more than a short, amusing scene into a deadbeat one-act.
Even with such celebrated talent as Nancy Robinette and Edward Gero sharing "untruths " and vodka, it's still a weak playlet founded entirely on exposition. The view from Joy Zinoman's director's chair is clear and static, as she gazes on the serenely detailed set from Debra Booth. Too bad Booth's charming Russian tearoom is the only interesting element in an evening as dry as a bone.