More than 20 years into her career, the voice of Vanessa Williams remains the same marvelous honey-glazed icing that made her shift from defrocked beauty queen to pop princess a confectionary delight. And on Everlasting Love, her new album of covers, Williams sounds as sweet as ever.
That's not to say Everlasting Love is a marvelous album. Actually, it's pretty awful. And that can only be blamed on the music. Those donuts the honey-glaze voice oozes over this time around are stale, a baker's dozen of '70s era love songs, recreated and made with sucralose.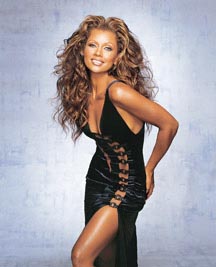 Williams: Gay icon? Since when?
You know those "As Seen On TV" compilations of great love songs sold in the wee hours of night? You're better off with those. At least you get the originals, be they disco or lively Motown R&B or emotive ballads. Admittedly, Williams' album might be to your liking if you're a fan of jazz that's so technologically enhanced it doesn't sound much like standard jazz and no wrinkles can be heard — what some call smooth jazz, though botox jazz seems more appropriate.
Everlasting Love does improve, especially as it reaches its end. The splendid album closer "Harvest for the World " has more energy than most of the other tracks combined. But it's not nearly enough to make you forget what came before it. And you may just as soon forget all about it, but you can't just yet. The album was released to the gay press with a note from Williams talking about her gay fans and her support for gay marriage. I can't remember seeing anything quite so bold before as part of a pre-release publicity package.
Of course, the comments are preceded by an even bolder claim from Williams' PR shop that she is "one of the gay community's most revered and idolized icons. " Oh yeah, and a "diva, " too. Unfortunately, that idolization will suffer after this album.
Lest you be inclined to dismiss botox jazz altogether, along comes Eliane Elias to show you why that would be a mistake. Elias makes her debut at the Barns at Wolf Trap next Wednesday, March 16. It should be a perfect venue for her and her small jazz band to bring to life her fittingly titled album Dreamer, released last year. As with most in the genre, Elias would probably hate being considered part of smooth jazz, a corporate-made musical genre if ever there were one. Technically, the singer and pianist is a bossa nova artist — one of the form's chief contemporary interpreters, in fact. Elias has the kind of elegant, unassuming singing voice, a little unpolished, that has come to characterize bossa nova ever since Astrud Gilberto's days. But Elias first gained renown more than a decade ago as a bossa nova pianist, and her tickling of the ivories is even more mesmerizing than her voice.
Dreamer's songs are given a sauntering bossa nova treatment, whether they originate in Brazil or America. A lush and sensual affair, the album is brilliantly orchestrated, as hard as that may be to believe, given that the orchestra was arranged and conducted by Rob Mathes, the producer of Williams' Everlasting Love. But from Elias' tender bossa nova cover of the '60s pop song "Call Me, " to her own composition, the lazy-river-inspired "Movin' Me On, " Dreamer shows it is possible to take a leisurely pace without lulling the listener into slumber.
Tori Amos, on the other hand, doesn't go in for leisure. A librarian at heart, Amos has organized her latest album, The Beekeeper, around the theme of gardens and what goes on there. If you haven't listened to a new Tori Amos album in nearly a decade, other than 2003's magnificent greatest-hits-and-then-some Tales of a Librarian, you'll be pleased to find Amos sounding as good as ever on The Beekeeper. Age has naturally mellowed her a bit, so that the bee has lost most of its sting. The music is not as caustic as it once was, and you won't find many lyrical provocations on matters of faith or gender either.
But you will find plenty of lyrics that are indecipherable. More than ever it's because Amos contorts her pronunciation so that you aren't sure she's actually singing English ("skeowh-PEE-on " is how she sings "scorpion" and "LAY-eh-tesst " for "latest "). Even with a pronunciation guide, the lyrics often remain indecipherable, due to her penchant for grand-to-the-point-of-pretentious metaphorical gestures. Is "The Power of Orange Knickers " about a particular female spider that eats its mate right after mating? Or is it just about mean girls of any species? Who knows? But it is a masterful song, with the sensational Irish troubadour Damien Rice harmonizing her every vocal utterance.
The album is bright and buzzing, thanks to a B3 Hammond organ that adds a bit of funk sensibility to her standard pop and rock-influenced piano. The Beekeeper would be a pop masterpiece, if only Amos were more straightforward in her lyrical delivery and organization. She doesn't really explain the "gardens " concept, or who, exactly, the beekeeper of the title is and how she fits in here. But the melodies are almost without exception gorgeous, and rarely too precious, with complex and unpredictable compositions that never become off-putting.